The Many Lives of Antonio Luna
He was more than a military man.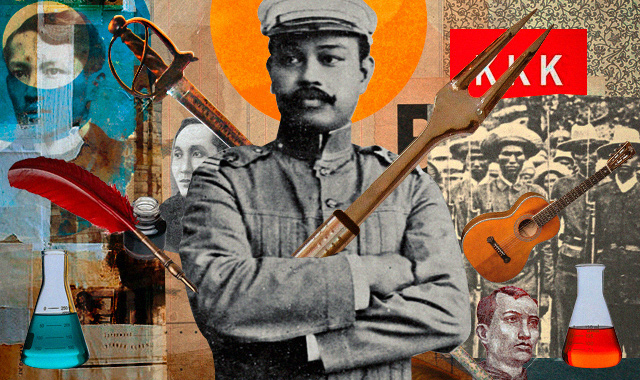 (SPOT.ph) On October 29, 2016, Filipinos will commemorate the 150th birth anniversary of General Antonio Luna. Coming a year after the release of Heneral Luna, the blockbuster film by Jerrold Tarog with the lead role excellently played by John Arcilla, the people's revived memory of this complex and flawed hero is fresh in the minds of many, especially my students.
But that memory is much about Luna's temperament and puñetas. This isn't unreasonable for his contemporaries, especially Mabini, attested to his bad temper and naiveté in politics. But the Heneral is more than that. He is a complex character and we should look into his character to see a bit of ourselves. My interest in Luna is on his short-lived career as a scientist. By the standards of the 1890s and especially 2016, a professional scientist is one who has a science doctorate, does science research, and contributes to science by publishing the results. Luna was able to do all of that in the three years he practiced his profession. His 1893 doctoral research on malaria "El Hematozoarios del Paludismo su estudios experimental" was praised by scientists not because it changed the direction of malaria research (it did not) but for the rigorousness by which Luna did his experimental research.
ADVERTISEMENT - CONTINUE READING BELOW
The rigorous demands of science can only be met with discipline, patience, and focus, something that most young graduate students have difficulty with. Yet Luna did all of that while contributing political articles to La Solidaridad, writing his social commentaries on Europe, and of course, having a love life. We can see Luna's priorities when he wrote Jose Rizal that he was "killing [himself] with chemical biology and other subjects for the doctorate" rather than pursuing an unrequited love and other frivolities.
Luna was 27 when he got his doctorate; brash, good at the sword and in the kitchen. Descendants of Mrs. Marcela Agoncillo (the woman who made the first Philippine national flag) say that when he visited their illustrious ancestors, Luna would head to the kitchen and whip up something delicious. He was a good cook, good with the guitar and bandurya, good on the keyboards, a better writer than Rizal and was more analytical and radical. I say this because his observations of Madrid in his "Impresiones" were precise and analytical with a hint of satire, the product of a very disciplined mind. Incidentally, Luna's "Impresiones" was launched in Filipino translation by the Komisyon ng Wikang Filipino on October 28, making it more accessible to Filipinos.
CONTINUE READING BELOW
Recommended Videos
Luna was a social radical and perhaps the "tibaks" of today can claim him as the first of their kind. From his correspondence, it is obvious that Luna was influenced by socialist ideas and unlike Rizal, we do know he read his Marx and Engels. However, we have to consider that Luna was part of a certain social class. While accepting of radical ideas, he did not advocate the overthrow of the prevailing social order.
ADVERTISEMENT - CONTINUE READING BELOW
The Ilustrados, Luna included, did not believe that the reforms or the Revolution that it spawned could be effectively led and organized by the masses. Rizal even suggested to Dr. Pio Valenzuela that Luna head the revolutionary movement since he was educated, intelligent, had military training and came from a good family and thus knew a network of wealthy Filipinos who could support the struggle. Luna who likely did not know much about the capability of the Katipunan to incite revolution saw the movement as nothing more than an armed riot. Luna, despite his distancing from the Revolution, was arrested in connection with the Katipunan uprising on September 16, 1896, and thrown into Fort Santiago.
It is here that we find him denouncing the Katipunan and possibly implicating Rizal. It is likely that he was tortured in doing so as he admitted later his "mental faculties disturbed" when he made the denunciation. Professor Vivencio Jose in his definitive biography of Luna opines that Luna's denunciation was full of inconsistencies. Luna's state of mind can probably be understood in a letter written in prison to his UST Zoology Professor, Fr. Casto de Elera. Here Luna was seeking forgiveness for his acts. Fr. de Elera kindly replied that Luna had no reason to seek forgiveness if his conscience was clear. This letter was presented by UST Archivist Prof. Regalado Jose during a Luna symposium sponsored by UST's College of Science on October 26.
Luna was exiled to Spain in 1897 and was eventually pardoned by the Queen Regent. Freed, he went to Hong Kong and sought the Filipino Revolutionary Junta headed by Felipe Agoncillo. Here he already had a change of mind and heart and was committed to liberating the nation from its "foreign conquistadors" in his conversations with Agoncillo. Impressed by Luna's zeal, humility and sincerity, Agoncillo wrote a letter to Aguinaldo dated July 2, 1898 recommending Luna's commission in the Revolutionary Army.
ADVERTISEMENT - CONTINUE READING BELOW
Luna's military career is what Tarog's movie is all about. Luna the scientist turned military commander found a Katipunan needed to be transformed as a Filipino Army of Liberation. He first required them to take an oath of allegiance to Republica Filipina, ensured they had proper nutrition, training, uniforms, and of course arms and ammunition. The army should have discipline and a single will and that is to liberate the Philippines. And this happened when the Americans decided to annex the Philippines.
Luna the scientist knew that the army had enough men to win the war even with the logistical difficulties which could be remedied by training. As a scientist, he knew that victory could not be had without superior knowledge, and not only based on hunches and visions of victory on which Aguinaldo and even Bonifacio relied. Remember that Bonifacio couldn't believe that a revolution required arms, even it had an advantage in numbers of men, if it were to win. The Heneral knew that the army and the people had to be as one if national liberation is to be achieved. And this army should be armed to safeguard democracy.
The Americans were duplicitous and national liberation was threatened by disunity. A revolution with democratic goals always has its contradictions fueled by class and ethnic differences. The Republic was faced with overwhelming odds, American superior might, a Filipino army whose unity and discipline were wanting and a ruling elite that wanted to preserve its privileges by siding with the Americans.
ADVERTISEMENT - CONTINUE READING BELOW
The Republic was not able to resolve its contradictions and so it collapsed with American might. But the contradictions remain as I write this. The United States is still duplicitous with respect to the sovereignty of the Filipino Republic they recognized in 1946. The stakes are higher. The ruling class who once dreamed of profiting from American rule have made their great profits 115 years later and their privileges are threatened by any state policy of independence. Luna, who observed that the masses of the Filipino people were against American rule and the exploitation, would be heartened to know that while an increasing number of Filipinos recognize the need to have ties with the U.S., these ties should be between equal sovereign nations and should be advantageous to the Philippines first.
Luna was a complex man with his flaws and imperfections. The standard history textbooks do not do justice to his life nor to his death at the hands of Filipinos. All that he had achieved at the age of 33 remain as a challenge to us today. How many of our young scientists can claim to have published excellent scientific research at age 33? How many of them have commanded an army at that age? How many of them have a vision of the Filipino nation at that age? And are they willing to forego monetary rewards, social and professional advancement for the idea of nation?


So many of our heroes, not just the ones in the books, but thousands of nameless ones, died young but found what the Filipino nation ought to be, while today, many of us still remain unsure.
ADVERTISEMENT - CONTINUE READING BELOW
Share this story with your friends!
---
Help us make Spot.ph better!
Take the short survey
Load More Stories