10 Furious Tweets on Marcos' "Surprise" Burial Today
Like a thief in the night.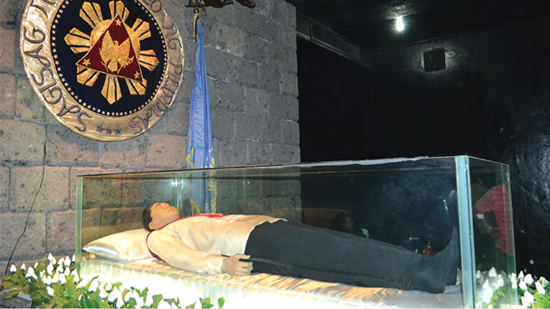 (SPOT.ph) The body of former president Ferdinand Marcos has been interred at the Libingan ng mga Bayani today, November 18 at high noon. He was given a 21-gun salute. This comes as a surprise to many, even Rep. Barry Gutierrez who said that the "SC decision [is] not yet final and executory" in an interview with ABS-CBN. The Supreme Court of the Philippines decided on November 8 that it is allowing President Rodrigo Duterte's orders to bury the late dictator at the heroes' cemetery.
ADVERTISEMENT - CONTINUE READING BELOW
CONTINUE READING BELOW
Recommended Videos
Rumors started spreading earlier in the day when "more than five truck-loads of soldiers" started arriving at the Libingan ng mga Bayani (LNMB). "Fire trucks parked at the different entrances and barbed wires installed to seal side entrances" were also claimed to be seen before 9 a.m. This was posted on the Block Marcos Facebook page, which represents a group of individuals and organizations who want to "counter historical revisionism" and "stop the Marcoses' return to power."
A few minutes before 11 a.m., National Capital Region Police Office Chief Oscar Albayalde as well as the Marcos camp confirmed with the media that the burial will take place at 12 p.m. today. Ilocos Norte Rep. Imelda Marcos arrived at the LNMB at about 11:15 a.m.
Satur Ocampo, a Martial Law victim, was quoted as saying that "this looks like an underhanded action by the Marcos family." "We were expecting na anytime ililibing si Marcos. Talagang gumawa pa sila ng diversionary tactics," Bayan Muna Partylist Rep. Carlos Zarate said. "It shows exactly what kind of people the Marcoses are," Gutierrez pointed out.
ADVERTISEMENT - CONTINUE READING BELOW
They are not alone as others have also expressed their surprise at the recent turn of events.
A thief will be buried like a thief in the night: swiftly and stealthily. #MarcosBurial #MarcosNOTaHero #OccupyLNMB

— Gideon Pena (@gideonpena) November 18, 2016
Patay na pero sneaky pa rin. Nice, nice. #OccupyLNMB

— :|| (@MRND777) November 18, 2016
Lakas maka-salisi gang ng Marcoses. Langya, They're doing it like a Pro. #OccupyLNMB #MarcosNOTaHero

— Marie Ü (@iamrosemariee) November 18, 2016
May mosyon pa, ililibing na. Mas malalim pa kaysa Marianas Trench ang pinaghuhugutan ng kakapalan ng mukha ng pamilyang ito. #MarcosNOTaHero

— Professional Heckler (@HecklerForever) November 18, 2016
May drone ba na kaya magdala ng isang sakong ebak?

— Lourd de Veyra (@lourddv) November 18, 2016
Today is the ONLY day I am actually happy my mother lost her memory.

Alzheimer's is a good zone right now. My heart. My heart.

— Gang Capati (@gangbadoy) November 18, 2016
The thief will be buried today, hurriedly like a thief in the night! True to his character.

— Jim (@Jimparedes) November 18, 2016
Sasabihin nyo, hndi alam ng presidente na ililibing si Marcos. Bakit pupunta si Bato? Wag kami! National healing nyo mga mukha nyo

— hoooowan (@laaayyykz) November 18, 2016
Marcos is getting buried today. The Palace denies knowing it. The people chose Barabbas and Pontius Pilate washed his hands. #MarcosBurial

— Jayeel Cornelio (@jayeel_cornelio) November 18, 2016
Hanggang dulo, nagnanakaw si Marcos. Ang kanyang pekeng hero's burial ay isang nakaw na sandali.

— risa hontiveros (@risahontiveros) November 18, 2016
Load More Stories