Well, now what?
What happens after the protests against the Marcos burial? Clinton Palanca takes a look.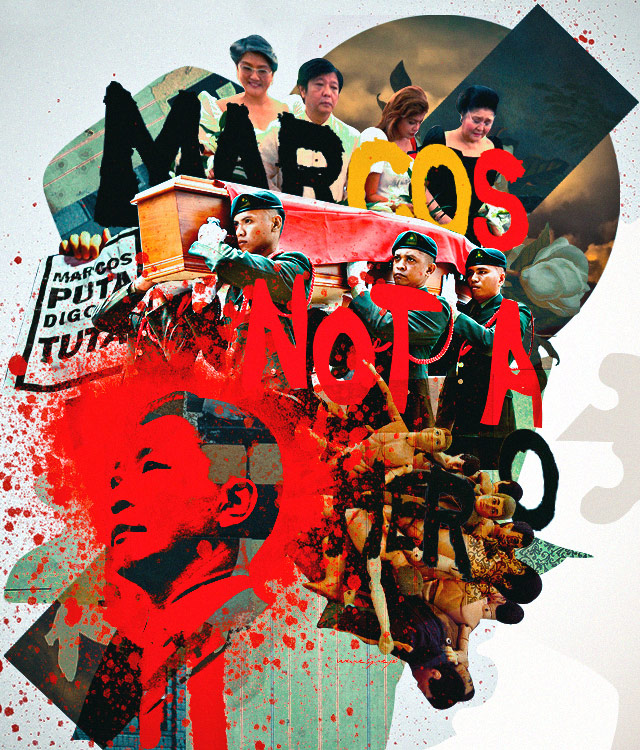 (SPOT.ph) The last time I spoke with Marcos's mortician, a few years ago, he assured me that what he had worked on and preserved was indeed the late dictator's body, but that the body was already at the upper limits of even the most skilled of embalmers. Given that the wax statue that many had assumed to be Ferdinand E. Marcos under a layer of tallow continues to lie supine in Ilocos Norte, I think it is safe to assume that what was buried on 18 November were the final earthly remains, albeit in an advanced state of decomposition, of the former president.
Or maybe not. The coffin could have been filled with anything from an anonymous corpse—heaven knows they are not in short supply these days—or perhaps a time capsule containing Bongbong Marcos's old G.I. Joe figurines. It really doesn't matter. What matters that a funeral took place, military honors were given, and as far as the world is concerned the remains of Ferdinand Marcos, 10th president of the Republic, murderer and thief, lie in the National Heroes Cemetery, beside those of martyrs and statesmen.
ADVERTISEMENT - CONTINUE READING BELOW
"Hukayin!" was one of the more popular chants at the protest rallies last Friday evening, which went on until the early morning of Saturday. As a call to action and a succinct way of summing up how people felt, it was appropriate. As far as symbolic gestures go, it would be feeble. Even if Marcos' body were to be exhumed, it would be a consolation, but would not change the fact that it had already been entered into that hallowed ground. In other words, as far as this battle goes, we are too late.
Many of the protesters grumbled that they were too old to be doing this again: and indeed, despite the presence of many new faces and a good representation from the university student bodies, it was hard to shake the feeling of déjà vu. Old slogans were given new twists, but were eerily familiar, as were the songs and chants and placards. If you count the early student movements, we've been at this for almost 40 years. So while the protests are a welcome change from the apathy that generally prevails or is channeled into griping on social media and nothing else, there is a weary feeling that we've been running in place, fighting the same old fights.
CONTINUE READING BELOW
Recommended Videos
Toppling unpopular leaders by means of mob rule has become something of a bad habit among us Filipinos, as EDSA Dos went on to the EDSA "Tres", threatening to spawn as many sequels as Shake, Rattle and Roll. For some of the youngsters who went home with an anticlimactic shrug of "Well, now what?", it might be worth making the distinction between the one-off of "People Power" which led to a change of government, a miraculous clearing of the skies, birds suddenly chirping and a rainbow shining through the clouds, versus a single protest rally. A protest rally is what it says on the tin: something angers people enough for them to take to the streets, and even if you have somewhere better to be on a Friday night, somewhere with toilets preferably, they feel deeply and strongly enough to make their feelings known.
ADVERTISEMENT - CONTINUE READING BELOW
The problem with peaceful protests—which is in general what we want—is that it is all too easy for the government to sit it out and allow the movement to exhaust itself, as the Hong Kong government did during the Umbrella Movement of 2014. This is why experienced protesters, especially from the left, engage in deliberate agitation, so that all it takes is for one undisciplined or skittish policeman to break the peace, preferably with the cameras rolling. This is a dangerous game to play.
Although the left will try to take credit for last Friday's events, by all accounts it was a spontaneous, orderly, and largely peaceful demonstration of public sentiment. It was the kind of protest that we should have had over the many thousands of lives that have been already lost in a senseless, unnecessary drug war: not to unseat the President, but to let him know how we felt, and that we wouldn't take it lying down. We should have had it before the Supreme Court ruled on the matter, because by many accounts at least three of the judges were waiting to gauge the mood of the public before making their decision—a poor way to make a legal and moral decision, true enough; but the resistance then was paltry enough to be safely ignored.
But then one can go too far with the self-recrimination. Among many mistakes, we were overconfident: we should never have allowed the body to come home in the first place. But the mythology of People Power was at its height, Ninoy was a hero whose face was printed on money, Cory was a saint who could do no wrong, and we felt we could afford this generosity. Our generation was willing to live with a particular interpretation of history and allow the remnants of the family their bailiwick in Ilocos, where we thought, incorrectly, that they would live out their days licking their wounds as a minor force in regional politics. The hints of a political comeback on this scale are easy enough to spot in hindsight, but we simply didn't think to look because we never thought that what we thought was entrenched history was up for questioning.
ADVERTISEMENT - CONTINUE READING BELOW
If anyone might be tempted to think that all is done and dusted, and that we can "put things behind us" by having put Marcos Sr. into the burial plot in hallowed ground, they would be gravely mistaken. The plot was never about the plot. It is a beginning, not an ending. The machinery of the strongman's heirs are moving the pieces into play for what they see as the inevitable and righteous restoration of the Marcos dynasty. There are several crucial steps left to play in their bid for power: if each step is met with the same deafening silence that has prevailed so far, then we can stop being outraged on social media because, frankly, we would have practically begged for it. The demonstrations of public outrage last weekend cannot unbury him—but it can serve as prolegomena for the many battles to come.
If there is a sense of unfinished business about the protests over the weekend, it is because it was business not meant to be finished in one night. If moving some putrefying bones from one dark hole to another was what it took to rouse a jaded citizenry from apathy and prove that numbers matter, then it's good use of a corpse. What happens next is anyone's guess, but let it not be said that we looked up and watched history roll by, and uttered nothing more than a whimper.
Share this story with your friends!
---
Help us make Spot.ph better!
Take the short survey
Load More Stories