Coolest Offices in Manila: TaskUs is a steampunk wonderland
This start-up proves that the wave of the future is all in the imagination.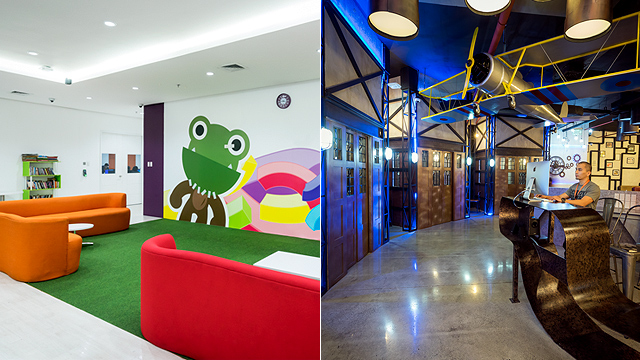 (SPOT.ph) BPOs may be a dime a dozen in Metro Manila, but TaskUs—from its office alone—proves itself different. Founded in Santa Monica, California in 2008 by then twenty-somethings Bryce Maddock and Jaspar Weir, the company has its customer service, outsourcing, and manpower base in Manila. With offices extending from BGC to Cavite, Pampanga to Quezon City, TaskUs is determined to give its employees a modern, homey, innovative office experience, one that matches the cool company culture it promotes.
The TaskUs Anonas branch is lovingly labeled Chateau Ridiculous, and the current two-floor space (soon expanding to three floors) houses 471 production seats, administrative and back-end spaces, training rooms and interview stations, a pantry, sleeping pods, a conference room, an entertainment area, and more. Basically, it's all you need to feel at home in a workspace that buzzes 24/7.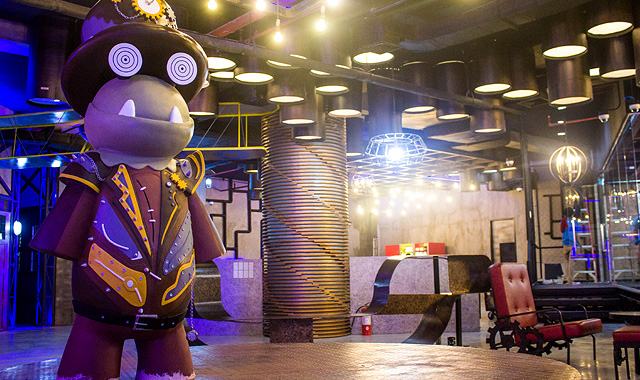 ADVERTISEMENT - CONTINUE READING BELOW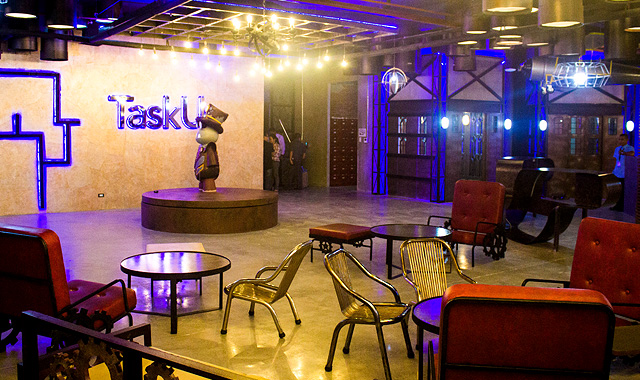 CONTINUE READING BELOW
Recommended Videos
The sixth floor opens up into a virtual theme-park lobby. With its mascot Lizard Bear rotating on a pedestal, airplanes suspended from the industrial-looking ceiling with propellers spinning constantly, the area is abuzz with action. Guests and applicants enter to be greeted by an elliptical reception console. There are no hard angles in the space, instead all its details are interactive, flexible, and flowing.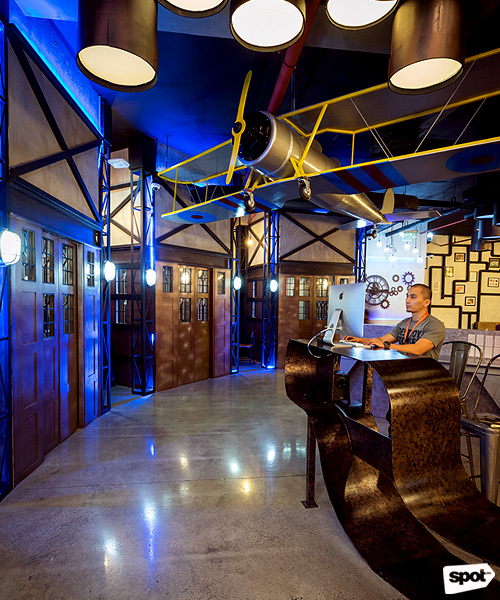 ADVERTISEMENT - CONTINUE READING BELOW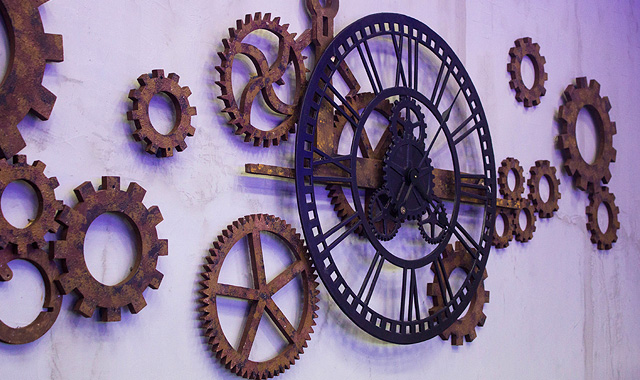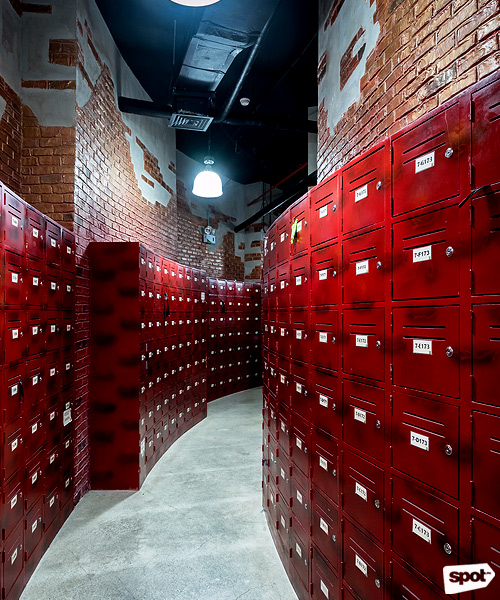 Steampunk is the reigning theme throughout the floor, with Tardis-inspired "elevators" where interviews are conducted and moving gears used as accents all over the walls. The heavy metal look is apparent everywhere, although the office's dedicated interior designer intended the arches to be fashioned out of wood instead of actual steel and the faux bricks to be made out of a light plaster. The locker room is narrow and winding, and inspired by shooter video games (think Doom) that have you hiding behind corners, waiting for your next victim to walk in.
ADVERTISEMENT - CONTINUE READING BELOW
There is a clear sense of Disney Imagineering all throughout the space, a sign of the company's commitment to keeping things vibrant for its employees.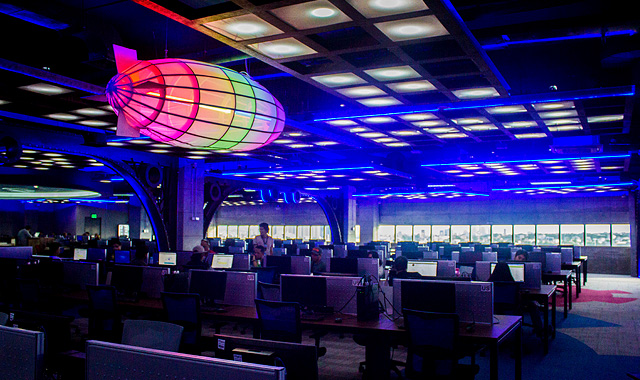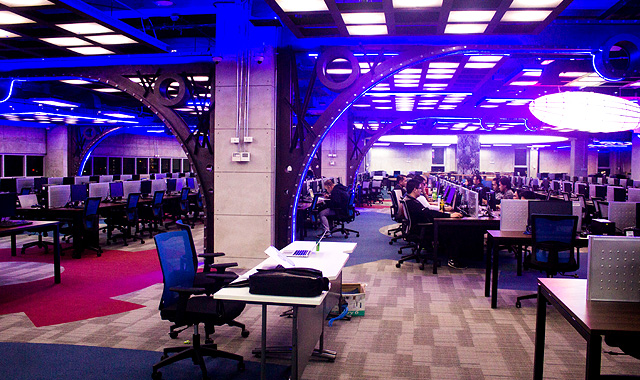 The main work area is the production floor, which holds an open office space for the myriad of clients that TaskUs supports. Higher-ups are given tiny offices, encouraging them to step out and interact with their respective teams. Collaboration and constant conversations are encouraged by the workspace, which offers employees a chance to get off their seats from time to time and even work at standing desks.
ADVERTISEMENT - CONTINUE READING BELOW
For the weary folks looking for a break, sleep pods are provided—designed in the style of Japanese capsule hotels. Each space is fitted with phone chargers and curtains for privacy, ensuring that everyone gets rest plus a fully charged phone.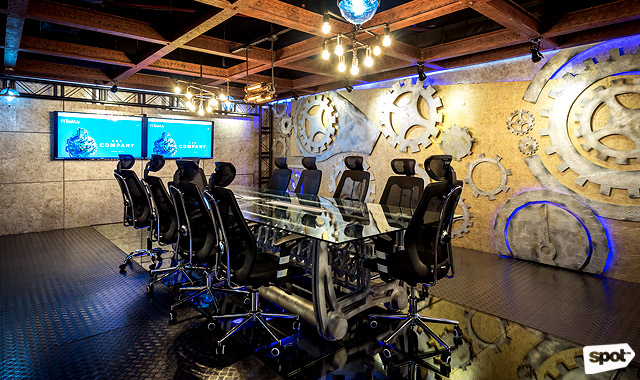 The conference room, instead of being tucked away behind closed doors, is fully exposed and right at the lobby for literal transparency. With glass walls and even a transparent floor exposing moving gears underneath, the area provides a fishbowl effect not just for TaskUs employees but even for hopeful applicants stepping into the hyperactive space for the first time. It's a refreshing use of space that pushes boundaries and encourages open communication.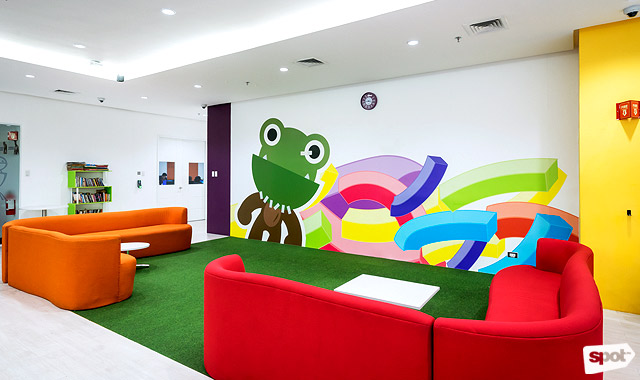 ADVERTISEMENT - CONTINUE READING BELOW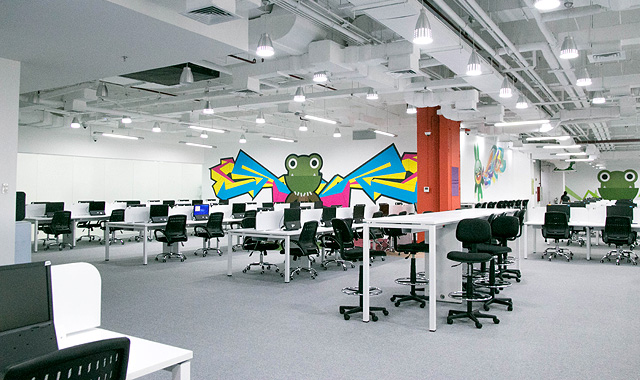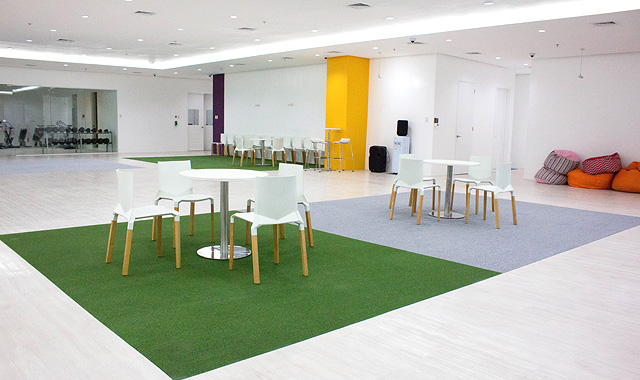 The sixth floor office takes on a completely different theme from the Steampunk seventh floor. Adapting a Google-Airbnb vibe, the bright space hosts a graffiti-lined production floor as well as an open lounge space for employees to play pool, hang out, and feel like they're outdoors. The company is huge on events and parties and hosts many of its community-centric activities in the large open space.
ADVERTISEMENT - CONTINUE READING BELOW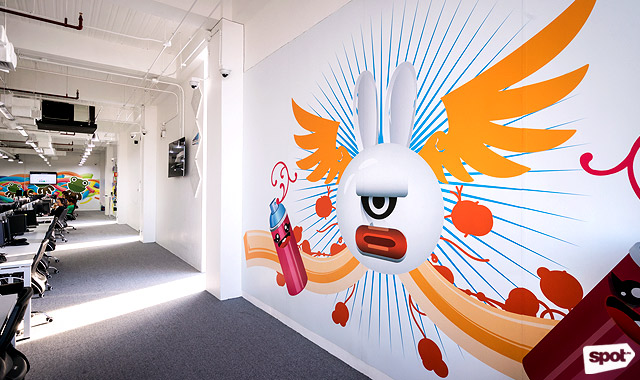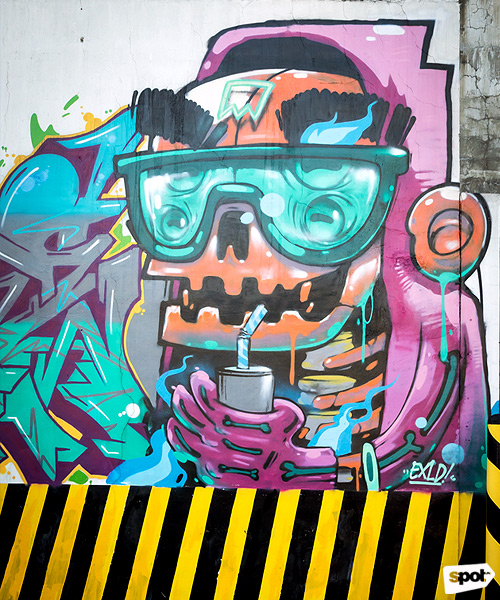 Chateau Ridiculous is an excellent example of how a heavily thematic office can attract bright-eyed fresh graduates, long-time professionals looking for a drastic shift in the corporate environment, and tech creatives eager to work in a space that inspires and entertains.
Photos by Toto Labrador and courtesy of TaskUs
ADVERTISEMENT - CONTINUE READING BELOW
---
Help us make Spot.ph better!
Take the short survey
Load More Stories