Trump-Down Economics and the Philippines
This is what Trump's presidency will mean for us.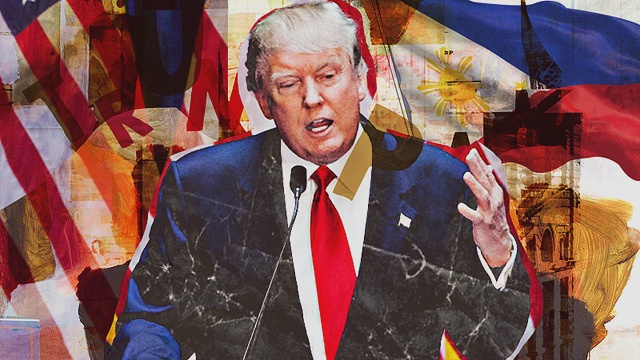 (SPOT.ph) The election of Donald J. Trump as president of the United States has potentially harbingered the return of "pro-domestic business," trickle-down, protectionist economic policies for the world's largest economy. For countries such as the Philippines, for whom the United States is a vital trade and investment partner, this spells uncertainty and potential problems in the short to medium-term.
On the campaign trail and post-election, Trump's economic policies have remained relatively unformed; however, from his various musings we can glean some best guesses at what will be forthcoming. Broadly, Trump has promised two things: To spur U.S. growth through heavy tax cuts targeting corporation and high income earners via tax reform and "massive" infrastructure spending, while taking a strongly protectionist stance towards global trade—in other words, pushing growth through tax cuts and spending, border taxes, while working to "repatriate" U.S. corporate activities; including investments and cash held abroad through a "repatriation holiday."
ADVERTISEMENT - CONTINUE READING BELOW
Generously, Trump wants to reinvigorate U.S. manufacturing to enhance growth and increase job generation. Part of that equation, for which there is consternation for the Philippines, is his protectionist approach to trade and manufacturing. Recent history, led by the United States, has been to promote and enhance cross-border manufacturing. Trump wishes to reverse that trend by "forcing" U.S.-based companies to re-establish manufacturing activities in the United States. In pursuit of this goal, he has already threatened China and Germany, two key U.S. trade partners, with hefty tariffs on their exports to the United States. Alternatively, the idea of a border tax (border adjustment) has been floated by Republicans in Congress as part of their corporate tax reform package. Essentially, this is placing a border adjustment on imports, but exempting exports—the net effect is akin to a value added tax on imports. Ostensibly, Trump, and to a certain extent Republicans, believe targeting imports to address trade imbalances will ensure that U.S.-made goods are more competitive in the domestic market and may force foreign companies to establish manufacturing hubs within the United States.
CONTINUE READING BELOW
Recommended Videos
For the Philippines, the United States is our largest trade and investment partner; the annual relationship is approximately 24 billion dollars. Critical areas of U.S. investment include manufacturing and business process outsourcing. For business process outsourcing (BPO), approximately 80% of that industry services the U.S. market, with approximately one million jobs generated. Local players have already signaled concern that Trump's policies may target outsourcing activities in an attempt to bring those jobs back to the United States. Loss of BPO investment would have a ripple effect within the Philippine economy; namely in jobs, consumption, real estate (BPO has been on a major component in the office building boom), and even trickling into local financial markets.
ADVERTISEMENT - CONTINUE READING BELOW
The Philippines is pursuing its own infrastructure regeneration program to enhance our competitiveness as a manufacturing hub. Along with Japanese firms, American firms are among our largest manufacturers for export. A border tax (border adjustment) would hit us, along with the rest of ASEAN, hard and potentially short circuit local development and growth plans, of which manufacturing remains a key pillar. Integrating rapidly with ASEAN and working to develop stronger economic and investment ties with Japan, South Korea, and the European Union may help offset any potential instability coming from the United States, but the White House and Congressional focus on U.S. trade and manufacturing is a going concern.
Additionally, U.S. growth and rising interest rates will affect hot money inflows into emerging markets, of which the Philippines has been a happy recipient over the last few years, along with cheap money. Short-term stimulus programs, which Trump is eager to institute, will likely cause a shift in global flows; with emerging markets losing out as funds are reallocated to the United States. This may have the added effect of forcing the Philippines to pursue short-term policies to remain competitive and attractive to hot money inflows—balancing enhancing local growth with a need to increase interest rates driven by foreign pressure. The effect will be continued volatility in Philippine equity markets.
Frankly, the sweeping tax reforms, stimulus plans, and short-term growth plans that Trump is promoting will not materialize in the next year. What we will see is uncertainty creeping into long-term decisions of corporations who may seek to on-shore investments in the Philippines. There are already indications that some U.S.-based firms are either shelving new investment or expansion plans for the moment, or slowing down their due diligence processes to see how things will shake out. For the moment, Republicans in Congress seem amenable to pursuing compromise reforms somewhat based on policies that Trump has put forth. Be that as it may, we still are unsure what the final form of those policies will be, as well as the shape of the laws that will be passed. In the meantime, global economic risks are increasing, driven by protectionist policies and (despite our positive growth story) that should spell rising concerns for the Philippines.
ADVERTISEMENT - CONTINUE READING BELOW
---
Help us make Spot.ph better!
Take the short survey
Load More Stories