Close Encounters With Filipino-American Trump Supporters
What was it like to be among that inauguration crowd?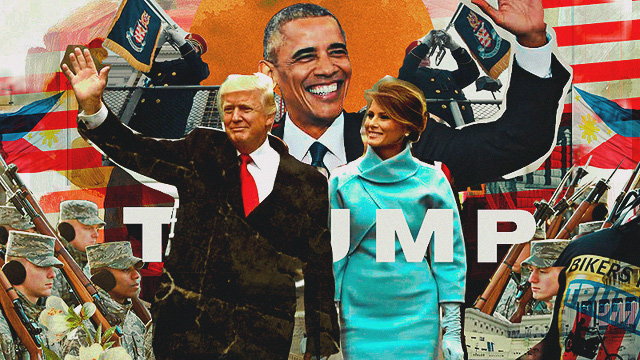 (SPOT.ph) Gettysburg, Pennsylvania: Just off Highway 15, northwest of the District of Columbia, not the quick way into the beltway, they travel part convoy, part pilgrimage from states Americans call the heartland, license plates show Ohio, Michigan, Pennsylvania, a couple from Indiana, they roll. There are a few on big bikes, some wear Bikers for Trump jackets, there are family cars and working folks in pickup trucks and mini vans.
The mood along this stop on the route isn't quite a sea of red; there is also a mix of blue. And yes, it is mostly white, but there are people from all walks of life and those who chose this route. Spent the day passing near a place where a battle and speech are remembered. This is where Lincoln looms large and the history books tell us Americans fought its bloodiest war, against itself, and forces fought for freedom led by the country's first Republican president, Abraham Lincoln.
ADVERTISEMENT - CONTINUE READING BELOW
There is a mix of people at gas stations, rest and truck stops; you notice they are not one race or religion and yes there are Asians in this horde. The Filipino-Americans among them smile, laugh, and in typical Pinoy fashion make fun or rib those they meet who say they're going to D.C. to protest.
Yes, there are Filipino conservatives, Republicans proud of the change coming they see as reboot to more traditional values. "We want laws followed, we want corruption stopped, we want to make America great again so the world can be more secure," says Mary Beth Santiago, laughingly joking with her cousin who hitched with them to join a women's protest march. "It's only politics, we're still family. 'Yon lang talo kayo pinsan!" giggles Beth, who works in Chicago where she says as a nurse she has seen too many emergency room cases on her watch. Most of them are from warring African-American drug gangs that have turned parts of the city she works in into a warzone she describes as worse than Mindanao. "It is Obama's 'hometown' it's where he lives yet it does not work." Beth doesn't want her picture taken or to say more about the government hospital she works at asking also her maiden name only be used in this article. "People there are still upset Trump won; that's expected there are more democrats there," she lowers her voice, "I need my job," she says. but then giggles before heading back to her group with a smile at the Bikers for Trump group filling the rest stop.
CONTINUE READING BELOW
Recommended Videos
ADVERTISEMENT - CONTINUE READING BELOW
Fil-am Trump supporters are ecstatic: At campaign rallies and events, Filipino-Americans like Marie Cunning summed up what most of his supporters say. "I like Donald Trump because he has the guts to say what most of us are thinking but won't or can't say it as he does. Sometimes you need to wake people up, say things that might hurt some people to wake them up," Cunnings said before Election Day.
"We want a change-back," said Greg De Los Santos, a third generation Fil-am, the Army reservist medic who also works as a nurse in a senior care center. "We hear the stories of how things were B.C. or Before Clinton from our patients and our parents." Greg, who is Catholic, sums up his reasons for voting for Trump as "My faith and my taxes." One of the hospitals he worked in banned Christmas greetings, making him feel that his faith was under assault.
De Los Santos talks about how he and the patients had to whisper their holiday greetings because the New York State-funded hospital banned "expressions of holiday sentiments." Delos Santos says, "That was it for me, when the Democrats banned Christians from greeting [each other]. Or us wearing a crucifix and yet others can wear headscarves; get a room to pray in five times a day? Where is the equality in that?"
One day, as De Los Santos was attending to a group of elderly women watching a Trump speech, the room lit up when "The Donald" said, "I'm gonna make America great again." De Los Santos adds, "And he said Merry Christmas. The Lolas, they cheered. Some of them were even crying, begging us to vote for Trump, something as simple as 'Merry Christmas' was banned in the old-age care facility. It's a big thing to the people we care for so when the voting showed Trump won Staten Island I was a part of that!" Greg lives with other nurses in a rented room to save on his commute time to work. He and his wife own a house in New Jersey and he spends weekends there with his young family of four. "I can't afford to live in the city I work in with a family."
ADVERTISEMENT - CONTINUE READING BELOW
Marjorie Alberto, an accountant for a Los Angeles Hospital, is in Washington to attend the inauguration. She shares that when she watches the endless stream of praise for the outgoing Obama government, it makes her mad. "They, the Democrat media, say you have Obamacare. They don't tell people the cost of medicines has gone up! Too high for most to imagine! They tax us so much to make insurance companies rich!" Alberto says, "If people only looked at what the health insurance bills Obamacare for something as simple as aspirin! U.S. $49.00 a pill! So long as it is on insurance! That's why the politicians want it. So they can get kickbacks with contributions from the big pharma and insurance companies! It is worse than the mafia!"
"They say Obama changed things—he did—for the worse. Now I hope Trump keeps his word and changes things. First, make medicine prices normal!" Marjorie, being a legal immigrant, feels she is discriminated against. She had to wait years to join her husband who is a fourth generation U.S. Navy serviceman. "We had to wait go through the process before our family could come here then now we see they give these illegals all the breaks? My husband served in two Gulf wars, risked his life for this country, and then someone who overstayed a visa cries on those paid TV ads for one of those lawyers who are all Democrats and gets legal status? That is unfair!" And why she said although she is a registered Democrat, she voted for Trump.    
ADVERTISEMENT - CONTINUE READING BELOW
OFW activist and columnist Malou Mariano of Long Beach, California puts it this way: "We as Fil-ams, to unify, we need to find common ground. The election is over, the 45th President and Congress and America need our unity. Let us find things we agree with and if something is wrong speak out also but not just for noise or politics. People are sick of politics. We don't need division we need addition! Adding up all the good things we can do to make America greater and the world safe for us all." Mariano said in a telephone interview. "Because a great America is good thing for the world. For peace and prosperity let us have unity."


Michael Cohen is a reporter based in the U.S.
---
Help us make Spot.ph better!
Take the short survey
Load More Stories