Your Visa and Green Card Are Trumped
Here's how the Trump administration's immigration order is likely to affect you.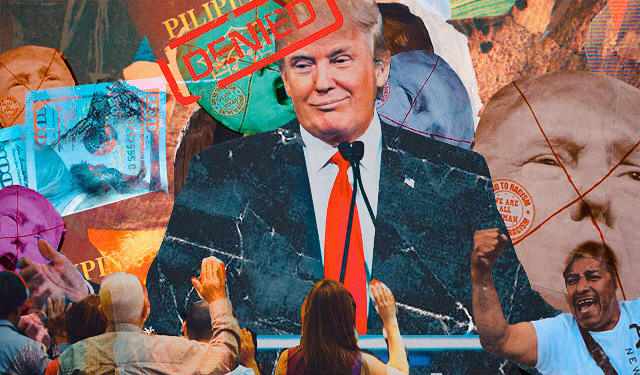 (SPOT.ph) After being as surprised by everyone else at Trump's electoral victory, I am only slowly, and hesitantly, returning to the political prediction business. Trying to forecast what Trump might do next, or why he did the last thing, is as exhausting for Americans as it is for everyone else. The simple truth is that we don't know how Trump will behave but everyone needs to be aware of some red flags on the horizon. There are many such red flags when it comes to Trump's relations with the outside world, but given what has happened this week it is pertinent to discuss visas and green cards.
President Trump's ideas are so incoherent, and frankly illogical when not purely wrong, that he has had difficulty assembling a team that reflects his beliefs and policies. Like everything else in Trumpworld, this might change in 48 hours: Chief Strategist and former Breitbart News CEO Steve Bannon appears to have consolidated power in the Trump White House. To get inside the mindset of Bannon and Trump, consider a radio conversation they had in 2015 about immigration. In it, Bannon asks Trump about immigration, to which Trump complains about how current immigration policies push out foreign Ivy League graduates. "We have to be careful of that," Trump said, "we have to keep our talented people in this country."
ADVERTISEMENT - CONTINUE READING BELOW
Bannon responded with, "when two-thirds or three-quarters of the CEOs in Silicon Valley are from... from Asia, I think a country is more than an economy." Bannon and his aide Steve Miller "see themselves as launching a radical experiment to fundamentally transform how the U.S. decides who is allowed into the country and to block a generation of people who, in their view, won't assimilate into American society" according to the the LA Times. Though his campaign later apologized, Trump once listed the Philippines as a "terrorist nation" whose people "shouldn't be allowed [in] because you can't vet them." He then added, "we're dealing with animals."
CONTINUE READING BELOW
Recommended Videos
Leaks from the White House show that Bannon has drafted an Executive Order that would overhaul H-1B visas, precisely the kind that Trump defended in 2015. Were Trump to sign it, it would be seen by many as punishment for the Silicon Valley CEOs who loudly protested his recent Executive Order sharply restricting entry into the United States from seven mostly Muslim countries. For the highly skilled Filipino, the barrier for entry into the United States would grow higher, make processing times longer, and undoubtedly make the application more expensive and humiliating.
Indeed, this would seem to be the point. So too would suggestions from a Bannon aide that all visitors to the United States might soon be required to hand over their phones so that Customs and Border Security (CBR) can see all contacts, social media, and browser history. Of course, this has nothing to do with security—it is about signaling which people are not welcome in the United States.
ADVERTISEMENT - CONTINUE READING BELOW
Tourist and student visas will become harder to obtain and renew. Trump's "America First" doctrine asks what you bring to America, and the answer for tourists might be "more money." For both students and visitors, it will likely be more security theatrics to make sure that you are not wearing a crucifix necklace to camouflage hidden ISIS sympathies.
What should worry everyone is what ideas might come forth from this White House should the United States experience a major (or perhaps minor) terrorist attack. Trump once named himself as his top foreign policy advisor and appears to take policy positions by whatever his first reactionary thought is while watching TV. When he saw that ISIS had a lucrative oil trade, he decided that we should "steal their oil." He has not budged from this position and believes it to be nothing short of brilliant. After a couple in San Bernardino shot up an office party, Trump went on TV to announce a new gut reaction that we are witnessing today, "a total and complete shutdown of Muslims entering the United States."
It would be wise to conclude that Trump's instinct would be to lock down borders were he to face a terror attack during his term. What should be disconcerting to some Filipinos is the way in which he implemented this most recent travel ban. It was signed before nearly anyone else in the government (including his administration) could read and review it. It came into effect with no warning, trapping unsuspecting travelers already in the air who were deported or detained. Their views on the new President were used as interrogation questions. It separated families, and even those with green cards were not immune. More insidiously, lawyers and even congressmen were blocked from contacting them. Many were pressured into signing forms that waived their American residency.
ADVERTISEMENT - CONTINUE READING BELOW
I would encourage Green Card holders and Filipino-Americans holding dual citizenship to recognize that their right to enter the United States is no longer guaranteed, and likely won't be under certain circumstances. The policies enacted will be crude and will blind to any suffering caused. While courts almost immediately reversed many of this ban's provisions (which the CBR has not complied with), courts would grant far more leeway to the White House if this order was in response to an immediate national security threat. If you can return before an Executive Order is signed, I would encourage every Filipino green card holder with a family or work in the United States to take the next flight back if they can.
We should all get out of the prediction market, but it would be foolish not to see the dark clouds gathering on the horizon.
Trey Menefee is a lecturer in the Department of Education Policy and Leadership at the Education University of Hong Kong.
Share this story with your friends!
---
Help us make Spot.ph better!
Take the short survey
Load More Stories