10 Times Manny Pacquiao Proved That He Loves the Bible
One verse for you, one verse for you,...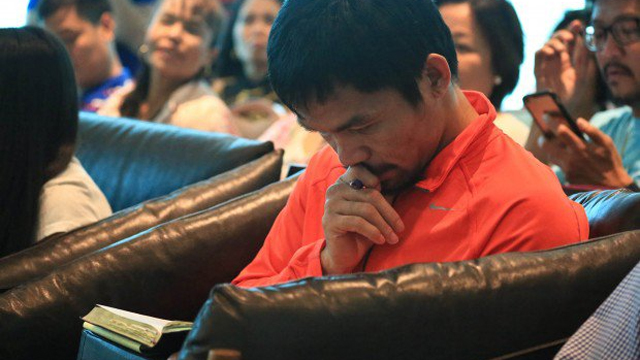 (SPOT.ph) Sen. Manny Pacquiao, a Filipino professional boxer turned politician, is known for his conservative views and frequent citation of the Bible. The latest in his repertoire is the use of religion to defend his stance against the Anti-Discrimimation Bill, which was filed by Bataan 1st District Representative Geraldine Roman. We've lost count of how many verses he used in the Senate hearing on Monday, February 13, but we definitely remember how the Bataan representative slammed him with "I respect his religious beliefs, but the basis of our laws is not the Bible. It is the Constitution where the tenet of equality is enshrined." Preach, sister!
Here are some of Sen. Manny Pacquiao's best moments as a person with "valid" opinions.
When he argued against cross-dressing
In the Senate debate on the Anti-Discrimination Bill, Pacquiao noted that in the Bible, "We can read na ang babae, dapat magsuot na pambabae; at ang lalaki, magsuot ng panlalaki." He even punctuated that argument with "That's what I believe."
ADVERTISEMENT - CONTINUE READING BELOW
When he proposed to have National Bible Day and got a National Bible Month
In December 2016, he filed a proposal to have every last Monday of January be declared as "National Bible Day." A month later, President Rodrigo Duterte, through Proclamation No. 124, declared January of every year as National Bible Month.
When he implied LGBTQs should be "put to death"
After he apologized for his anti-gay outburst in February 2016, he quoted Leviticus 20:13 from the Old Testament on his Instagram account. He posted the biblical quote: "If a man has sexual relations with a man as one does with a woman, both of them have done what is detestable. They are to be put to death; their blood will be on their own heads." This was later deleted, but the Internet will never forget.
CONTINUE READING BELOW
Recommended Videos
When he defended the death penalty
He said in January that it was clear in the Bible that the "death penalty is allowed." For plunder, too, right, Senator?
When he had another interpretation for the "Thou shalt not kill" commandment
"The Bible says do not kill. Ang ibig sabihin kasi no'n, 'pag nagkasala ka sa akin hindi kita pwedeg patayin. Let the authority handle that. We're not talking about individually, but we're talking the law of the land, which is approved by God and instituted by God. The government is instituted by God," he told reporters on January 17.
When he used the Jesus Christ card
To further defend his stance as being pro-death penalty, he compared the Roman empire's rule of law to the current judiciary system. "God gave the government the right to use capital punishment. Jesus Christ was even sentenced to death because the government called for it," he said.
ADVERTISEMENT - CONTINUE READING BELOW
When he used a three-hit combo from the Bible
His first privilege speech in the Senate in August 2016 was also peppered with a lot of Bible verses. "I cannot help but consult the Bible on the issue of death penalty," he said. He used Genesis 9:6, Exodus 21:12, and Romans 13:4 as examples in his 14-minute homily…er, speech. Three in one!
When journalist Karen Davila reminded him of the separation between Church and State
After then-Sarangani Rep. Pacquiao apologized for his anti-gay comments in February 2016, he went on Davila's DZMM show to make a statement. Of course, the reporter didn't mince her words and had a lot of burning questions. All he said about the Church and State separations was: "It is impossible for a nation to become successful or to be blessed without the guidance of the Lord. It's impossible to have peace and unity without God." Sorry, atheists. No peace for you.
When he had an identity crisis
In the same interview, Davila asked him, "Should you be a senator or should you just be a pastor?" He pointed out that leaders should be "godly," because "if you are godly leaders, you have the fear of the Lord not to steal money."
When he said he won't make any promises
The Bible was used even when the senator's frequent absence in the Congress continued to plague him. "As a Christian, hindi dapat tama 'yong mangako ka. For example, nangako kang perfect attendance. Then let's say nagkasakit ka, hindi mo na matutupad 'yong pangako mo," he said when asked if his run in the Senate would be at all different. Okay. No promises, then!
ADVERTISEMENT - CONTINUE READING BELOW
Share this story with your friends!
---
Help us make Spot.ph better!
Take the short survey
Load More Stories