Here's why we need more creative cities in the Philippines
What we learned from the ASEAN Creative Cities Forum and Exhibition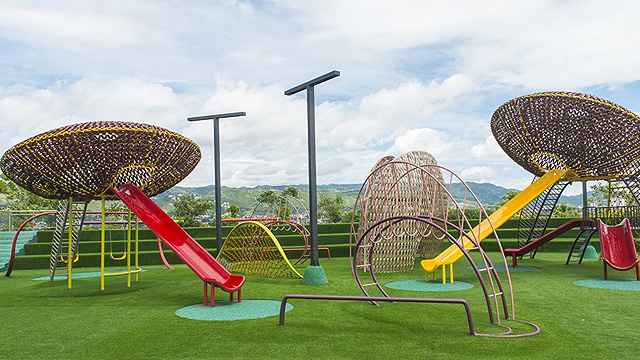 Kenneth Cobonpue's creations at Sky Play, Cebu City
(SPOT.ph) For a third world country like the Philippines, creativity has always taken a back seat. We hear stories of parents forcing their child to major in everything else except the arts, local painters and filmmakers gaining prominence everywhere else except their own country, and, well, actual "starving artists." But panelists of the two-day ASEAN Creative Cities Forum and Exhibition which runs until April 27 at the BGC Arts Center think that it's about time that this mindset change.
ADVERTISEMENT - CONTINUE READING BELOW
Spearheaded by the Department of Trade and Industry and the Design Center of the Philippines, the ASEAN Creative Cities Forum and Exhibition "promotes the creative and innovative by featuring initiatives of 10 ASEAN countries in making culture and creativity a driving force for sustainable development and urban regeneration." It sounds like a dream but the speakers laid out why our country needs to tap into our creative economy.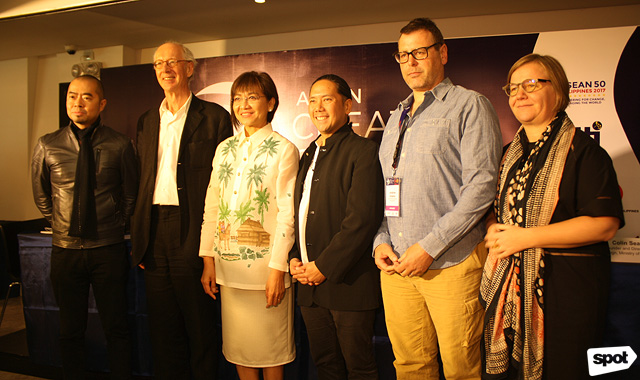 ADVERTISEMENT - CONTINUE READING BELOW
(L to R) Colin Seah, Prof. John Howkins, Usec. Nora K. Terrado, Paolo Mercado, Andrew Erskine, and Katelijn Verstraete
You can create money by creating ideas.
Prof. John Howkins, acclaimed author of the book The Creative Economy: How People Make Money from Ideas, pointed out that countries have to start looking into valuation of ideas and other imaginative qualities, rather than the traditional economic indicators such as land, labor, and capital. He applied the term "creative economy" to the arts, cultural goods and services, toys and games, and research and development. Art is not just about art anymore, you can generate income "through trade and intellectual property rights," according to the United Nations Conference on Trade and Development.
Creative economy is a great equalizer.
Anyone with an idea—regardless of age, gender, and socio-economic class—has the power to make business. Department of Trade and Industry Undersec. Nora K. Terrado looks at this as an opportunity to reach the grassroots. After creating and innovating homegrown products, there's a chance to scale up and commercialize the process and make it into a sustainable business.
ADVERTISEMENT - CONTINUE READING BELOW
Becoming a creative city needs to be earned.
The creative economy concept gave birth to what is now called a network of creative cities. The British Council, represented in the forum by Katelijn Verstraete, has its own structure of Creative Cities, which "are good places to live: they attract talented people, who attract investment and create jobs." The United Nations Educational, Scientific and Cultural Organization also has its own initiative which spreads creative ideas on preserving and enhancing cultural programs.
Being a creative city makes life better for citizens.
Paolo Mercado, Senior Vice President for Marketing, Communication, and Innovation at Nestle Philippines, shared how their company went through a Design Thinking Bootcamp facilitated by Stanford. "Design Thinking" is a methodology for creative problem solving. It's an idea that design can be applied to all kinds of problems—from traffic to crimes. It's thinking out of the box but with a fancier term.
ADVERTISEMENT - CONTINUE READING BELOW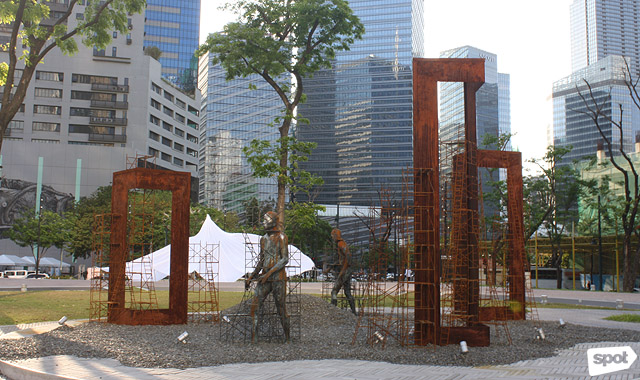 Installation art at BGC Arts Center's Alveo Central Plaza 
Empathy is the first thing you learn in design thinking.
This is how creatives and innovators make a social impact through their designs.
Creative cities add more layer to tourism.
Having the most beautiful islands, amazing churches, and rich biodiversity does a lot to our tourism. Why not push the envelope some more? Mercado also said that it's all about place branding, just like how New York and London have carved their niche in the theater industry, Silicon Valley in technology, and so on.
ADVERTISEMENT - CONTINUE READING BELOW
Design education at the basic level could be beneficial.
Colin Seah, former architecture professor at the National University of Singapore, said that appreciation for the arts should be introduced at the basic level of education. Sure, artists can go to art schools or major in their specific discipline, but we also need to expose everyone to the arts to build a community of patrons who will later consume what our artists produce.
Creativity at a young age sparks originality.
Cebuano Kenneth Cobonpue was exposed to design at a young age through his mother's furniture company. "The world doesn't need another chair" were words he lived by. This later pushed him to always do what has never been done before. Imagine what this mindset would do to our future scientists, engineers, policy-makers, diplomats, and leaders.
The youth—the future of our country—wants it.
There's much talk on the K-12 issue in our education system, particularly the four tracks in Senior High School: Academic, Technical-Vocational-Livelihood, Sports, and Arts and Design. Mercado revealed that, surprisingly, more schools want to offer the Arts and Design track and even envision having an arts high school per region. (Right now, we only have the Philippine High School for the Arts in Los Baños, Laguna.) The big BUT is that there are no enrollees on this track for the simple reason that parents (and society) still perceive the arts as non-lucrative—which is starting to shift.
ADVERTISEMENT - CONTINUE READING BELOW
The ASEAN Creative Cities Forum and Exhibition runs until April 27 at the BGC Arts Center, Bonifacio Global City. For more information, visit the ASEAN Creative Cities website. 
Load More Stories