7 People Who Can Make a Difference at the Beach
Do you identify with any of these archetypes?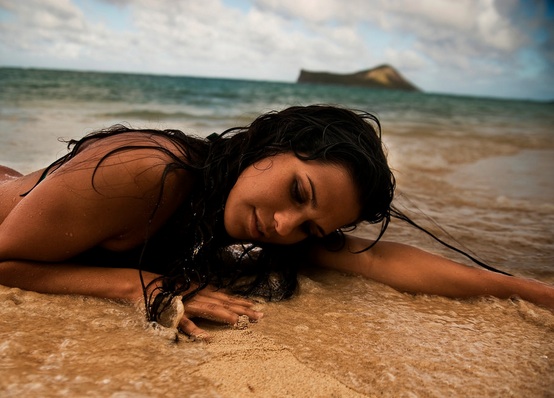 (SPOT.ph) Good news—summer's here! Now is the time for road trips, vacations, and making memories that will last a lifetime. And, with the steadily rising temperatures, it's inevitable that you'll find yourself at a beach to chillax in cool ocean waters. While you relax on the fine sand, tropical cocktail in hand, you're sure to spot one or more of these people, regulars of the shoreline.

Sunbathing Sirens
Guys, kindly pick your jaws up off the floor. These lovely beings are just enjoying the sun and trying to get a tan in without being bugged about it. They may or may not care that you can't not stare, but just try to keep the ogling to a minimum.

Be respectful!

Party Peeps
These walking power banks are vigorous when it comes to the party scene. At night, see them tearing it up at every beach rave and shindig. In the daytime, they're most probably gonna be recuperating with a cool drink and extra-dark glasses.

Or still tearing up the shore!

The Vacationers
The beach isn't just for young 'uns after all! Expect to see parents with their tykes taking snaps on the shore. Be courteous and don't photobomb every single one of their photos!

They're busy capturing moments!

Fearless Solo Flyers
Usually pensive-looking, you'll spot these people walking alone on the beach, novel in hand, with a mysterious look in their eyes. They're usually good conversationalists, but also be prepared for the eventuality that they don't really want to talk.

Masters of the pensive look.

Fitness Freaks
Beach yoga, beach soccer, beach volleyball, ultimate frisbee, wake boarding, surfing, stand-up paddle, scuba, skim boarding—the beach is replete with active sports to keep these people preoccupied. Ask to join in one of their pickup games!
Do a beach sweat session!

Barkada Bruisers
You'll spot them coming down the beach, side by side, always in a group. There's never a moment when these people will be alone because they love each other's company.

Always up to some weird group activity, no doubt!

The Environmentalist
Like you, this person loves the beach. He or she might be found carrying a trash bag for picking up random bits of refuse left on the beach. You can give him or her a hand, too!

That's the smile of someone who truly loves the beach.

Chances are, Boracay is gonna be a top-of-mind destination for you this summer, so make sure that you chillax responsibly! Do your part in giving back to the island by signing up to be part of the NESTEA Love the Beach Squad, where you'll join NESTEA ambassadors like Jessy Mendiola, Tom Taus, Joyce Pring, Sam YG, and Arisse De Santos, in a three-part shore clean-up session. By taking part in this, you can be proud to be giving back love to one of the most beautiful party islands in the world.

Not only that, you can check out the NESTEA Fantasy Volleyball Match on April 29-30. Catch your favorite volleybelles including Abigail Marano, Ella De Jesus, Melissa Gohing, Jovelyn Gonzaga, Rachel Anne Daquis, Michelle Gumabao, Cha Cruz, and Sheila Pineda!

And when it's time to unwind, the most anticipated #Laboracay party yet is set to take place on the shores of Boracay, as NESTEA and ZoukOut bring international DJ Kaskade, electronic duo DVBBS, and the country's hottest DJs to this year's most epic beach party!

This year, the seven type of beach-folk are going to pitch in for a more meaningful summer celebration at one of the world's most beloved island destinations. They're gonna give love back to the beach and, of course, make sure to have loads of fun, too! Click here for more information, follow NESTEA on Facebook, Twitter, and Instagram, and score a ticket to ZoukOut Prelude edition at Boracay by clicking here!

Photo credit: nope327 / Kyle via Foter.com / CC BY-NC-ND

GIFs via giphy.com
This article was created by Summit Storylabs in partnership with a Sponsor.