Coolest Offices in Manila: ALTUS Digital Capital is all about serenity and stillness
This streamlined office uncomplicates tech and colors the digital world in hushed tones.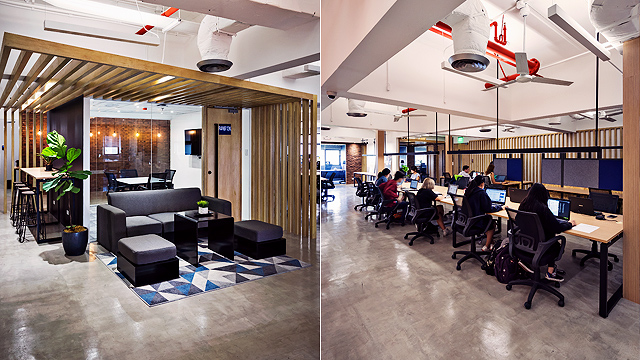 (SPOT.ph) It's been 16 months since ALTUS Digital Capital set up shop in the Philippines and since then, its office has seen a lot of homes. "We started operating at W Fifth Building where our mother company, ALTUS Capital Partners, is holding office. After three months, we then moved to a shared working space while scouting for our own office," shares Randy McGraw, managing director at ALTUS Digital Capital (ADC).
ADVERTISEMENT - CONTINUE READING BELOW
The private equity firm struck gold when it chanced upon a space at Lepanto Building along Paseo de Roxas. Its cream-colored exterior and post-modern arches stand out amidst the more of-the-moment, glass-enclosed buildings along the busy road. This is just one of the contrasts found at ADC—the juxtaposition of tech against a space not of this time. Though the office takes inspiration from Silicon Valley's tech spawns, it places a huge premium on its people, who are the centerpiece of its physical space.
Designed in collaboration with Heim Interiors, the space is compact—every square inch is functional. Enveloped in a neutral palette provided by polished concrete floors, and linear wooden detailing across ceilings and walls, the office gets its hints of color in subtle grays and the company's signature blue.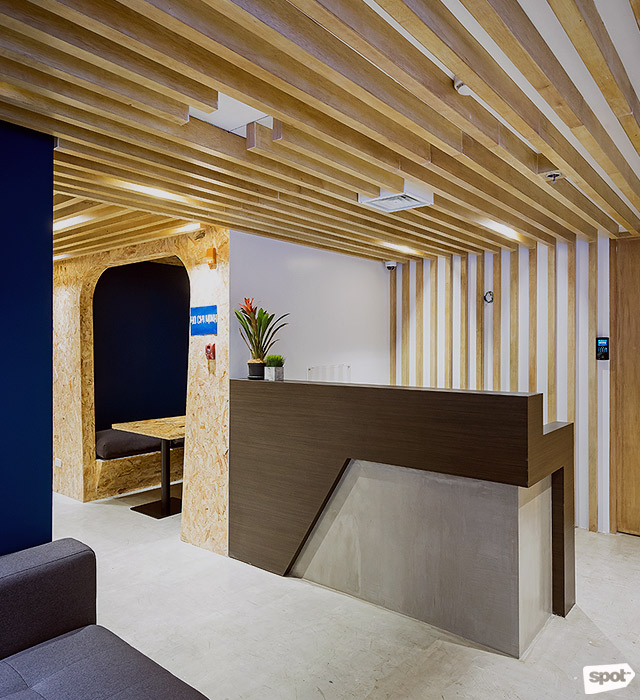 ADVERTISEMENT - CONTINUE READING BELOW
The reception area is purposeful in its design. The wood and concrete reception desk is flanked on one side by a series of hubs meant both for incoming guests who don't particularly need inside access, and also for employees looking to find a private space to powwow. A wood chip-like finish covers the inner hallway of hubs, providing a more natural counterpoint to the concrete. The wooden embellishments that continue on into ADC's interiors is a noteworthy detail.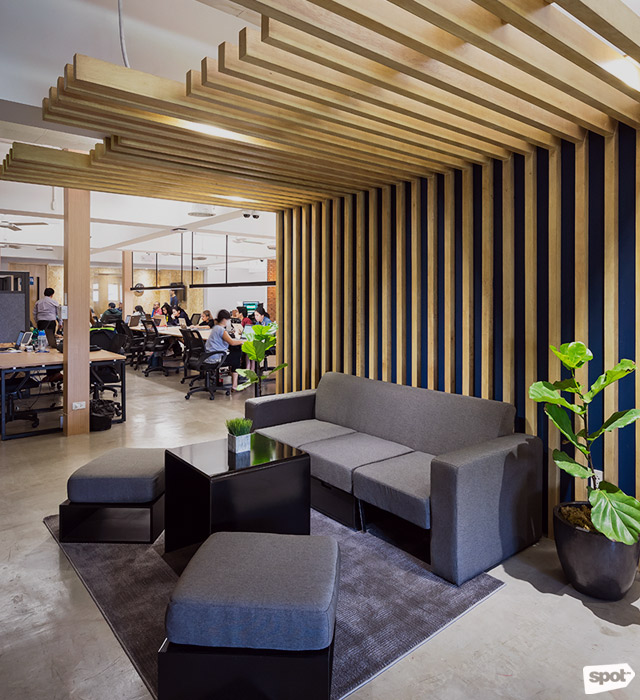 ADVERTISEMENT - CONTINUE READING BELOW
Upon walking past reception, you're immediately greeted with some comfortable seating, set against a backdrop which continues the wooden slats at the entrance. Again, color is subdued, cool, and neutral, but you do get a sense of play and contrast through the different textures used from wall to flooring to furniture.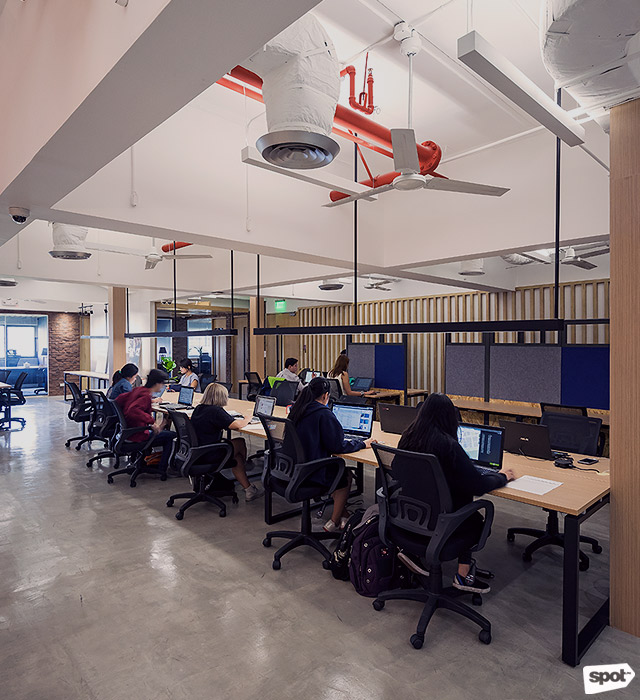 ADVERTISEMENT - CONTINUE READING BELOW
While ADC does consist of different departments, its employees pretty much have a free hand in choosing where to work. Creatives huddle in one side while developers are housed in a quiet, more enclosed area, but hot desks are spread out through the office, free for the picking. The plan allows for natural light to filter through—the effect is stimulating, which is rare among today's outfitted office spaces.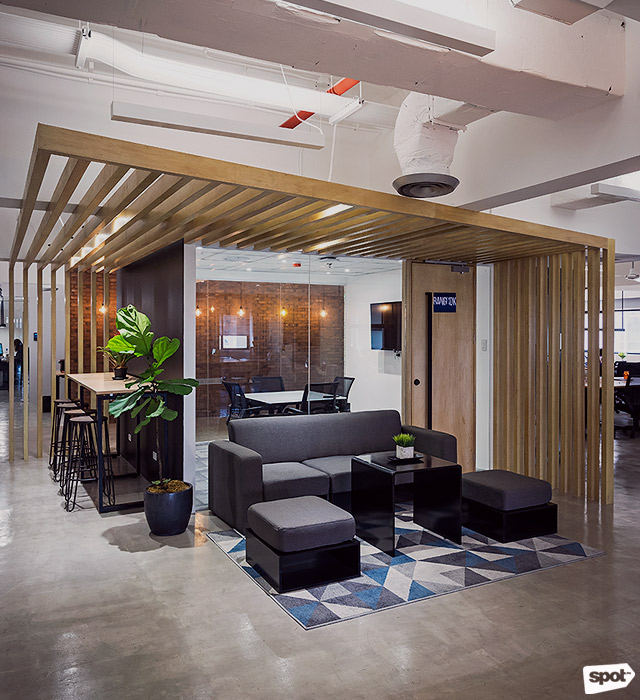 ADVERTISEMENT - CONTINUE READING BELOW
Huddle areas are also provided inside the office through multi-functional rooms, and a boardroom. Private areas take on names of ASEAN countries, paying homage to the scope served by ADC. A central meeting area within the space is decorated at the entrance by the wooden-slat details that lean in dynamic angles to create visual and spatial interest.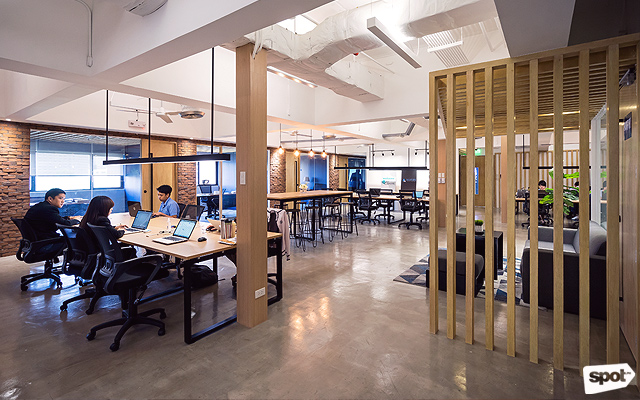 ADVERTISEMENT - CONTINUE READING BELOW
There is a variety in the type of work environment ADC employees find, going again with the out-of-the-box feel that most Silicon Valley start-ups possess, but without going overboard on a specific theme. Brick walls flanked by Edison bulbs highlight countertops with stools or more conventional shared work desks utilized by employees working on the same project.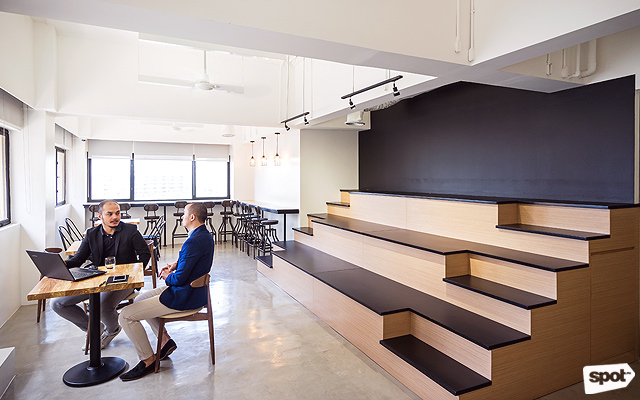 ADVERTISEMENT - CONTINUE READING BELOW
One of ADC folks' favorite spots is the pantry, which serves not just as an eating area but also as a meeting place for everyone—whether they're taking a break from work or are still on their laptops. One wall is lined with a bleacher-style setup, which infuses a more casual atmosphere into the long space. "This was a big hit," Randy continues. "The feature offers an efficient use of space that's perfect for brown bagging sessions or for coffee breaks."
Overall, the design of ALTUS Digital Capital allows for work to happen seamlessly, in an environment that is strong on serenity and stillness, not on stress. The office vibe is casual yet well-kept, modern and current without going overboard on "play" or "fun" as many start-ups are wont to do.
"We wanted to foster creativity and efficient collaboration amongst our people, and at the same time stay faithful to our private equity genes of being both corporate and functional," he continues. "Since we have these values identified alongside the color scheme, materials, and aesthetics, it became a seamless experience having Heim work with us and carry out the vision to reality."
ADVERTISEMENT - CONTINUE READING BELOW
Photos by Toto Labrador
Load More Stories