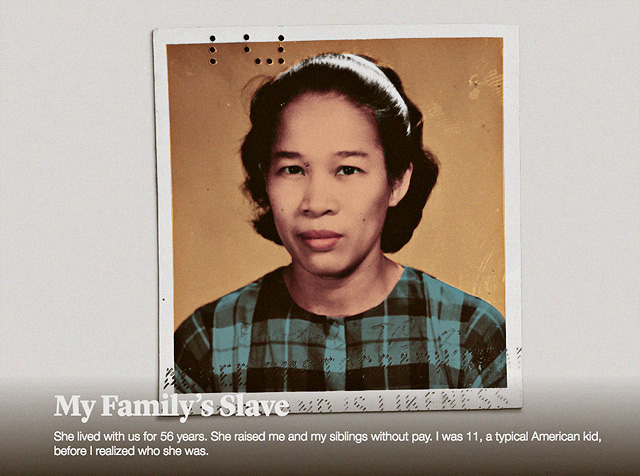 Some notes on the late Alex Tizon's piece in The Atlantic about Eudocia Tomas Pulido, or "Lola" as she was known by the family, and the controversy it has stirred:
It helps to get some historical perspective on the debate. For starters, "slavery" is not the same everywhere at all times. A lot of the comments tend to conflate Alex Tizon's family with white slave masters, Lola with black slaves, and their household with the antebellum slave plantation. Once you've made these alignments, it's easy to condemn Alex as insufficiently repentant, and the narrative as obscene and self-serving.
But that's not the case. Servants may be enslaved but are not slaves in the way it meant prior to the Civil War in the U.S. And while there is a history of slavery in the Philippines, it was flexible and contingent, whereby the slave was never merely chattel, but could become part of the family, albeit a lowly and exploited member. Power relations between masters and slaves were mediated not just by the imperatives of the market place and by ideologies of race. In Alex's narrative (and in everyday experience of Filipinos who grew up with servants), they are also materialized in affective ties of pity (awa), reciprocal indebtedness (utang na loob), shame (hiya) that hold together as much as they pull apart the master to and from the servant.
ADVERTISEMENT - CONTINUE READING BELOW
These affective ties in turn provide the servant a kind of moral leverage that she can use to hold the master accountable or account for her own status and acquiescence. And Catholicism, which has its own discourse about the universal enslavement of humans to God, provides a kind of ideological referent for reproducing and sustaining relations of inequality—but also calling those on top to account for their treatment of those below.
It is this moral economy that pervades Alex's account and sometimes can come across as condescending, or politically naive. But it also opens up spaces for Lola to act and speak, however attenuated and elliptical. While her story may not be as fully fleshed out as, for example Americans may be used to reading in slave narratives—hers' is not the narrative of Mary Prince or Harriet Jacobs, after all—she is not entirely silent. Indeed, she speaks throughout the narrative not only through the author's voice but beyond and around it, even exceeding it.
ADVERTISEMENT - CONTINUE READING BELOW
Recommended Videos
Here, then, is part of what is so compelling, at least for me, about this story: that despite the history of her oppressive domestication, Lola remains, in the end, undomesticated. There is always something about her that is held back in reserve, unavailable for exploitation much less comprehension on the author's part (and the readers', too). He probes into her past, for example, and she retreats, her reticence a kind of resistance to his aggressive curiosity. She is not merely disempowered, but radiates a certain power that makes the family dependent upon her. Her labor is exploited, but not exhausted. She remains singular, even in death. Especially in death, as the author is taken aback by the grief that her return elicits among her relatives. That collective grief exposes his own limits, the lie underneath his philanthropy, the impossibility of reparation. His guilt, if that's how you want to think about it, does little to shore up his authority as the author of this text, or as the benevolent master who did right by his slave.
ADVERTISEMENT - CONTINUE READING BELOW
Vicente Rafael is a historian and scholar who has written widely on colonialism and language. This note was originally posted on Facebook and is reprinted here with permission from the author.
Share this story with your friends!
---
Help us make Spot.ph better!
Take the short survey
Load More Stories