Where do the richest Filipinos live?
Check out this map to see if any of these tycoons live near you.
Like birds that flock together, most of the 14 extremely wealthy Philippine business tycoons who made it to the Forbes 2017 Global Billionaires List also prefer to live near each other.
Eight of them stay in just four exclusive residential neighborhoods in Makati City, according to information in their respective companies' records. Three live in Forbes Park, another three reside in Dasmariñas Village, one stays in Rockwell Center, and another one reported an address along Ayala Avenue.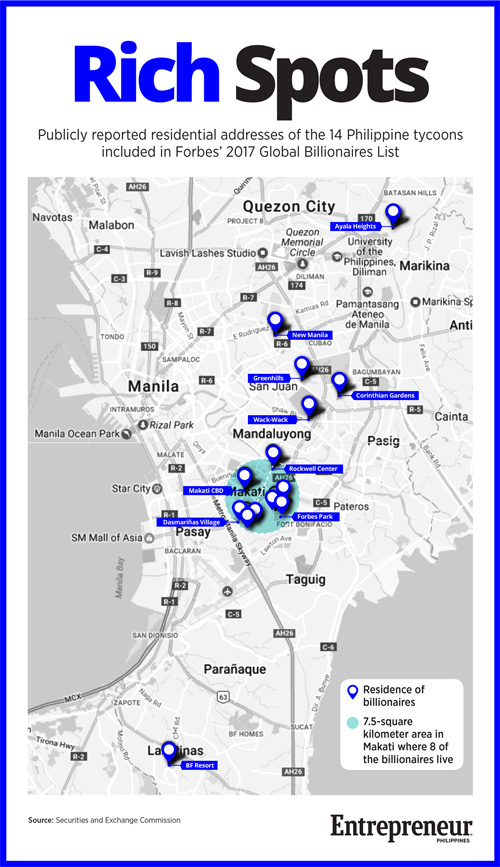 ADVERTISEMENT - CONTINUE READING BELOW
Forbes Park and Dasmariñas Village, both of which were developed by the Zobel de Ayala family, were the billionaires' top residential choices. Interestingly, no member of the family made it to the Forbes billionaires list despite owning the country's oldest and most valuable property company.
Plotting the addresses on a map, we found that the eight billionaires live within a confined territory with a radius of just 1.5 kilometers or a total area of 7.5 square kilometers. That is just 1.2% of the total area of Metro Manila.
The eight tycoons' combined net worth amounted to U.S. $32.1 billion. In local currency, that's about P1.6 trillion, or almost half the Philippine government's P3.35 trillion-budget for 2017.
The six other billionaires are spread out across several cities in Metro Manila. Three live in Quezon City and one each stay in Las Piñas, Mandaluyong, and San Juan. Though all live in exclusive communities and none of them live in close proximity to each other.
ADVERTISEMENT - CONTINUE READING BELOW
This story originally appeared on Entrepreneur.com.ph. Minor edits have been made by the SPOT.ph editors.
Recommended Videos
Load More Stories