#MMShakeDrill 2017: What You Need to Know About Today's Earthquake Drill
From things to do to closed roads.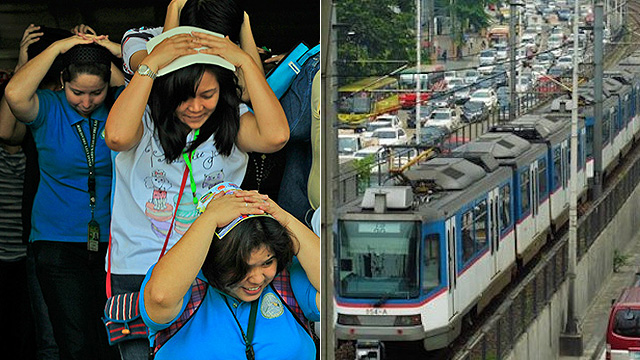 (SPOT.ph) Metro Manila had its first annual Shake Drill in 2015 to test preparedness for what they call the "Big One," a predicted major movement in the West Valley Fault that traverses Metro Manila. Today at 4 p.m., the Metro Manila Development Authority and National Disaster Risk Reduction Management Council are conducting another Shake Drill. The third annual drill will last for four days to include the response of local government units and test the effectivity of their methods. Since it will affect a work day—a Friday payday, at that—here's what you need to know.
When will it happen?
The #MMShakeDrill will be conducted on July 14, Friday at 4 p.m. Signals will sound off, such as announcements in radio stations and bells or sirens in churches, schools, and other institutions.
What should we expect?
"The worst traffic." This is according to Celine Pialago of the Metro Manila Development Authority said in an interview with ABS-CBN.

Five-minute interruption in power and cell phone signal

45-second interruption in MRT, LRT-1, and LRT-2 operations
ADVERTISEMENT - CONTINUE READING BELOW
Which roads will be closed?
Unlike last year's eartquake drill that simulated a collapsed Guadalupe Bridge along EDSA, today's drill is focused in Ortigas Center. Business establishments along Emerald Avenue will rehearse what they need to do in the event of a strong earthquake—structures collapsing, debris falling from the more than 30 building in the area, etc.
Who should participate?
People in Metro Manila
Anyone who doesn't want to die should a real earthquake happen
What should you do at 4 p.m.?
If you're inside a building...
Perform the duck, cover, and hold maneuver for 45 seconds.
Evacuate to a safe, open area.
CONTINUE READING BELOW
Recommended Videos
If you're inside a vehicle...
As soon as you see traffic officers holding up signs for the drill, stop your car for one minute.
In the event of a real earthquake, you should pull to the side of the road, stay inside the vehicle until the shaking stops, then evacuate to a safe, open area.
If you're at home...
Perform the duck, cover, and hold maneuver for 45 seconds.
You don't have to evacuate your house, but stay away from glass windows, shelves, and cabinets.
What is a safe open area?
Anywhere away from structures that are likely to fall or collapse, such as buildings, billboards, power lines, trees, lamp posts, or poles.
Why is it for four days?
Command centers will be set up at: Veterans Memorial Medical Center (north); Marikina Boys Town, Red Cross compound, LRT Santolan (east); Intramuros golf course (west); and Villamor Airbase (south). Local government units are expected to join the next three days of the drill. The second day focuses on recovery operations in the evacuation centers. The third day is all about first aid and transport to hospitals. Feedback and assessment will be done on the fourth day.
ADVERTISEMENT - CONTINUE READING BELOW
What should you do after the #MMShakeDrill?
It doesn't end with a simulation of the aftermath of a 7.2-magnitude earthquake. Experts say that the "Big One" may happen in our lifetime. If the West Valley Fault moves, all of Metro Manila will be affected. This is essentially why we have the #MMShakeDrill—to stay calm should the real one happen and follow what we practiced.
Share this story with your friends!
---
Help us make Spot.ph better!
Take the short survey
Load More Stories