Marawi of Memory
It hasn't always been a city of war.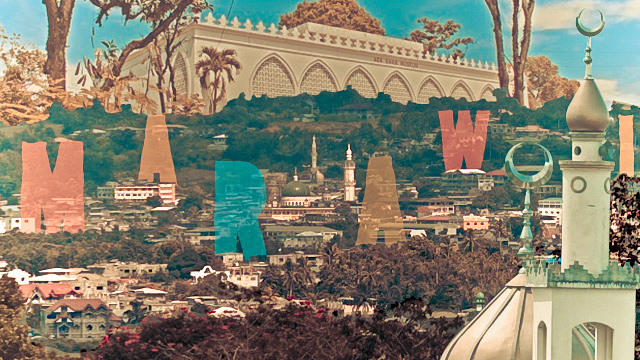 (SPOT.ph) For the world now, Marawi is, and will be, known as a city of carnage and despair. It wasn't always so.
Palapa, Ayala, and a cappella 
"You sure you want palapa for breakfast?" our host asked as if I wanted her to slap me.
I'd arrived in Marawi with cousins the night before looking forward to a Maranao breakfast. Palapa is as Maranao as anything could get, and being the gracious host she was (being of aristocratic extraction, her traditional hospitable acumen never had to be cultivated), I was granted the indulgence. Chilies and a local allium they call sakorab, pacified together in a pestle, hit the spot pinch by pinch. The actual breakfast bakas, fried smoked tuna first simmered in coconut fat, flavorsome as it may seem, took a few steps back in deference to the article of anticipation.
The meal was served on a patio of the main building on a small hilly estate the locals call Ayala. Story is, back when a time when Marawi was a quiet secret of climate and culture, mestizo industry developed the area as a retreat. Marawi didn't progress as planned, and Ayala pulled out as disorder pushed in. Apart from the grandeur of his name, Ayala left stately trees lining the tapering streets as a legacy. Marawi, of all places, is thus home to an Ayala center that predates Serendra and Trinoma.
ADVERTISEMENT - CONTINUE READING BELOW
Ayala, which by the time of my visit around a decade ago had already become Marawi Resort Hotel, bore witness to feasts and celebrations of lake splendor. The Maranao version of Minangkabau rendang sapi, randang—essentially the same concoction of coconut, beef, and spice sans sweet soy, was preferred among patrons. The meat, spice, and coconut troika recurs in pindyalokan with chicken as meat. Curios like dabakan, tall tree trunk and game skin drums carved in Maranao okir motif, rounded off the mise en scene.
Afternoon coffee on the patio would've been idyllic, but since a cousin had brought karkade, a hibiscus tea from the Sudan, most opted for the botanical instead. Among those who partook in its burgundy astringency was a friend of our host's, a doctor of limp wrist and sturdy girth. Moments before, for the benefit all within earshot, he belted out Freddie Aguilar's Magdalena a cappella, consciously nuanced with Maranao schwa and panache. He did his rendition amid calls to prayer of different timbres in the background—chants also without accompaniment, but certainly never in the style of any chapel.
CONTINUE READING BELOW
Recommended Videos
The Sultan, Pakistan, and Indarapatra 
As the Islamic City of Marawi, it has the distinction of being the country's only city with outwardly religious character. Housed in the city's Aga Khan Museum is an antiquated Qur'an, a gift from an Ottoman Sultan, God's shadow on earth, to one of the Ranao sultans. Not too far from the museum is another Qur'an, a large concrete fixture in keeping with the country's proclivity for prosaic monuments. In line with the Maranao's religious vigor, there is an abundance of Mosques' onion domes crowned with counterpointing crescents.
ADVERTISEMENT - CONTINUE READING BELOW
A noticeable number of its men are partial to Pakistan-style attire with matching embroidered skull cap and scarf; most of them being non-hirsute, they sport wisps of chin hair in pursuit of a beard. Women of parallel persuasion, in an interpretation of Muslim modesty, use black loose dress and veil, thus concealing all manner of blush and blemish.
Because of the intolerance of the style of Islam that arrived in the '60s and '70s, numerous pre-Islamic and syncretic practices have been shamed and shunned. Intricate ritual offerings to inikadowa and apo—familial and once upon a time familiar spirits have been banished from the mainstream mind in favor of Middle Eastern fetish. Strict Islamic rubric demands seamless fidelity to dogma; those who do the opposite are opposed—oppressed.
Fortunately, the mythical bird sarimanok of '90s ABS-CBN fame and sambolayang, the three tailed tricolor standard of Iranon, Maguindanaon and Maranao lords temporal, have survived the purge. Ancient lords Rajah Indarapatra and Rajah Bantogen of the epics reign, no longer in their former kingdoms obscured by cloud and wonder, but in treatises of letters and art. The black of the veil is thus a black of mourning; with the coming of rigid religion came a demise. While it is true that the sambolayang stands steadfast, it is a mere ghost of times gone, a specter of color.
Sights, State, and Wit
"You want to go out at night?" our host asked as if I wanted another slap.
I wanted to see the night sights; it was a city after all. She advised against the excursion; Marawi wasn't a place for frivolous flanerie. "You might get caught in rido crossfire," she added. We were guests and distant relatives, and it might have been prudent paranoia on her part, but rido was—is a reality. Rido or clan conflict may arise from a spectrum of reasons, from politics to fornication. It is the sport of retribution, an exchange of assaults vindicated in kind.
ADVERTISEMENT - CONTINUE READING BELOW
Perhaps the only reason we went out that night was for the thrill; and, to show that me and my cousins had the guts (full of rice and randang) to face Marawi's dangers. Our trip out of Ayala was short as the threat of gunfire, while familiar to us (the cousin who brought karkade for instance, trained in an MILF light artillery battalion), wasn't a pleasant prospect. Town had a time thickened grime, enhanced by the darkness of the street and stern expression of the people we drove past. For some reason, they were very stern.
Ten years later, the streets are strewn with rubble, but Ayala still stands. Ayala, which is situated on one end of the Mindanao State University campus, was shielded from the strife since the campus was one of the first places to be secured by government forces. The university was preserved, but the mental and emotional state of the students and its other residents are far from secure. In a month's time, the city that surrounded their school has been reduced to mere memory.
Our host, in the hope of finding a quieter life, left Marawi years before the siege. It was from her that I got news of what was happening hours after bedlam began. From her current home in Cagayan de Oro, she does what she can to help out—including procuring and distributing seemingly trivial things like toiletries for feminine hygiene. Only her astute sense could've thought of that in such a setting of clutter.
ADVERTISEMENT - CONTINUE READING BELOW
As head of a government health agency in Marawi, the doctor of Magdalena renown performs his duty from nearby Iligan. Hopefully, he has managed to extract much-needed giggles and smiles, albeit wistful, with his exacting wit.
Destiny, Revelry, and Renewal
It seems then that Marawi's destiny is that of continuing conflict. From the time of the swish of the Maranao warrior's kris against the American infantryman's krag until today's game of who has the bigger balls between Maute and Duterte, Marawi has seen a surplus of skirmish in between: pagan ethic versus Islamic logic, zealots' neurotic contempt for their Shia neighbors that resulted in murder, misguided anti-semitic boycotts and sentiment from the gullible who'd never seen a Jew their entire tiresome lives, perennial political hostility kept alive by avarice, and the unremitting revelry of rebellions of various creed and motivation.
Lands whose dominant faith is one that uses an expression of peace—salaam in place of hello are almost inevitably places of violence. This is true for East Africa and the Middle East. That irony also extends close to home. Apologists of the religion contend that violence was inflicted upon them first, and what they have today is a reaction to the infliction. This may be true in most instances, but war and murder by either end, in the name of whatever divinity or chauvinist cliche it invokes, is always a human endeavor. War, for whatever reason, panders to selfish mortal needs—profit, promise, pride, protection, et cetera.
ADVERTISEMENT - CONTINUE READING BELOW
And apart from lives and battered buildings whose images are now familiar to us in faraway Manila, the aspects of existence many in Mindanao are fighting to preserve like security, normalcy, even gastronomy and moribund culture may also get lost. Since Marawi is, and will be, known for carnage and despair, we can only hope that gods archaic and Islamic bestow upon the city resilience and renewal.
Share this story with your friends!
---
Help us make Spot.ph better!
Take the short survey
Load More Stories