DepEd Should Probably Take a Look at These Textbooks
Lessons for the day: Gender bias and discrimination
(SPOT.ph) The Philippines' Department of Education is mandated by law to look after the quality of basic education in the country. This covers ensuring access to public and private education, the training of teachers, and distribution of instructional materials—particularly textbooks. These not only provide information but also test the students on how much they have gathered from the lessons facilitated by the teacher. One erroneous fact and that student would probably believe it for life. (Remember the Code of Kalantiaw and the Tasadays?)
So if you have textbooks telling you that women are babysitters and people from the Cordilleras are short and dark, we may have to think about what we're teaching our kids. That a lot of textbooks were put to waste after the Department of Education's (DepEd) shift to the K to 12 program is another thing altogether. Here are a few things that should probably be cause for alarm.
Ang sad lang na ito ang tinuturo sa public schools ng bansa natin. pic.twitter.com/cKkyYHFtOx

— Lorenz Caldito (@CalditoCaldoon) June 28, 2017
Gender bias
Page 209 of a Physical Education and Health textbook focuses on gender roles ascribed by society. (It literally spells out "Society Says.") In the said activity, students are asked to assign words commonly associated with males and females. In this case, "babysitter" was assigned to women and "breadwinner" to men.
In a report by Sunstar Baguio, Milagros Ogalinda of the Samahang Manggagawang Pilipino-National Alliance of Teachers and Office Workers said that "if gender biased entries in textbooks for both grade 2 and 8 are not corrected, children will grow up with a learned bias which will be hard to unlearn." It was discovered that a Grade 8 book on Edukasyon sa Pagpapakatao has 11 entries that compare a boy and a girl in terms of work, intelligence, and strength. It's the same problem for a Grade 2 book for the same subject. Even a Mathematics book implied the weakness of females through "illustrations showing a frightened girl crying as the dog barked at her."
ADVERTISEMENT - CONTINUE READING BELOW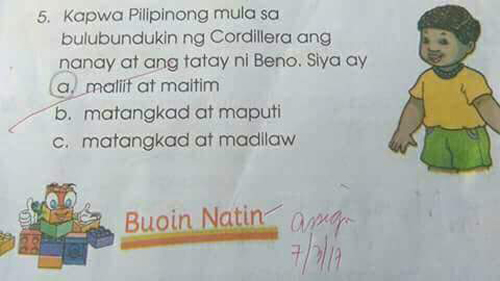 CONTINUE READING BELOW
Recommended Videos
Regional discrimination
This textbook entry on the other hand put the focus on the physical traits of a Philippine ethnic group. It's not quite right to assume that the people of the Cordillera have just one trait since they may be further subdivided into five ethnolinguistic groups: Bontoc, Ibaloi, Isnag/Isneg/Apayao, Kalinga, and the Kankanaey.
@DepEd_PH I saw this on my Facebook news feed. If true, I think we really have to look at the quality of our textbooks.

It's not funny. pic.twitter.com/DMci8gMB4f

— MarcoALVSardillo III (@MarcoSardillo) March 2, 2017
Hugot 101
If only we were taught these things in grade school, then adult relationships wouldn't be too hard. We kid, of course.
@DepEd_PH No wonder quality of education in public schools is subpar. Look at the textbooks you approve! #fail pic.twitter.com/yOqBdgA6yq

— neil cabudoc (@ironcab) January 6, 2017
A typo is not an excuse
The Love of Virgil and Cely is a short story by Lazaro Espinosa and arranged for chamber theater by Nick Agudo. The page above is from a Grade 4 textbook which could use some proofreading and copyediting. What do you mean by "senenteen years old" and "The is..."?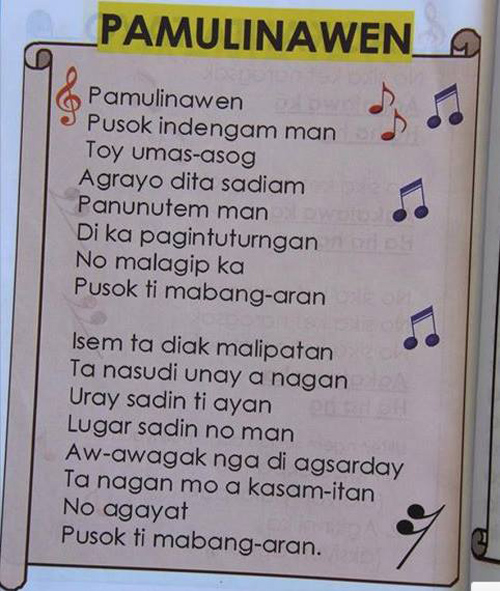 ADVERTISEMENT - CONTINUE READING BELOW
Lost in translation
Dr. Aurelio Agcaoili, a Language and Literature professor specializing in Ilokano language, slammed in a Facebook post a textbook being sold in Ilocos Norte. "The title alone is the worst kind of syntactical ignorance," he starts and calls out DepEd regional director Dr. Alma Torio, superintendent Vilma Eda, and other officials of the agency. Some of his corrections include:
"Umas-asog" comes from a punget-a-ramut, "asug". If that is inflected to account an act that has begun and is continuing, that PAR does not change, thus, it must be "umas-asug."
"Pagintuturgan" is NOT "pagintuturgan." Morphophonemically, that one comes from a PAR, "tuleng," and thus, it is "pagintutulngan."
"Panunut" follows the strong vowel-weak vowel rule, thus, it is not "panunut" but "panunot."
It's one thing to incorrectly teach students that Ilokano is a dialect instead of a Philippine language. It's another thing to impose incorrect grammar and syntax on Ilokano students.
Woah! James Reid is now used by DepEd and CHED as a standard example/material in textbooks and handouts.

-ctto-

#NadineForSony pic.twitter.com/oa35Cz8BZF

— naddiiee (@hallowpumpkin_) July 13, 2017
Pop culture references aren't always the best way to go
We're all for making learning fun. But maybe don't take it too literally?
Share this story with your friends!
---
Help us make Spot.ph better!
Take the short survey
Load More Stories