Message in a Bote
Manuel Quezon III states the obvious solution to Comelec Chairman Andy Bautista's current predicament.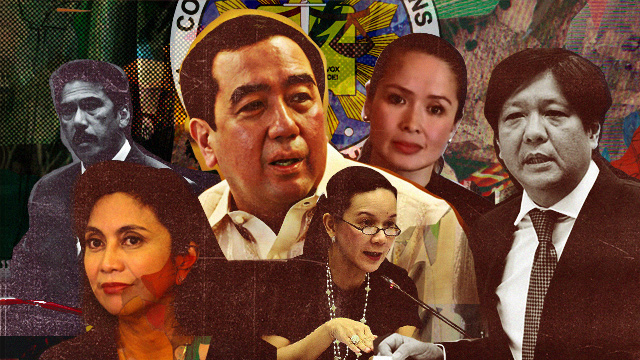 (SPOT.ph) Comelec Chairman Andy Bautista—often referred to as Bote by his peers—and his wife Patricia Bautista are engaged in a lurid, sordid, scorched-earth battle in public. But the case also reveals many interesting things about our society at large.
It may turn out opinion on this unfolding drama is dividing not just along gender lines, but attitudes towards allegations of marital infidelity. For traditionalists of either sex there is no greater shame than to be a cuckolded husband on one hand, or to be portrayed as a straying wife on the other. For others, there is the point of view that in the dissolution of a marriage and the accompanying quarrel over property, the odds are stacked against the wife, with biases against women built into the law, which the men who rule the roost enforce.
There is, too, an underlying suspicion of the legal profession as a whole, which is proving quite surprising, if not painful, to lawyers. Also: How superstition and the Occult are taken seriously in our society as relevant in determining the credibility of an accuser. But aside from these, three fundamental observations can be made about the drama as it's playing out.
First observation: This thing has been stewing for some time. Yesterday, Ramon Tulfo pointed out he'd blind-itemed the Comelec Chairman in his column "months ago," and mentioned that he, the Justice Secretary, assistants of the Special Assistant to the President, a Comelec commissioner, and unidentified sources close to Patricia Bautista, met in what he believes was an apparent prelude to the Chairman's wife visiting the President. The President himself, when he met with senators in the Palace the Tuesday before last, apparently told the story of the couple's marital woes.
ADVERTISEMENT - CONTINUE READING BELOW
If there have been whisperings and meetings for months now, then even as the public is watching the story unfold, there are already many people in high places who have made up their minds and taken sides.
Which brings us to a second observation: How the discussion has quickly shifted from a looming investigation to an outright conclusion that goes beyond where the whole story is, at present. The story became political and not just personal when husband and wife both came out in public, talking about money—and the source of money—which meant it was now a question of public interest considering Bautista's positions as former PCGG and current Comelec chairman.
CONTINUE READING BELOW
Recommended Videos
While the President himself brushed aside the domestic drama as one in which he advised both parties to get their act together, he also put aside political talk by saying he'd already been proclaimed victor of the elections. But while the President publicly demonstrates ambivalence, his subordinates seem very interested indeed. The Secretary of Justice (and the NBI, a bureau of the DOJ after all) quickly got on board, vowing investigations—though not as quickly as it would appear at first blush, since meetings were taking place on the topic ahead of the President being personally approached. Then the Senate got into the act, with Sen. Sotto calling for a hearing. Sen. Poe herself—besides saying she was shocked, shocked! At the allegations—zeroed in on all the Comelec commissioners saying they should all undergo a Lifestyle Check. She helpfully added that the President's victory was unquestionable, but added that the close results of another contest might now be put into question.
ADVERTISEMENT - CONTINUE READING BELOW
Some might have assumed she was referring to her votes in the presidential contest. But that seems unlikely because it is difficult to suggest the Comelec Chairman was a partisan of the administration that appointed him, if only because he has demonstrated an ability to be in the good graces of all previous administrations and because he voted in favor of Grace Poe in her Comelec case.
Instead, what Poe did was lend moral support to the pending protest of Ferdinand Marcos Jr., which is proceeding towards resolution in the Presidential Electoral Tribunal (the Supreme Court acting as PET), which still has to rule on whether donations could fund Vice-President Leni Robredo's counter-protest, or not. If not, then the Marcos case could logically be concluded sooner rather than later. Poe helped send the message that a possible Marcos PET victory is plausible.
Which brings up a third observation. It's not as if the public isn't used to allegations of improperly amassing wealth in public office. And it's not as if the common-sense solution for anyone desiring to exonerate themselves, isn't clear. With so many officials, elected or not, weighing in, the obvious solution seems curiously absent so far: Bautista signing a waiver to all his bank accounts.
Share this story with your friends!
---
Help us make Spot.ph better!
Take the short survey
Load More Stories