The Department of Tourism Should Really Invest in Photographers
Another case of almost-plagiarism?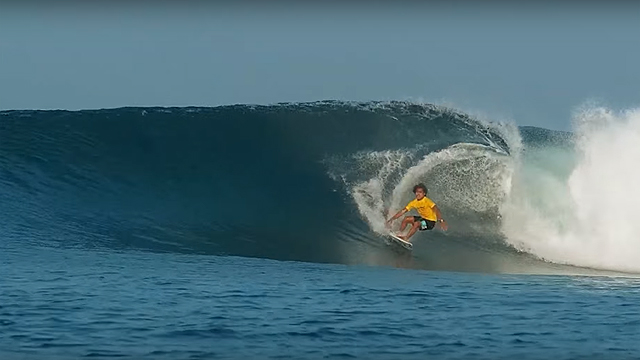 (SPOT.ph) When it comes to photography, taking photos of surfers ripping some waves is probably one of the biggest challenges. First, you should be an actual surfer just so you know you can anticipate how your subject—both the wave and the surfer—will move. Or if not, you need to be well-versed in taking action shots. Second, you need the right gear, especially if you're serious about taking photos that are worthy of sports magazines. Third, you need to be able to go all over the Philippines because our beautiful archipelago has a bounty of waves of all shapes and sizes. So when the Department of Tourism allegedly used a surf photo without permission or credit, it was kind of a big deal. It doesn't help that the agency has a not-so-great track record when it comes to these things.
ADVERTISEMENT - CONTINUE READING BELOW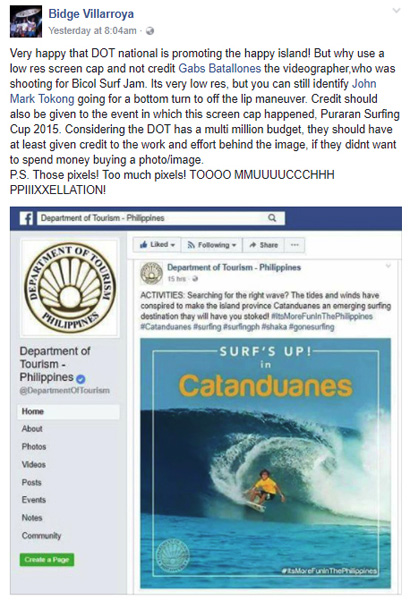 CONTINUE READING BELOW
Recommended Videos
Bidge Villaroya, a local surfer from Gubat, Sorsogon, posted on August 10 a screen capture of recent post by the Department of Tourism (DOT) - Philippines Facebook page. The promo says: "Searching for the right wave? The tides and winds have conspired to make the island province Catanduanes an emerging surfing destination thay [sic] will have you stoked!" It's matched with a pixelated photo of the barreling waves on the island.
Bicol Surf Jam Puraran Leg 2015 Highlights by Gabs Batallones 
On his post, Villaroya reveals: "Very happy that DOT national is promoting the happy island! But why use a low res screen cap and not credit Gabs Batallones, the videographer who was shooting for Bicol Surf Jam. It's very low res, but you can still identify John Mark Tokong going for a bottom turn to off the lip maneuver." He also points out the post should have at least mentioned the event featured in the photograph: Puraran Surfing Cup 2015.
ADVERTISEMENT - CONTINUE READING BELOW
As it turns out, the photo that DOT used was taken from a video released by iTravel Pinas, the agency's newly launched travel program aired on state-run PTV-4, for their Catanduanes episode. This segment of the supposed iTravel Pinas video was used without permission from Batallones. "Copy-paste of the copy-paste!," Villaroya exclaims. "Meta-copy paste. What an exciting time to live," says another comment on the post.
To shed some light on the situation, SPOT.ph got in touch with Rhoel Velayo Fernandez, Office of Public Affairs, Communications, and Special Projects of DOT. He explains that it was his decision to use the image that was based on a screengrab from iTravel Pinas. "What I did not know was the said video was not taken by the iTravel team. I made apologies to Gabs and Bidge soon as I learned of the allegations. If we had known that said footage was shot by another party, we would have asked permission ourselves," he admits.
He got in touch with the iTravel Pinas team and asked them to reach out to Batallones as well. The iTravel Pinas team sent this message to Fernandez regarding the issue:
"'Yong action-packed surfing in Puraran Beach na nilabas natin for Catanduanes episode are definitely not from the team. When iTP team went there to shoot for a surfing segment, the water was calm. Bago kami mag-shoot ng surfing 101, I asked Chris and Aireen Tanael, sila 'yong interview ko re: surfing. Also, they are the famous surfers in Puraran. I asked them kung may maibibigay silang surfing footage/videos to support the claim na in Puraran, a beach surfer will experience a 'Majestic Surfing because of its breathtaking long-barrel-type waves.' Puwede ko raw gamitin 'yong videos from YouTube na sa kanila naman daw. To make sure about the video, sinearch ko 'yong vids at kinonfirm sa kanila 'yong okay gamitin. 'Yong video was a compilation of their surfing event."
ADVERTISEMENT - CONTINUE READING BELOW
SPOT.ph has reached out to Aireen Tanael but has yet to receive a response. On the other hand, Batallones confirmed that there was no permission secured by either the Department of Tourism or iTravel Pinas. He even quipped to those who were following the thread: "Hayaan niyo na, nag-sorry na 'yong producer. Pasensiya daw." Villaroya tells us, "Isa lang ang dapat paalaman sa video, and that was Gabs."
"I have nothing but respect for the people who put up with a lot to get these wonderful images," Fernandez punctuates his explanation.
As of writing, DOT's post has since been taken down, but you can still find iTravel Pinas' "Catanduanes" episode teaser with the uncredited footage on YouTube. (The iTravel Pinas video has been taken down after this article came out.)
UPDATE (August 13, 2017): "If you ask me, it was not the whole DOT's mistake," Batallones further explains to SPOT.ph. "I don't think the whole agency should catch fire for one man's mistake. Being such a large agency, it's very difficult to keep track of everyone's actions. The one who contacted me from iTravel is a certain Mark Dela Rosa. According to him, he is the producer and the one at fault. He admitted this to me. I asked for proper compensation and an explanation. My material was already used online and in multiple platforms. There is no way to take this back. All i got from him was a sorry. This action is disrespectful to the [surf and photo/video] industries. It takes a lot of time, money and effort to produce this material. Honestly, this is not about the money anymore. It's about ethics and respecting one's work." 
ADVERTISEMENT - CONTINUE READING BELOW
Share this story with your friends!
---
Help us make Spot.ph better!
Take the short survey
Load More Stories