Uber Is Back...for Now
It's not Uber until it's over.
(SPOT.ph) Ever since the Land Transportation Franchising and Regulatory Board started its witch hunt against Transport Network companies in the Metro, commuters have been dreading the day that the government agency would suspend Grab and Uber. And that day has come, on a weekday at that.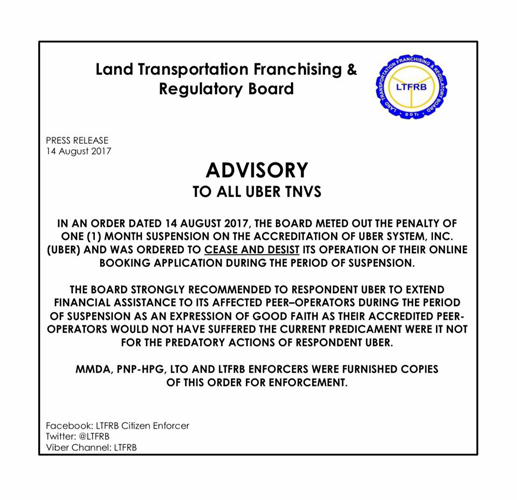 We are temporarily suspending operations starting at 6AM today. Rest assured that we are doing everything we can to resolve the situation. pic.twitter.com/Zh3OsQRpw8

— Uber Philippines (@Uber_PH) August 14, 2017
In an announcement on August 14, the Land Transportation Franchising and Regulatory Board (LTFRB) "ordered to cease and desist [Uber's] operation of their online booking application during the period of suspension" for one month. This comes after the ride-sharing service supposedly violated LTFRB's order to stop accepting applications for accreditation. LTFRB Spokesperson Aileen Lizada said in an interview with CNN Philippines that the company activated at least three vehicles a day after the ruling has been issued. The agency further pointed out that "accredited peer-operators would not have suffered the current predicament were it not for the predatory actions of respondent Uber."
Sobrang dami ng problema ng bansang to but you chose to get rid of something that's so convenient?! UGH

— tuesday (@tuesyyy) August 15, 2017
Siksikan, walang aircon, palaging sira na MRT, traffic na daan, suspended na Uber. Triple kill. KING INA

— Marc Galleno (@kid_kulaputo) August 15, 2017
no uber and bgc pa coverage ko today pic.twitter.com/vNNhTdn2Nl

— andré (@andre13santiago) August 15, 2017
With the big traffic problem that is Metro Manila plus inconvenient commuting options, ride-sharing applications have solved the problems of many commuters.
ADVERTISEMENT - CONTINUE READING BELOW
August 15, 2017
tenkyu LTFRB for suspending uber yehey pinadali niyo buhay lalo na sa aming musicians na bitbit mga instrumento at inuumaga ang uwi

— josh villena (@jeshwehey) August 15, 2017
Nakakaiyak kasi mas mura pa uberpool kesa sa pamasahe mo pag nag commute ?? & mas mura uber kesa sa grab ???? pic.twitter.com/JvjQMKjqPJ

— Carrisa Bernal (@crsabrnl) August 15, 2017
Sna lang maranasa ng mga contributory ng Uber suspension and public transport. I really hate taxi. I need @Uber_PH back.

— JD.Butterfly (@jd_butterfly) August 15, 2017
Unlike most taxi drivers, you won't get rejected despite traveling a huge distance. Unlike most taxi cabs, you get exact change and a receipt, plus you can even file a dispute if there's any discrepancy in your bill. Since it's a ride-sharing service, you get to spend less since more people are paying for one ride. (Don't even get us started on promo codes that can sometimes just decrease our pay to zero!)  There's even that issue on safety especially if you need to go home past midnight.
Screw people's comfort and convenience! These are nothing compared to Uber drivers losing their jobs. ???? #BringBackUber

— Bella Brillantes (@bellarazzi) August 15, 2017
Uber driver: pano ba yan ma'am, Grab ka na simula bukas
M: pano ka kuya?
U: Ma'am dko lam pano ko sasabihin sa pamilya ko

sak8 ng puso q

— beatrix (@beatan_) August 14, 2017
sana maisip ng ltfrb kung paano bubuhayin ng mga uber drvier yung pamilya nila dahil sa suspension na pinatupad nila.

— shaira azuelo (@shaii_xvii) August 15, 2017
But more than the inconvenience of hundreds of commuters, this suspension also gravely affects the Uber drivers themselves. That's one month of no food on the table, having to get loans just to pay the bill, and other financial problems.
CONTINUE READING BELOW
Recommended Videos
Dear @LTFRB
You could have just imposed a fine against Uber diba? That way, you are able to penalize w/out the riding public suffering! https://t.co/81Y7hivuEB

— Joel C. Laguerta (@InItToWINGIt) August 15, 2017
I'm all for penalizing @Uber_PH if they violated a rule, but why doesn't @LTFRB suspend taxi operators whose drivers commit worse offenses?

— Aileesa Lim-Sua (@Aileesa) August 15, 2017
The law is the law, they say. But there must be other ways to penalize Uber, right? Well, LTFRB thinks otherwise.
Most likely, car owners who take @Uber_PH to avoid driving in traffic are now back on the road, driving their cars. Sh¡t talaga @LTFRB

— F Kat Lo (@cosmicfanatic) August 15, 2017
Without this ride-sharing service, more private cars are probably back on the road now and the never-ending traffic problem continues.
I feel bad for the underpaid #LTFRB staff who'll handle angry Uber customers for a month dahil out of touch ang mga boss nila.

— Patricia Hernandez (@haynakoanobayan) August 15, 2017
To say that people are furious is an understatement. But we're just a minority, right? At least according to LTFRB...in 2015.
Now that you're gone, it's hard to get Uber you.

— Raffy Cabristante (@rafcabristante) August 15, 2017
Wala na ngang forever, wala pang #Uber . Saklap bes. ????????????

— Fried Rick (@MrGazimazing) August 15, 2017
Good morning @Uber @Uber_PH love you and will be waiting for you

— Lico Villongco (@LicOzm) August 15, 2017
Since the announcement, the riding public has been hoping that it gets straightened out soon. Of course, expect the Internet to come out with hugot puns.
We've filed a motion for reconsideration with the LTFRB and will be resuming and continuing operations until the motion is resolved. pic.twitter.com/CNqXc9cjhw

— Uber Philippines (@Uber_PH) August 15, 2017
So @Uber_PH just went back online after filing their Motion for Reconsideration; but then, @LTFRB Chairman says "the order stands".
Me: ????????????

— Sarah Marie Ponce (@sarahheika) August 15, 2017
Uber worked fast and filed a motion for reconsideration. After five hours of suspension (and the morning rush hour), the application looks like it's back for now—much to the relief of commuters. Let's just hope it stays that way.
ADVERTISEMENT - CONTINUE READING BELOW
Share this story with your friends!
---
Help us make Spot.ph better!
Take the short survey
Load More Stories