10 Things People With Bad Handwriting Will Understand
"I don't have bad handwriting, I have my own font!"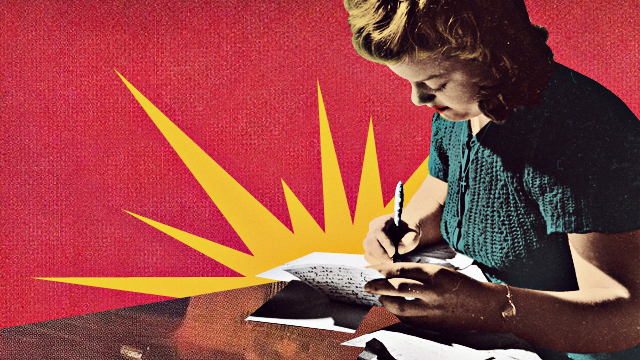 People with bad handwriting get a lot of flak for writing poorly. From comments like, "parang kinahig ng manok ang sulat mo" to "pwede ka nang mag-doctor," they never hear the end of it. Here are 10 other things people with terrible handwriting can relate to.
It makes people feel...a load of feels.
ADVERTISEMENT - CONTINUE READING BELOW
If I Wrote a Love letter She would cry.
Not because my words are that beautiful but more so because my Handwriting is that bad.

— Gin Morrison (@MeechIsDEAD) August 25, 2017
Getting defensive about it.
I don't have a bad handwriting I have my own font!

— Words (@WordsPosts) August 20, 2017
The doctors won't even take your side.
My handwriting is so bad I couldn't even be a doctor.????

— Daxton Palu (@DaxyPad123) August 28, 2017
Your parents got involved at one point.
Woooow your handwriting? ????????. My sister's handwriting is so bad, my parents even advised her to go for a handwriting course ????@ReboneLefutswe https://t.co/LXqBVWPeFM

— kokeletsol (@Keletsolefutswe) August 18, 2017
You or your parents come up with all sorts of excuses.
My mom says I have bad handwriting cuz they tried to make me right handed when I was learning to write ????

— Cordelia Chase (@_AntiSocialite) August 18, 2017
You know the perils of application forms + bad handwriting + the pressure to do well.
Nakakatakot magfillup ng application form pag ang pangit ng sulat mo????

— Deangelo Africano (@RomeoOneTango) August 24, 2017
When writing legibly means you should be extra all the time, but you can't keep up.
ang ganda ng sulat ko sa draft tas nung sa actual na ang pangit ????

— andromache ???? (@krzweyn) July 28, 2017
On the rare instances your penmanship is decent, people start to question your motives.
When your handwriting is terrible and you write something that looks somewhat decent... pic.twitter.com/RPgsRvIGAh

— Meisha Johnson (@meisha_johnson) August 27, 2017
You brought it upon yourself.
My handwriting is so bad that I sometimes have trouble reading my own notes!

— Lee Wilkins (@TheBitterLime) August 23, 2017
For you, having bad handwriting is just the way of life.
My handwriting is bad 25/8 tbh lol https://t.co/cpYjxkjMhS

— Emily K. ???? (@emilyykayyy) August 29, 2017
This story originally appeared on Candymag.com. Minor edits have been made by the SPOT.ph editors.
Recommended Videos
Load More Stories