10 Things You Need to Know If You're Joining the September 21 Protests
There are a number of events happening all over the country.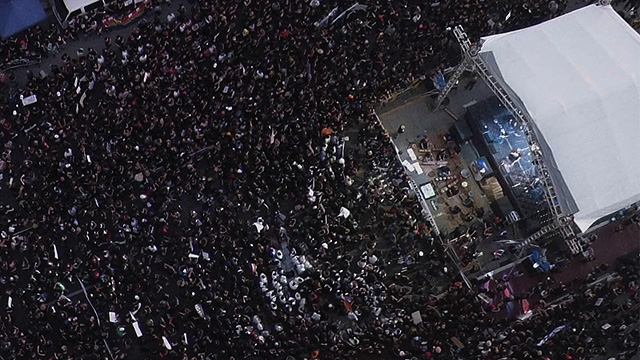 Protest Against Marcos' Burial at the Libingan (People Power Monument, November 30, 2016) 
(SPOT.ph) To commemorate the 45th anniversary of late dictator Ferdinand Marcos' declaration of Martial Law (on paper, at least), an anti-tyranny rally will be held on September 21 at Luneta Park in Manila. This not only serves as a reminder of our past, but also as a word of caution against another declaration that's said to be a "remote possibility" by the present administration. For first-time protesters, it could be scary especially with the foreboding feeling that history could repeat itself (read: Plaza Miranda). So we round up tips that would hopefully help make this a day of peaceful protests.
ADVERTISEMENT - CONTINUE READING BELOW
CONTINUE READING BELOW
Recommended Videos
Join the mass action at Luneta Park in Manila.
Movement Against Tyranny, an alliance of groups and individuals standing for human rights, urges the public to join the protests at the Quirino Grandstand, Luneta Park, Manila on September 21. Program starts at 4 p.m.
ADVERTISEMENT - CONTINUE READING BELOW
Or the one nearest you.
Various activities are happening all over the Philippines—from solidarity masses to an unveiling of a human rights icon's monument. Tindig Pilipinas, a group of senators and congressmen condemning human rights violations in the country, will hold Misa Para sa Katarungan at the Parish of the Holy Sacrifice at the University of the Philippines – Diliman at 2 p.m., and the unveiling of the Jose Diokno Monument and Manlaban Para sa Karapatan Concert at the Commission on Human Rights in Diliman by 6 p.m.
ADVERTISEMENT - CONTINUE READING BELOW
Prove that millennials aren't apathetic.
Youth Act Now Against Tyranny, an alliance of student organizations and young professionals, also announced protest centers in different parts of the country such as Cagayan State University, University of the Cordilleras, Palawan State University, Ateneo de Naga University, and more. Whichever mobilization you're planning to be part of, the point is to be heard! We're all on the same side here—to make our government accountable.
ADVERTISEMENT - CONTINUE READING BELOW
Wear black or bring black/white shirts.
You can have your shirts printed with the words "Defend our rights, no Martial Law" for free at the Gabriela Tent in Mendiola and at Luneta.
Get backup from the big guy up there.
No matter what religion you practice, you can participate in a con-celebrated mass at the San Agustin Church in Intramuros or the ecumenical prayer-gathering at Central UMC in Ermita, Manila, both at 2 p.m. You can all march together to Luneta Park at 3 p.m.
ADVERTISEMENT - CONTINUE READING BELOW
Keep safe.
Filipino writer Ninotchka Rosca reminds joiners to "Know the terrain even before you get there; locate places of safety to which you can run, in case of trouble; also places where you can pee. Always have a buddy and a re-group place, in case you get separated." You never know what the police might do in their attempts to disperse a protest. Sneakers and socks are better for running than sandals. "Always try to get away, if someone grabs you, and keep SCREAMING—your name and a number people can call," she also points out. It would help if you can keep your cell video going; Facebook Live all you want for the world to see.
ADVERTISEMENT - CONTINUE READING BELOW
Bring basic rally gear.
A large handkerchief soaked in milk and kept in a small plastic bag is recommended as a temporary cure for tear gas or mace, says Rosca. Bagong Alyansang Makabayan secretary-general Renato Reyes Jr. lists down "water, extra shirt, power banks, noisemakers, and your own signs or placards" as the basics. It's also best to bring garbage bags to keep the park clean. Don't forget umbrellas and raincoats in case of rain.
Come in a group.
There is safety in numbers. Bring friends, classmates, officemates. Don't forget to post photos of the rallies while you're there to encourage more people to come out and not be scared.
ADVERTISEMENT - CONTINUE READING BELOW
Listen to the speeches and performances.
The September 21 protest is a reminder of the democracy that was once taken from the Filipino people. Listen to first-hand accounts by those who survived the torture and experienced poverty during Marcos' Martial Law. "A rally is a big outdoor school. Interact with other rally participants," reminds Reyes.
Make some noise.
Participants of the September 21 rally are encouraged to bring bells that they could ring in time with the tolling of all church bells in Metro Manila by 8 p.m. This is in remembrance of the victims of the ongoing war in Marawi City and the bloody war against drugs. In Ernest Hemingway's novel For Whom the Bell Tolls, bells are used to demonstrate his solidarity with the allied groups fighting the fascists during the Spanish Civil War.
Share this story with your friends!
---
Help us make Spot.ph better!
Take the short survey
Load More Stories