This Proposed Skytrain Promises to Ease Your Commute to Uptown Bonifacio
Imagine: Guadalupe to Uptown in just five minutes!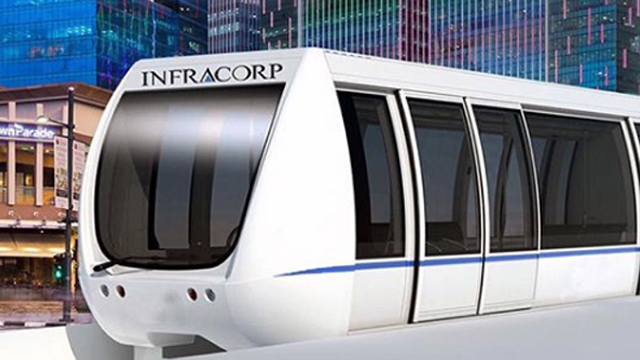 The Department of Transportation has received an unsolicited proposal that seeks to build a Skytrain system that will link Uptown Bonifacio to the Guadalupe MRT station.
The project was pitched in by Infracorp, a new company under the Alliance Global Group Inc. led by tycoon Andrew Tan.
Infracorp President and Alliance Global Group Inc. (AGI) executive director Kevin Tan says they are now diversifying into infrastructure through the government's private-public partnership projects.
The Skytrain proposal comes at a time when the government is focusing on developing the country's infrastructure with projects such as the ambitious Metro Manila Mega Subway and the MRT-7. It now depends on the Department of Transportation whether they will see this project as something that will complement their other programs. For now, let's take a look at some key facts about the Skytrain project:
What is it?
The BGC-Guadalupe Skytrain is a two-kilometer monorail project that will utilize the automated cable-propelled monorail technology. It's intended to provide an alternative route to the Fort Bonifacio area which is otherwise relatively difficult to reach via normal commuting routes.
ADVERTISEMENT - CONTINUE READING BELOW
The Skytrain is also AGI's initial venture into mass transportation infrastructure. "Given the country's strong and stable economy, we see a huge opportunity to invest in infrastructure. We are excited to participate and optimistic about the government's aggressive push for infrastructure developments," Tan says.
Where are the stations?
The proposal states that the Skytrain's stations will be built at Guadalupe, Makati, and Uptown Bonifacio. The Guadalupe station will ideally be linked to the existing MRT station there.
There are also plans to directly connect the BGC station with the government's planned Mega Subway system project that will have one of its stations located at Fort Bonifacio.
What is its capacity?
According to AGI, the Skytrain project can accommodate around 60,000 to 100,000 passengers daily.
When is the completion date?
There's no completion date yet since it's just a proposal, but if it gets approved, construction of the Skytrain is estimated to take three years before it becomes operational.
How will this benefit us?
The usual route to get to BGC consists of two rides via MRT and bus and takes around at least 30 minutes, if you're lucky.
But with the Skytrain, travel time is expected to cut down to just five minutes. The commuting public also won't have to get off at the already overcrowded Ayala station, which in effect lessens the load for the MRT-3 system.
This story originally appeared on Fhm.com.ph. Minor edits have been made by the SPOT.ph editors.
Load More Stories