Let Your Creativity Take Flight at This Chill Coworking Space in Kapitolyo
Beat deadlines and unwind at STKD Zeppelin.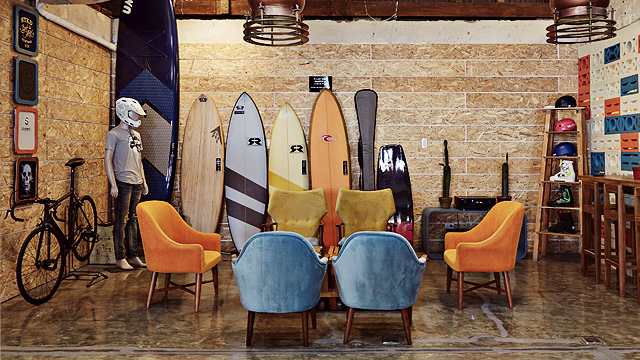 (SPOT.ph) All work and no play makes Jack a dull boy, so says a proverb. STKD Zeppelin, the latest addition to the growing number of hip coworking spaces in the Metro, seems to have taken this to heart. But don't make the mistake of chucking it as just another communal office spot, because it's definitely more than that.
ADVERTISEMENT - CONTINUE READING BELOW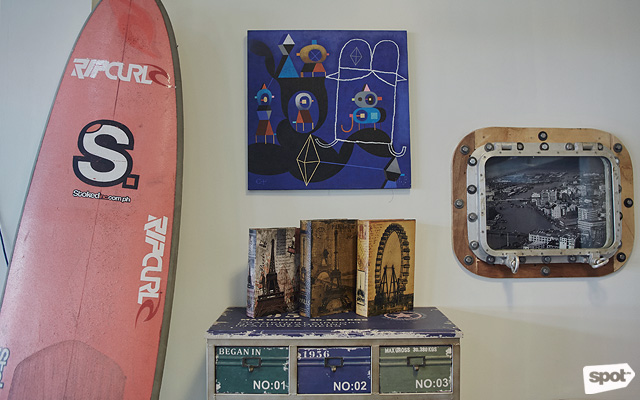 STKD Zeppelin is an offshoot of StokedInc., the local clothing and lifestyle brand famous among boardsports enthusiasts. StokedInc. has successfully carved its niche as a 17-year-old company, and they saw it fit to break the mold and evolve. "We have to grow and morph. So we felt [...] the name was known enough in the Philippines to create more of a lifestyle, to share our lifestyle," says co-owner JV Borromeo, who is also the president of StokedInc. Creating a coworking space is also a means to connect to the younger market, he adds. Hence, Borromeo and partners JJ Atencio of 8990 Holdings and Joncy Sumulong of Flotsam and Jetsam Hostel in La Union decided to put up Zeppelin, which is just a floor above the StokedInc. headquarters on Brixton Street in bustling Kapitolyo, Pasig.
ADVERTISEMENT - CONTINUE READING BELOW
It may seem far-fetched for a retail brand that caters to a sporty lifestyle to morph into a coworking space; but when you step into Zeppelin, you'll soon see how it all falls into place.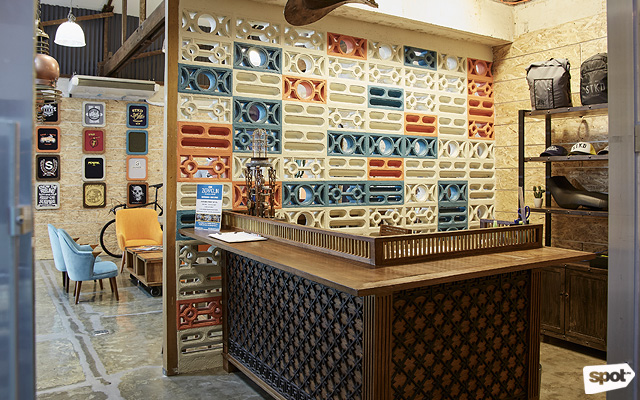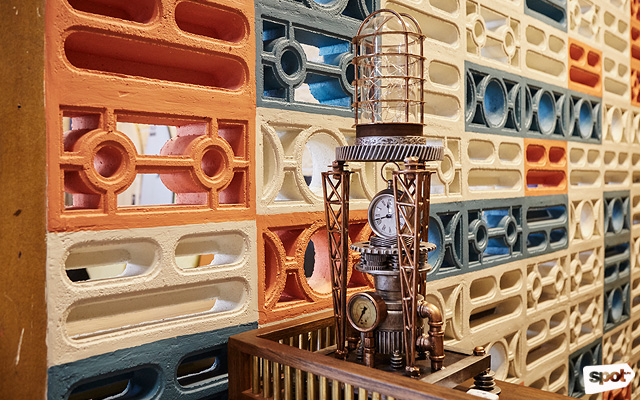 ADVERTISEMENT - CONTINUE READING BELOW
It all becomes obvious as soon as walk into the reception area which sports a colorful cinder block panel juxtaposed with a bespoke, wooden counter hauled straight from India—Borromeo's favorite. "When I saw this piece, [I said] this has to be the first one you see when you come in," he beams. A shelf that houses Stoked baseball caps and backpacks clues you in that this is no ordinary coworking space.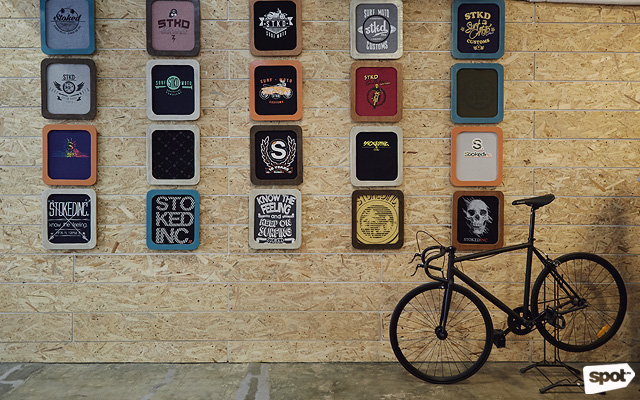 ADVERTISEMENT - CONTINUE READING BELOW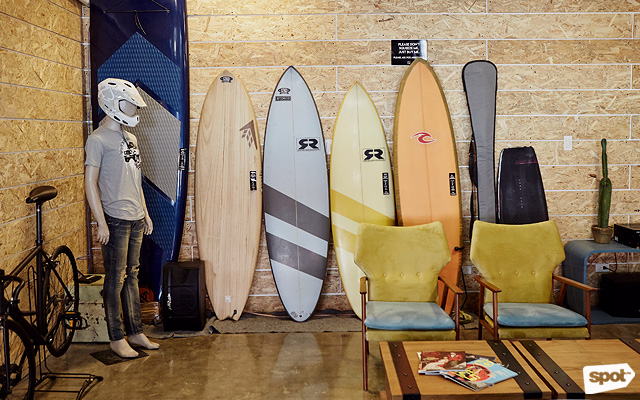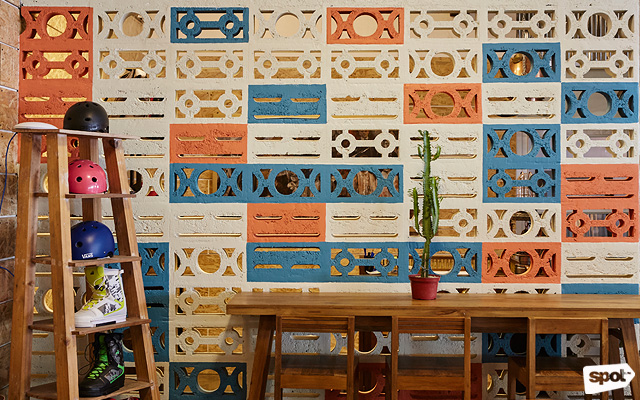 ADVERTISEMENT - CONTINUE READING BELOW
Then you'll see the waiting area, which showcases framed Stoked T-shirts on one wall and a row of surfboards resting on another. Wall cladding made of upcycled wood scraps from container yards serve as the backdrop for these off-kilter décor items and for the comfy seats in appetizing colors of bright blue and orange.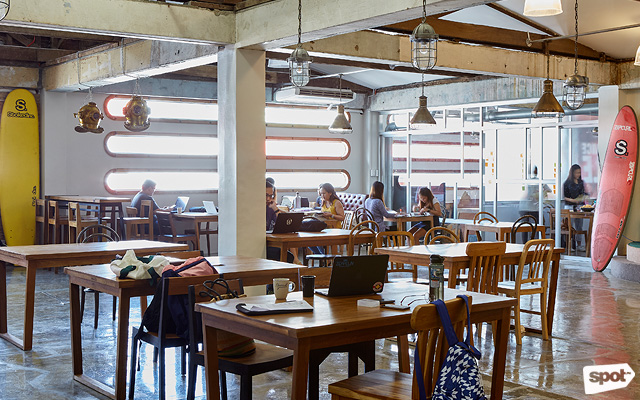 ADVERTISEMENT - CONTINUE READING BELOW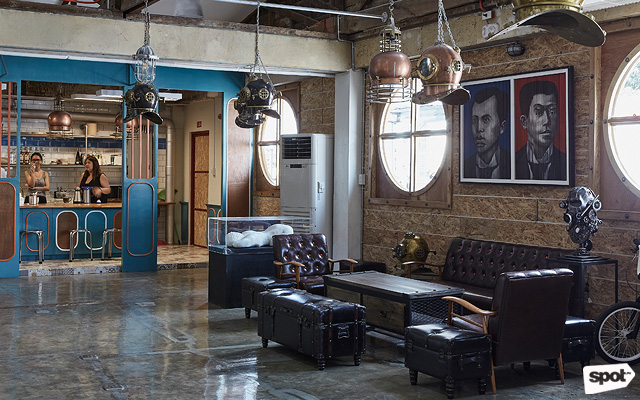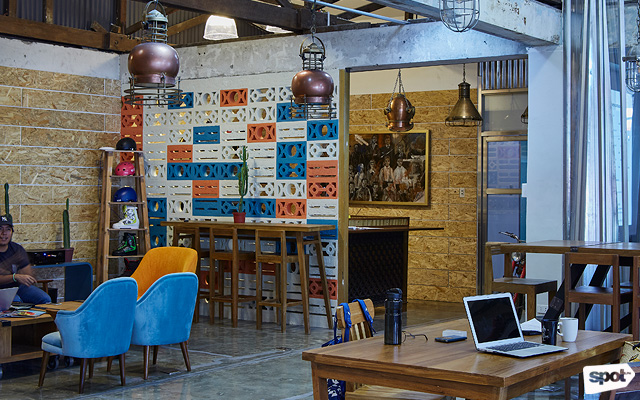 ADVERTISEMENT - CONTINUE READING BELOW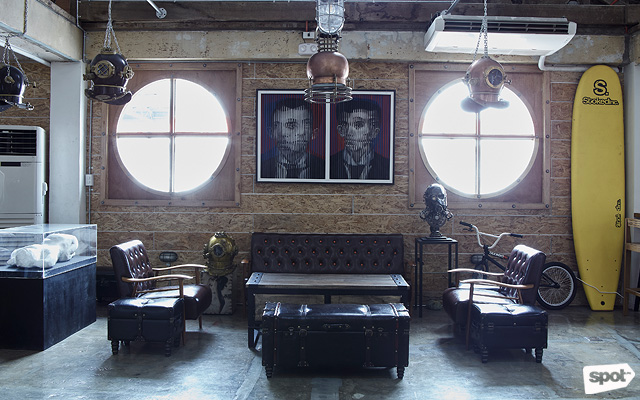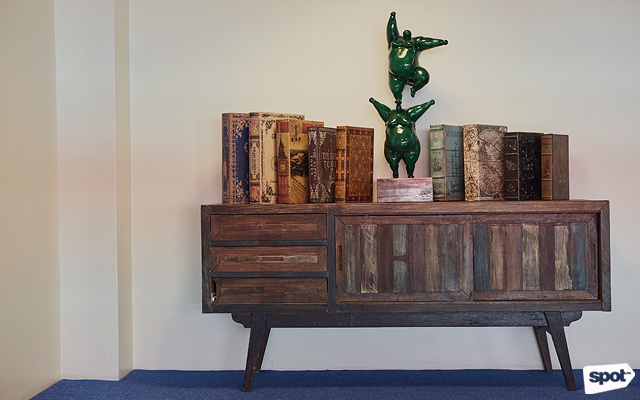 ADVERTISEMENT - CONTINUE READING BELOW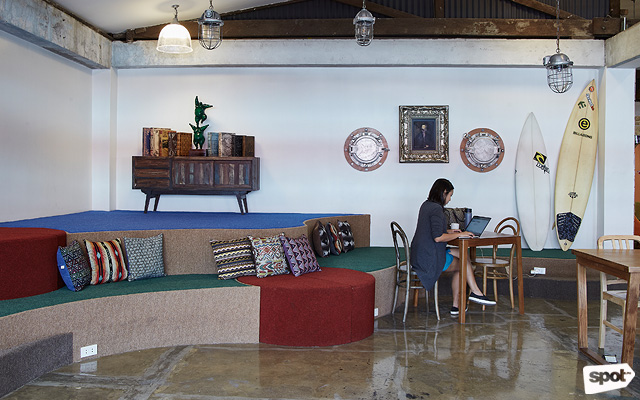 The main work area is comprised of wooden chairs and tables, while two lounge areas offer a more comfortable and laid-back vibe for when you want to stretch out a little in between deadlines. There's the "college library," as Borromeo fondly calls it, which is set on an elevated platform complete with throw pillows. This spot also functions as a stage for lectures. The other lounge boasts a set of Chesterfield seats as well as a chest that serves as a coffee table—a vignette that looks more like a bachelor pad's living area.  
ADVERTISEMENT - CONTINUE READING BELOW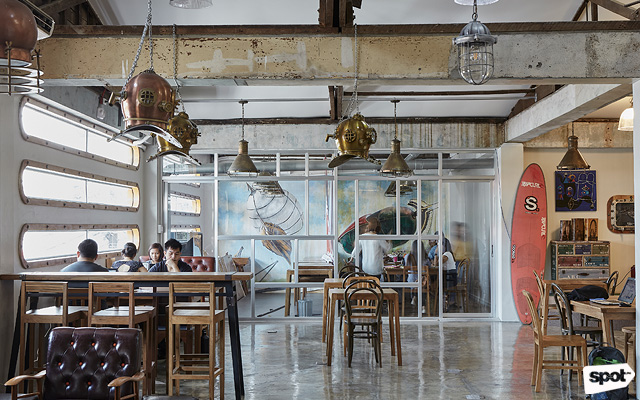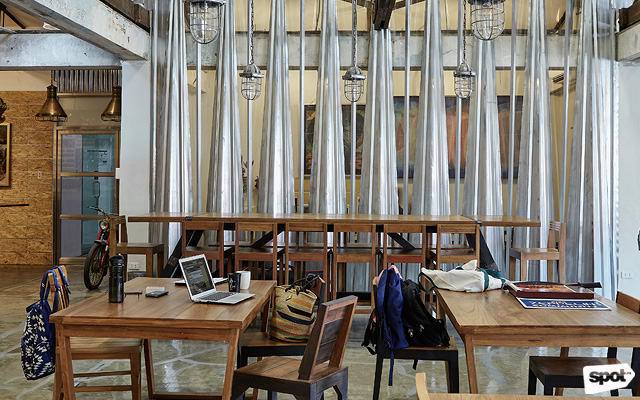 ADVERTISEMENT - CONTINUE READING BELOW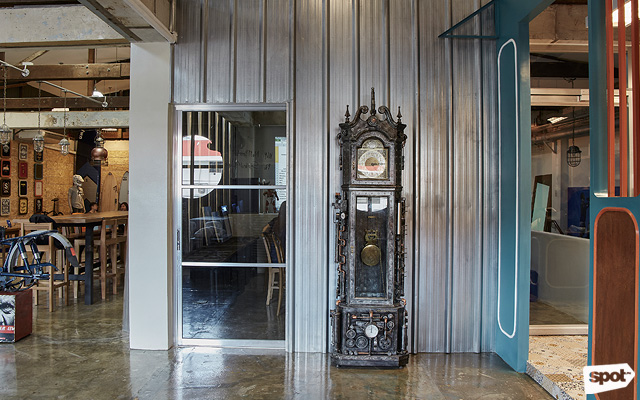 Adjacent to the "college library" are two separate conference rooms that can comfortably accommodate around 10 people. Use of these rooms is separately charged. If you want a bigger room, you can book the more premium conference area.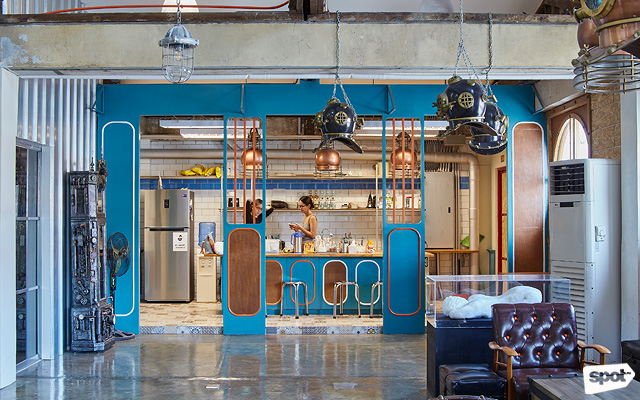 ADVERTISEMENT - CONTINUE READING BELOW
At the far end of the 288-square-meter floor is the pantry, where you can prep a cup of coffee before resuming work. But Zeppelin's pantry is not your usual utilitarian-yet-boring kitchen. Its French patisserie-themed design makes it stand out, and you may actually be tempted to linger here longer than planned. It's so pretty that, according to community manager Dess Santos, it has already appeared in a cooking show series.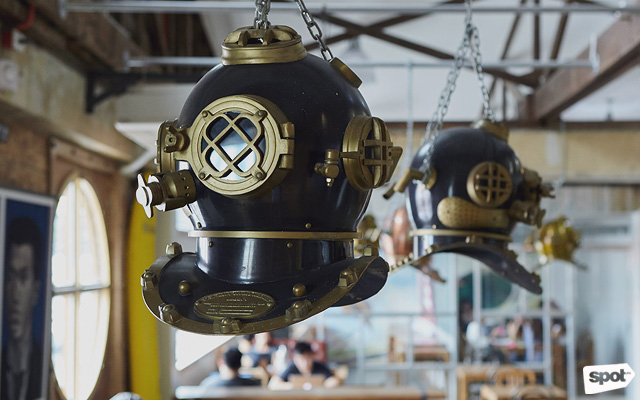 ADVERTISEMENT - CONTINUE READING BELOW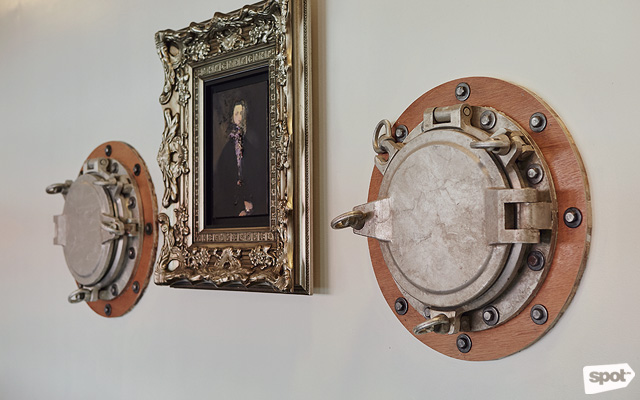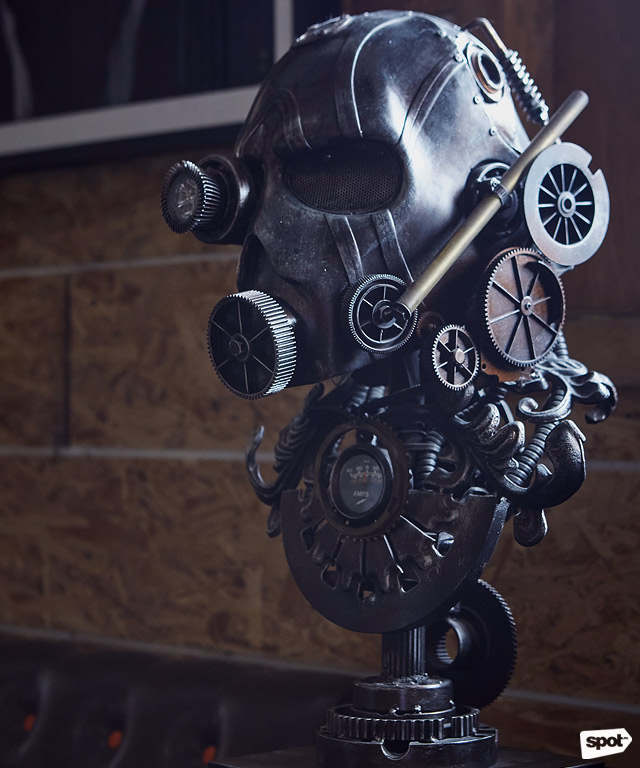 ADVERTISEMENT - CONTINUE READING BELOW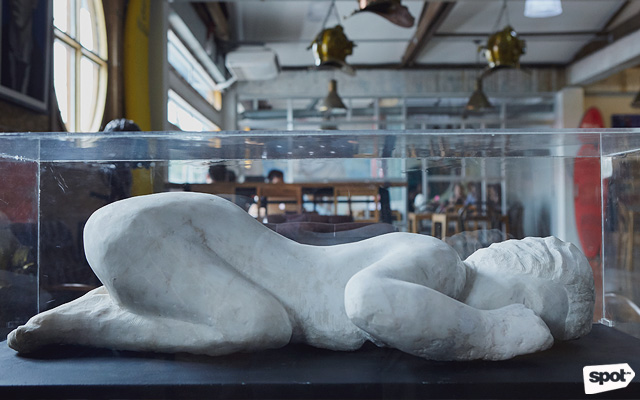 Zeppelin is decidedly industrial, with exposed trusses and bare cement walls. But fun details separate it from all the other industrial-style coworking spaces out there. All over the space are hanging helmets that serve as quirky lighting fixtures. These were sourced from Thailand, together with most of the furniture pieces in the space. Atencio's collection of artworks also pepper the place—framed paintings hang in one conference room, while a sculpture of a human figure in fetal position greets you on your way to the pantry.
ADVERTISEMENT - CONTINUE READING BELOW
From the get-go, Borromeo and his partners already knew what kind of look and feel they wanted for the space: The chill and energetic vibe of La Union. Hence, they enlisted the help of architect Carla Suiza, who also took charge of furnishing the popular Flotsam and Jetsam hostel in the north's surfing capital. "Meanwhile, a smattering of a few bicycles discreetly advertises STKD Surf Moto, Borromeo's custom motorbike shop also located downstairs. "The theme of Zeppelin is, of course, an airship—to launch flight and whatnot. The other binding thing is the builder—the Renaissance man—that's what we're kinda pushing here. We started that way, and we felt that it's a way for us to interpret what we've done—to encourage building, creativity—from the clothing we create to the motorcycles. It's a cycle," JV proudly explains.
And as with any workday cycle that starts with deadlines and ends with a celebration of the day's accomplishments, Zeppelin knows how to throw a party. "Hindi siya nali-limit sa seminar lang, workshop lang. You can do parties here, you can do launches, [press conferences]...there are a lot of things you can do in this space," says Santos. Aside from clients renting the place for their own events, Zeppelin has also been initiating their own: Just recently, Ely Buendia celebrated his birthday here with a Halloween movie night for the benefit of the SOS Children's Center. Zeppelin will also be having regular events every Thursday. "We can invite bands, DJs, [have] game nights, movie nights, iba-iba," Santos adds. How do they mix business with pleasure? People come here on weekdays starting at 9 a.m. to work; and come 6 p.m., you call it a day and unwind as Zeppelin transforms into an events venue (they even have locally crafted beer that you can order!). Weekends are exclusively for events only.
ADVERTISEMENT - CONTINUE READING BELOW
All these fun things are happening even before the place officially launches on December 7. And while this establishment has been on soft opening for only three months, it's slowly but surely gaining attention, which isn't surprising because who wouldn't want to have an office where you can mix business with pleasure?
STKD Zeppelin is at 11 Brixton Street, Kapitolyo, Pasig City. Introductory rates are at P500 per day, P300 for half-day use, and P7,000 per month, inclusive of high-speed Internet, printing services, and free-flowing coffee. The conference rooms can be rented at P1,000 per hour. For more information, contact 356-5162, 0926-656-5714, or log on to STKD Zeppelin's Facebook page.
Photos by Dairy Darilag
Recommended Videos
Load More Stories