11 New Coworking Spaces to Check Out in Metro Manila
Check out the freshest options for freelancers.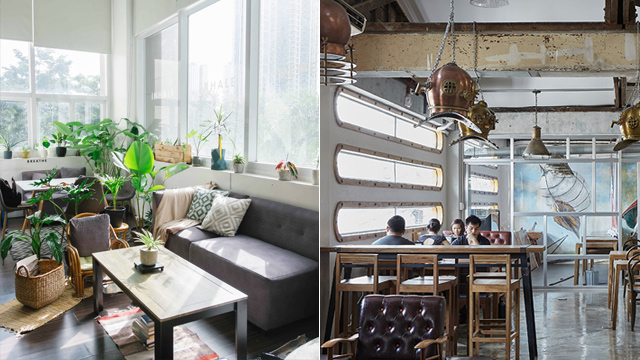 (SPOT.ph) Telecommuting is no longer the unconventional concept it once was; it's the better and cooler way to work. And it makes sense, with increasing connectivity, the myriad of jobs that can be done remotely, and the nasty city commute we all just want to avoid. Coworking spaces are no longer just for lonesome freelancers. The past few years have seen more small businesses with their skeletal teams take advantage of these spaces and the perks they have to offer. Coworking establishments have gone from providing the standard desks, high-speed Internet, and unlimited coffee to going above and beyond with their networking events, business solutions, and unique aesthetics.
We give you an update on the newest coworking spaces to open their doors in Manila. Read on and spice up your telecommute at these spots.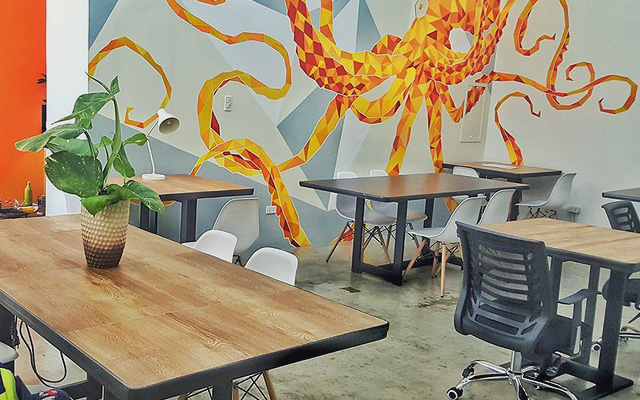 SocialSpace Coworking
G/F CTP Alpha Tower, Investment Drive, Madrigal Business Park, Ayala Alabang, Muntinlupa City
ADVERTISEMENT - CONTINUE READING BELOW
Contact: 359-0875, 0956-443-9059
E-mail: socialspacecoworking@gmail.com
www.socialspacecoworking.com
Open from 9 a.m. to 11 p.m. (Monday to Friday) and 9 a.m. to 7 p.m. (Saturday)
Since opening in May, SocialSpace Coworking has added a touch of fun and creativity to the highly corporate area in which it exists. "We wanted to mirror the personalities of the laid-back, sociable, and creative individual from the South," SocialSpace Coworking Founder and CEO Richard Pulumbarit tells us. The space doubles as a creatives incubator where artists and content makers find support. In terms of design, the high ceiling lets in as much natural light as possible during the day. And at night, a blend of warm and cool lights highlight the murals and other creative elements. Pulumbarit adds, "A professional digital printer/copier is brought in to make sure outputs are presentation quality, high-speed Internet with multiple service providers is maintained, a full pantry and only freshly roasted beans for our coffee. We make sure that when ideas are conceived, the systems are in place and capable of implementation."
CONTINUE READING BELOW
Recommended Videos
Rates: A half-day coworking pass costs P300 (four hours), while an all-day pass is at P500 (eight hours). Monthly, quarterly, and annual terms are also on offer. For meetings, you can rent the Quiet Room (up to four persons) at P300 per hour or the Meeting Space (up to 10 persons) at P500 per hour. The event space (up to 60 persons) rates are from P5,000 (half day) to P12,000 (whole day).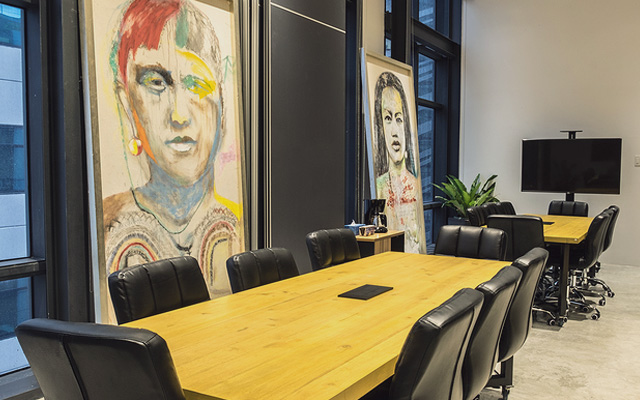 ADVERTISEMENT - CONTINUE READING BELOW
Ignition Venture Studio
North Penthouse, Marajo Tower, 312 26th Street corner 4th Avenue, Bonifacio Global City
Contact: 944-6200
E-mail: contact@ignition.biz
www.ignition.biz
Open from 8 a.m. to 8 p.m. (Monday to Friday)
Four-month-old Ignition Venture Studio promises to be more than just a coworking space. As CEO Paolo Villonco puts it, their "coworking [service] is about 5% of the business." Inspired by Villonco's days at Stanford and its Venture Studio, Ignition aims to be the one-stop shop for everything business and to bridge the gap between tech, finance, and creatives. Beyond workspace solutions, Ignition offers an array of services to fulfill all of an entrepreneur's needs and help their ventures take off: Business consulting and registration, accounting, bookkeeping, and intellectual property protection, to name a few. Workshops and networking events are a regular here, where industry experts facilitate and community members from different fields find a common ground. Villonco shares, "When people walk in here, they can consult for free, even if they're just considering to be entrepreneurs. Everyone is welcome here. And as for us, all we want is to grow the community, empower people, and democratize entrepreneurship."
The Ignition HQ houses a coworking area, dedicated desks, phone booths, conference rooms, semi-private and private offices, a pantry, lounging spots, and an events space. Its industrial design is elevated with the use of sustainable, local materials and display of proudly Filipino artwork (which, by the way, are exhibited for free, with a portion of the proceeds donated to various charities).
ADVERTISEMENT - CONTINUE READING BELOW
Rates: Two coworking shifts are available: 8 a.m. to 2 p.m. and 2 p.m. to 8 p.m. Each shift costs P672, and coworkers may consult Ignition's in-house experts for free. Those who sign up for a month (P12,000) get a free one-hour use of the conference rooms, which may also be rented starting at P2,000 an hour.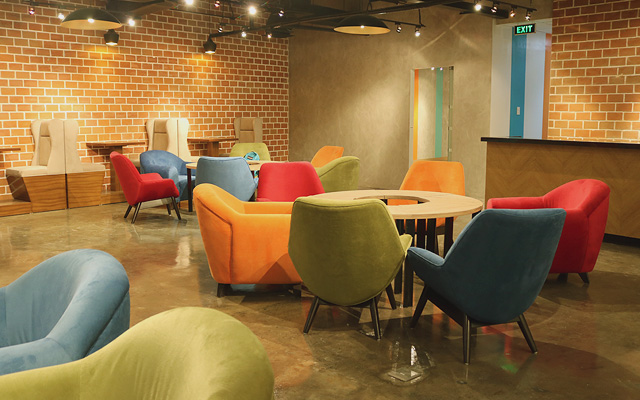 Clock In BGC
C2 Bonifacio High Street Central, 7th Avenue, Bonifacio Global City
1/F Bonifacio Technology Center, 31st Street corner 2nd Avenue, Bonifacio Global City
Contact: 0917-836-1387, 807-5811
E-mail: communitymanagerbgc@clock-in.com.ph
www.bgc.clock-in.com.ph
Open from 8 a.m. to 7 p.m. (Monday to Friday)
The new Clock In, which just merged with the Square One BGC brand, is looking to cater to the game changers and visionaries. Now with two branches in BGC, both under Fort Bonifacio Development Corporation, the fresh brand aims to deliver three vital C's to its clients: Convenience, community, and collaboration. Myra Ocampo, Deputy Head of Commercial Operations at Fort Bonifacio Development Corporation (FBDC) says, "Square One merged with Clock In to offer more perks, options, and networking opportunities for coworkers. We made our social halls much more spacious because those seemingly casual interactions often turn out to be a minefield of ideas from which passion projects take flight."
ADVERTISEMENT - CONTINUE READING BELOW
Aside from the prime address and hip-looking social spaces, Clock In offers high-speed Internet, unlimited coffee, tea, and water, scanning and printing services, free local calls, free courier service around BGC, serviced meeting rooms, front desk services, and event spaces. Coworkers can take advantage of exclusive sessions of LifeHacks by Clock In, a TED Talks-inspired learning session where industry experts share powerful ideas.
Rates: Hotdesk (a shared workspace in a common area) rates at either branches start at P620 per day. Meeting room rates per hour are at P1,500 for BHS and P1,000 for BTC. Long-term coworking passes come with printing credits, free meeting room hours, and locker usage. Private offices may also be rented for as short as one month.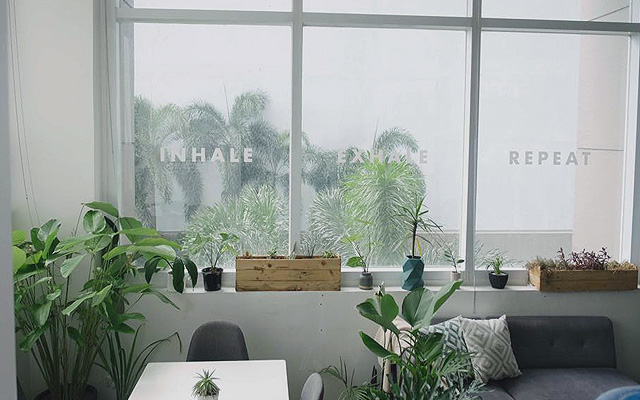 Grow Space
Commercial 30 UG/F South of Market, 25th Street corner 11th Avenue, Bonifacio Global City
Contact: 0995-499-5660
E-mail: cowork@growspace.ph
www.growspace.ph
Open from 9 a.m. to 5 p.m. (Monday to Friday)
ADVERTISEMENT - CONTINUE READING BELOW
Grow Space in BGC isn't out to compete with the big guys. This little coworking oasis took its weakness and turned it into its strength, as one of the partners, Kyle Imperio, explains. While the cozy spot, fresh from its October soft opening, doesn't have any private offices or spacious lounges, it serves as a sweet escape where you can breathe and do your work in peace. It has all your coworking essentials, plus an urban jungle aesthetic. Imperio, who has a degree in Agriculture, and another partner Lerizze Dizon, who owns a plant business, designed the place. Dizon tells us, "Our coworking space happily welcomes natural light inside. We wanted to fill the place with plants because they spread positive vibes and help people stay emotionally and physically healthy." Grow Space is all about balance and living well. Naturally, it attracts like-minded clientele. "The events and groups we host lean toward those into meaningful living and those who support a cause," shares Imperio. Walk-ins are welcome here, but booking in advance is encouraged.
Rates: Coworking rates are at P90 per hour, P250 for half a day (four hours), and P400 for a whole day (eight hours). Use of the meeting space (up to five persons) will cost you P450 an hour. The whole area may also be reserved for events, with photography and videography services available.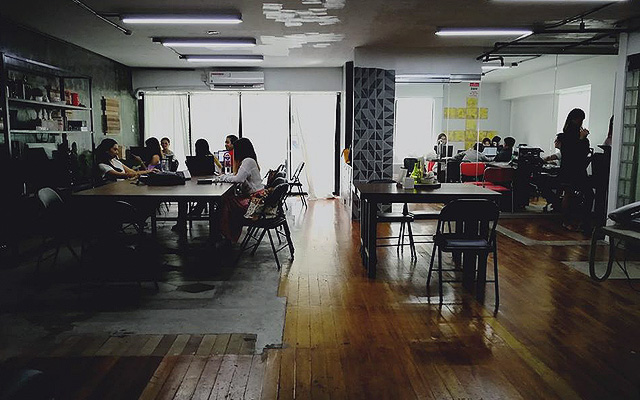 ADVERTISEMENT - CONTINUE READING BELOW
xState
Unit 3D, 112 Cypress Garden, V.A. Rufino Street, Legazpi Village, Makati City
Contact: 869-6496, 0917-526-3344
E-mail: info@xstate.org
www.xstate.org
Open from 8 a.m. to 6 p.m. (Monday to Friday)
xState, which opened in June, was established with tech and finance companies in mind. Founder Francis Dolojan, along with cofounders Nathan Nakar and Neva Talladen, wanted a venue for entrepreneurs to connect and grow their businesses. Dolojan tells us, "We help build and create the community through cross-referral systems that we have put in place to create a synergy in the workplace. From financials to suppliers, we ensure the continuous growth and stability of your business with the community that we have built." The spot was constructed using recycled materials and features an industrial look that's warm and welcoming. The coworking space and coffee shop hybrid houses a coworking area, office spaces, conference rooms, and an equipped kitchen. "Our building is a mixed-use building, so we have this homey vibe," Dolojan shares.
Rates: Daily coworking costs P499, while a weekly pass is at P1,999. A dedicated desk costs P4,999 a month. Private offices are also available for rent.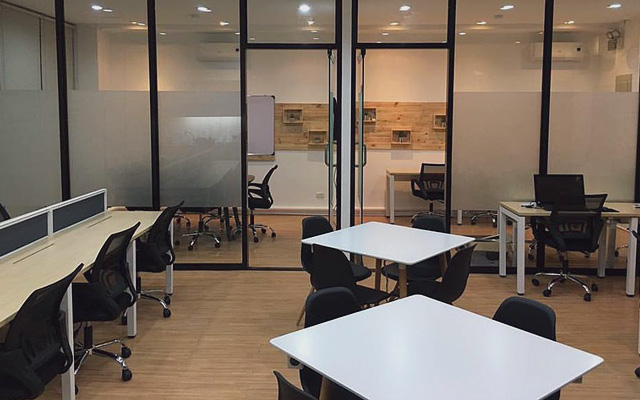 ADVERTISEMENT - CONTINUE READING BELOW
The Common Space
Unit 203, The Pergola Mall, Aguirre Avenue corner Gaches Street, BF Homes, Parañaque City
Contact: 0977-857-5155, 776-4838
E-mail: cowork@thecommonspace.ph
www.thecommonspace.ph
Open from 9 a.m. to 9 p.m. (Monday to Saturday)
The Common Space just turned a year old. Located in the bustling BF Homes neighborhood, the spot features a clean and straightforward aesthetic that gives off a no-nonsense vibe minus the intimidating feel. The Common Space offers all coworking essentials—high-speed Internet, pantry staples, print/copy/scan/fax services, and receptionist assistance—but it takes great pride in these three things: Affordability, accessibility, and flexibility. Jahzon Lih, the owner and one-man team behind the thriving business, tells us: "I believe my pricing is very competitive. My location is also very ideal because you get everything there. You get a supermarket, lots of restaurants, and banks, so you won't have to worry about that...I can also be open anytime you need; 24/7 if you need. I'm flexible with that. We just have to talk about it." The space has successfully hosted various events, coworkers, students, and even night-shift workers since it opened. It's been a year, and there are no signs of slowing down for this trusty coworking hub.
Rates: Coworking rates range from P200 (three hours) to P400 (whole day), with discounts available for students. Flexible packages, long-term plans, and group deals are also on offer. Use of the meeting room (up to six persons) will set you back P500 an hour, P1,500 for half a day, and P3,000 for a whole day. The virtual office service is at P1,000 a month. A private office is also available for rent.
ADVERTISEMENT - CONTINUE READING BELOW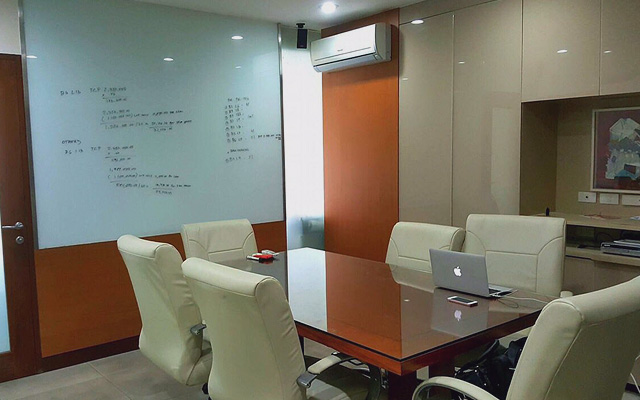 MegaManila Co-Working Spaces
1707 Annapolis Wilshire Plaza, Annapolis Street, Greenhills, San Juan City
Contact: 0917-665-0967, 0999-881-3608
E-mail: mmcoworkingspace@gmail.com
www.facebook.com/megamanilacoworking
Open daily from 8 a.m. to 8 p.m.
MegaManila Co-Working Spaces, which opened in July, claims to be the first coworking space in Greenhills. Up on the 17th floor, it offers a charming view of the city. Displayed on the walls and corners are works of art to be updated every quarter. The place aims to attract young professionals and students around the San Juan and Ortigas areas. Night owls might soon find this home, too, as the team contemplates operating 24/7. The spot has high-speed Internet, free-flowing coffee and water, printing, scanning, photocopying, and mailing services, as well as conference room and event space rentals. Vouchers that you can give away as gifts, plus discounts to their partner Privato Hotel, are available, too.
ADVERTISEMENT - CONTINUE READING BELOW
Of course, networking opportunities are a given. MegaManila Co-Working Spaces Managing Partner Clarinda Joanne Ellorin says, "We highly encourage our co-spacers to collaborate with each other and build their own networks. Aside from this, they will have access to different seminars and events that we will be handling and joining. We believe that individuals or small teams will expand through proper support."
Rates: Coworking rates are at P100 per hour, P400 per day, P2,000 per week, and *P6,000 per month (*with free two-hour use of the conference room). Conference room rental is at P2,000 per hour.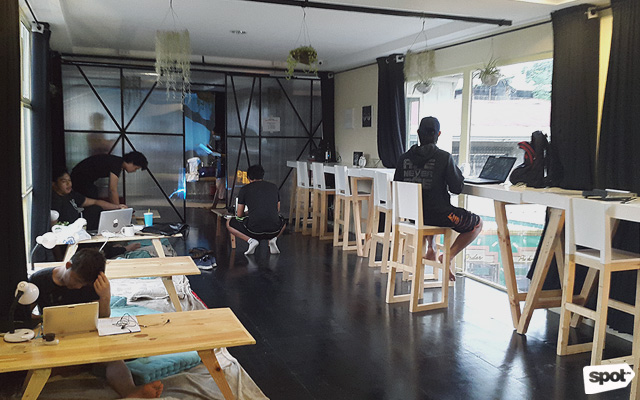 WIP PH
91 Maginhawa Street, Teachers Village, Diliman, Quezon City
Contact: 982-1037
E-mail: wipphl@gmail.com
www.facebook.com/WorkInProgressPH
Open from 1 p.m. to 1 a.m. (Monday to Saturday)
WIP PH, which opened to the public in October, is not only a coworking space but also a creative hub. Cofounder Chic San Agustin and her partners all come from the creative industry (advertising and theater), so it came naturally for them to incorporate art into their business venture. WIP stands for "work in progress," but it can mean many things, according to San Agustin: "We wanted a name that cuts across the freelancing industry and the arts industry. In advertising and in theater, 'WIP' is a common term. But we use it in different ways. The most commonly used term is 'work in progress,' but since we have plays, WIP can also mean 'watch ignited pieces.' Since it's a networking space, we also use 'we integrate people.' We also say, 'find the work in play,' so it means a lot."
ADVERTISEMENT - CONTINUE READING BELOW
The relaxed interior, with hanging plants, bar stools, floor seating, and brightly colored pillows, is very apt to the youthful vibe of the neighborhood. The furniture is mobile, and the black curtains are ready to be drawn anytime to transform the area into a performance venue. Just below is StrEat Maginhawa Food Park, where coworkers can fill up before pulling an all-nighter. Unlike most coworking spaces, WIP doesn't follow office hours; it follows students' study (and cramming) schedule. High-speed Internet, unlimited coffee, and a comfy nook where night owls can squeeze in a power nap are available. "We want to be student-oriented. We want to introduce this kind of working to the students because all they know right now are coffee shops. At least here, they can have a space where they can really focus," San Agustin shares.
Rates: Coworking rates are at P40 an hour, P200 for half a day (six hours), and P320 for a whole day (12 hours). For events and meetings, using half the space costs P500 per hour, while renting the whole area costs P1,000.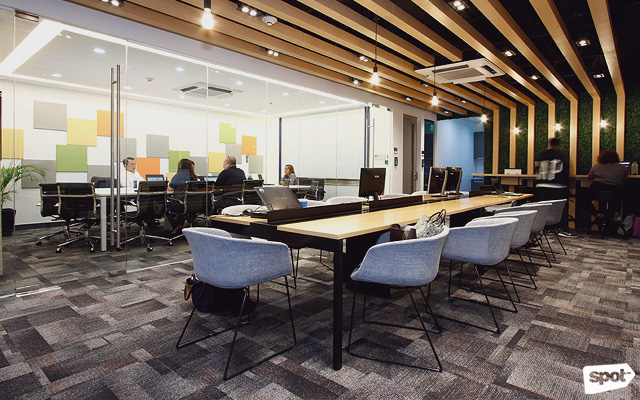 ADVERTISEMENT - CONTINUE READING BELOW
KMC Solutions at V Corporate Centre
5/F V Corporate Centre, 125 L.P. Leviste Street, Salcedo Village, Makati City
Contact: 779-6540
E-mail: info@kmc.solutions
kmcsolutions.us/services/serviced-offices/coworking-space-makati
Open 24 hours
KMC Solutions opened their newest space in Makati in September. The sprawling space can accommodate teams of all sizes, from a lean group of five to a solid company of over 100 employees. Small and big businesses can benefit most from KMC's plug-'n-play offices and its range of services: Admin support, IT services, staff leasing, and payroll, to name a few. Individuals can enjoy exclusive membership and access to certain facilities. For the playful and vibrant interiors, KMC tapped Javier Project Managers Inc. and Design International Inc. for the furniture. Health and wellness amenities, such as a yoga studio, a gaming area, sleeping quarters, and shower rooms, were also incorporated. Andrew Lauchengco, KMC Solutions Assistant Marketing Manager, explains, "We designed this office with the employees' and clients' health in mind. We want to create an environment that prioritizes their needs and wants, thus the first subject that this office addresses is health and wellness."
Rates: Coworking rates are at P500/day with access to the meeting rooms.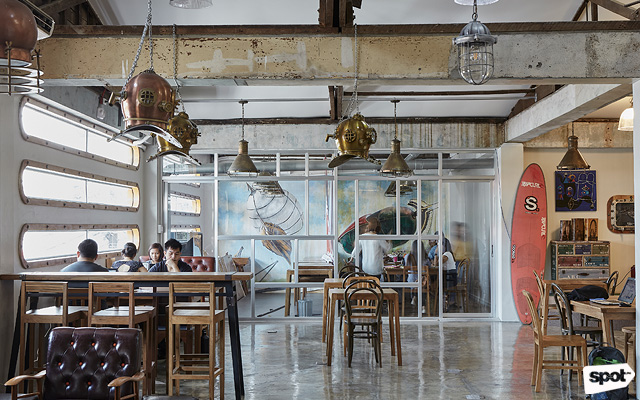 ADVERTISEMENT - CONTINUE READING BELOW
11 Brixton Street, Barangay Kapitolyo, Pasig City
Contact: 356-5162, 0926-656-5714
E-mail: info@stkdzeppelin.com
www.facebook.com/stkdzeppelin
Open from 9 a.m. to 6 p.m. (Monday to Friday)
STKD Zeppelin is an offshoot of the 17-year-old lifestyle brand StokedInc. and is located above the pretty kickass StokedInc. HQ in Kapitolyo. At the helm are partners JV Borromeo (president of StokedInc.), JJ Atencio (of 8990 Holdings), and Joncy Sumulong (of Flotsam and Jetsam Hostel in La Union), whose vision is to create a space where ideas can take flight. STKD Zeppelin is aptly designed like an airship—only way cooler. Carefully curated paintings, vintage decor, and colorful furniture pieces add character to the overall industrial aesthetic. After coworking hours and during weekends, the space transforms into an events place where creatives and kindred spirits gather. "STKD Zeppelin aims to be the aviator of invention...What we do in our community is help startups and freelancers. We introduce them to other coworkers to widen their network, and we could also help them promote their businesses," STKD Zeppelin Community Manager Dess Santos shares.
Rates: Coworking rates are at P300 for half a day and P500 for a whole day. Signing up for one month at P7,000 includes free use of the meeting rooms for 12 hours. Meeting rooms may also be rented for P1,000 an hour.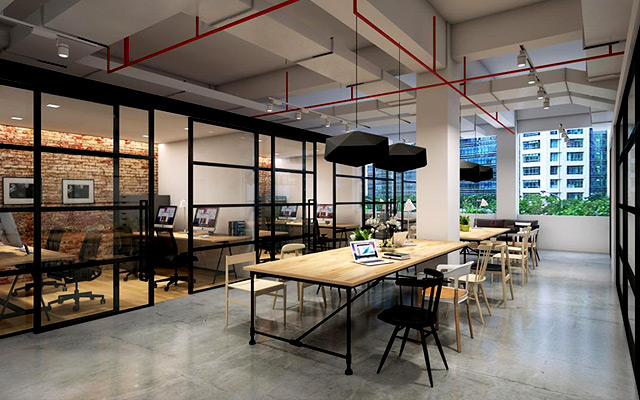 ADVERTISEMENT - CONTINUE READING BELOW
Paperwork
Mezzanine AL Building, 1 Campanilla corner E. Rodriguez, Barangay Mariana, New Manila, Quezon City
Contact: 975-7136, 356-7773, 0917-8155351
E-mail: info@paperworkph.com
www.paperworkph.com
Open from 9 am. to 6 p.m. (Monday to Friday)
Paperwork Philippines, which launched in August, is a concept brought in from Bangkok. (Paperwork Singapore is set to open in early 2018.) The creative collaboration hub geared toward design entrepreneurs takes pride in its materials library. From it, members can access swatches of different materials and colors, partners' catalogs, and an index of contacts and specialists. Paperwork Digital Marketing Manager Arturo Navarro explains, "We provide a more bespoke experience for users providing not just their basic needs but more opportunities for collaboration...We push for projects that help others in their professional and personal lives."
The sophisticated interiors—courtesy of the partners who all have a design background and specialize in corporate and workplace design—combines warm textures, grained wood, aged bricks, and sleek furniture. On weekends, the coworking space converts to an events place where everything from workshops to networking events and parties happen. Navarro adds, "We are able to provide a venue for small theatrical or musical performances, art gallery exhibits, or intimate cocktail parties. Paperwork also boasts an in-house café that provides premium coffee, really good snacks, pasta, and paninis."
Rates: Coworking for a day costs P500. A month-long pass is at P6,000 with two-hour use of the meeting room (good for six people) or one-hour use of the conference room (good for 10 people). Virtual office service is at P3,000 a month. The Workshop (event space) and private suites are available for rent, too. All coworkers, whether with daily or long-term passes, can access the materials library.  
ADVERTISEMENT - CONTINUE READING BELOW
Share this story with your friends!
---
Help us make Spot.ph better!
Take the short survey
Load More Stories