How Many Days Would You Have to Work to Buy an iPhone X?
Apple's latest device is not cheap. Here's how much it'll cost in work-days.
Apple Inc., the American multinational tech firm behind the iPhone, iPad and Mac, has officially made available for sale the most expensive iPhone to date in the Philippines on December 1.
The iPhone X is the latest and priciest model of Apple's smartphone line so far. Based on the official website of Apple in the Philippines, the company has priced a unit of the new phone for P64,490 for a 64GB unit and P73,990 for 256GB.
The company has also officially released two other new models called iPhone 8 and iPhone 8 Plus in the country two weeks ago. These models' cost range from P44,990 to P51,490 for the 64GB units and P54,490 to P60,990 for the 256GB variants.
The overall redesign of the popular smartphones and its steep prices have caught the attention of people around the world, including Filipinos.
A report from iPrice.ph, a Kuala Lumpur-based price comparison site, showed that the interest in these high-end phones in the country is higher in poorer regions such as Bicol (Region 5), Ilocos (Region 1), and Cordillera Administrative Region compared to richer regions such as Metro Manila or Davao.
ADVERTISEMENT - CONTINUE READING BELOW
But can Filipinos afford this luxury?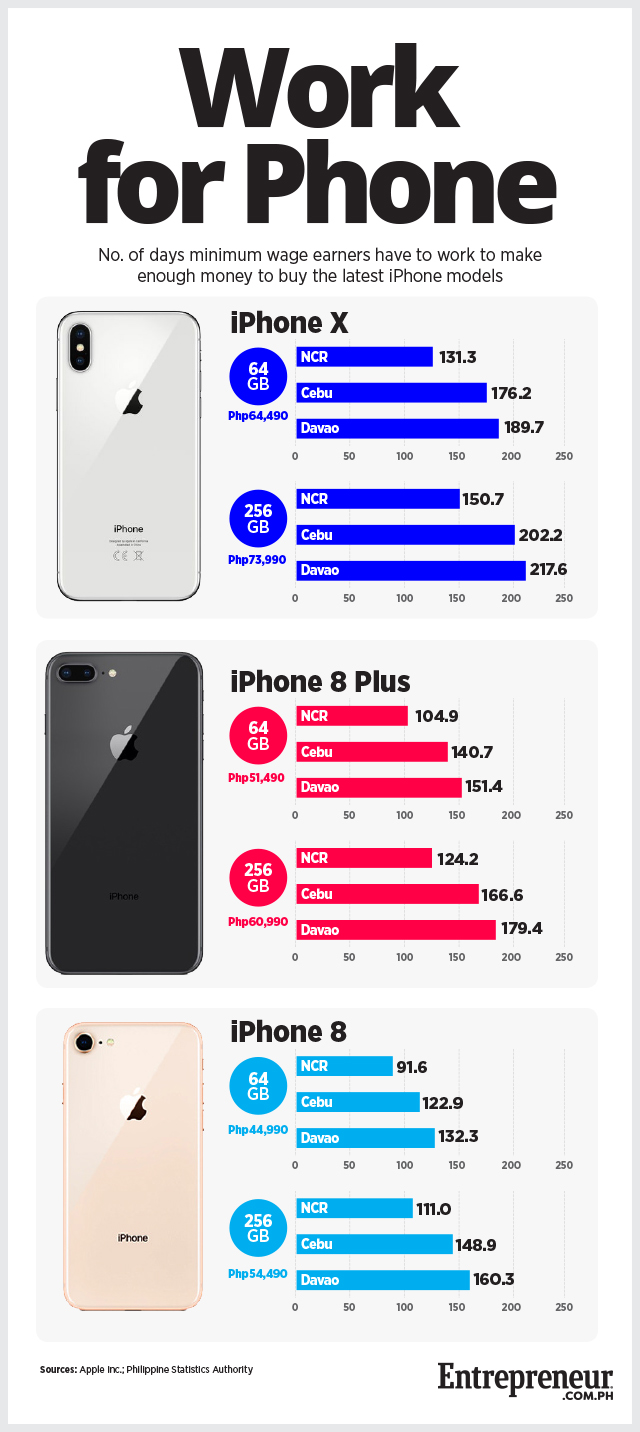 Metro Manila has the highest daily minimum wage at P491/day, according to the Philippine Statistics Authority. In the Visayas and Mindanao regions, Central Visayas (class A cities) and the Davao region have the highest minimum wage rates at P366/day and P340/day, respectively.
ADVERTISEMENT - CONTINUE READING BELOW
Given the wage levels, it would take months for a typical Filipino to be able to afford a single unit of these phones.
Minimum wage earners in Metro Manila would have to work for almost four months (91.6 days) to afford a 64GB iPhone 8, the cheapest variant among all the new models. That period goes up to six months, or 150.7 days, for a 256GB iPhone X. That's excluding taxes and other deductions and assuming a six-day work week.
ADVERTISEMENT - CONTINUE READING BELOW
While this may seem taxing enough already, people in the Visayas and Mindanao regions would have to work for longer hours for these phones. It would take about five to seven months for workers in Cebu and Davao to afford an iPhone 8, and seven to nine months just for a single unit of iPhone X.
This story originally appeared on Entrepreneur.com.ph. Minor edits have been made by the SPOT.ph editors.
Load More Stories