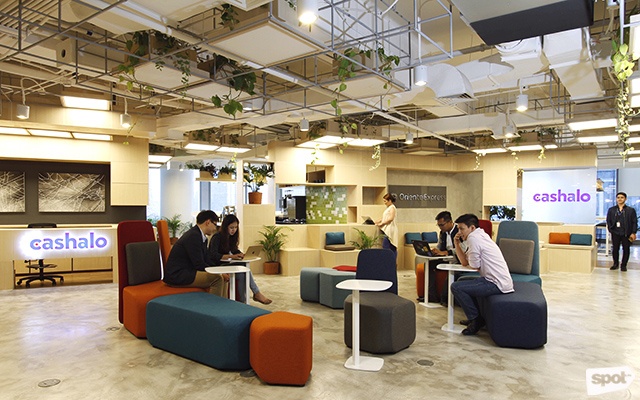 (SPOT.ph) Most offices in Metro Manila still have the makings of a dungeon—cramped, dimly lit, and filled with people longing to get out. Companies rationalize the sterile aesthetic of their office as a way to keep employees focused on work, but how productive can they really be if their work environment makes them miserable?
ADVERTISEMENT - CONTINUE READING BELOW
This won't be a problem for the employees of Cashalo, a simple, easy-to-use consumer-lending mobile app that delivers quick, easy and affordable credit to Filipinos needing reliable financing options. Their office is determined to be perceived as anything other than a workplace. From the lobby, an open kitchen can be seen in full view of visitors. Communal tables eat up space in some areas. Vines hang from ceilings, as well as drop lights fit for any tropical house. Every area is bathed in soft yellow light, adopting the coziness of a coffee shop on a chilly night.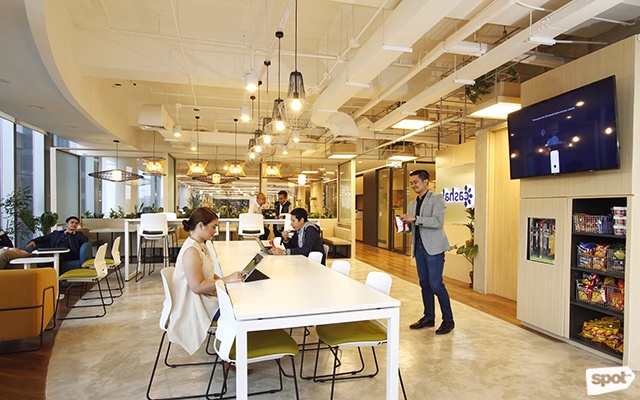 With an atmosphere similar to a coffee shop, you wouldn't be able to tell at first glance that this is an office for a fintech platform.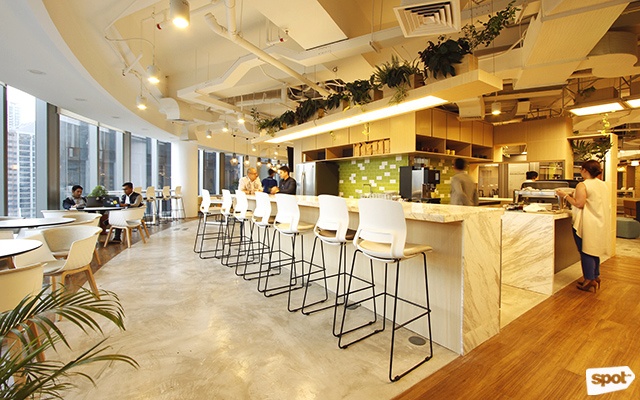 The dining area and café also function as working spaces for Cashalo employees.
In the same way that the app provides financial relief to the cash-strapped, the Cashalo office is designed to alleviate its employees of as much stress as possible. "The focus is on increasing the well-being and productivity of its employees," says Radovan Macak, who designed the office together with local architect Arts Serrano. The surrounding environment plays a huge role in boosting any person's creativity—ask any freelancer and they'd say they prefer working in a coffee shop than at home. With this in mind, Macak and Serrano provided a variety of work stations for Cashalo employees to nest in depending on their task for the day, a trend called "hot desking."
ADVERTISEMENT - CONTINUE READING BELOW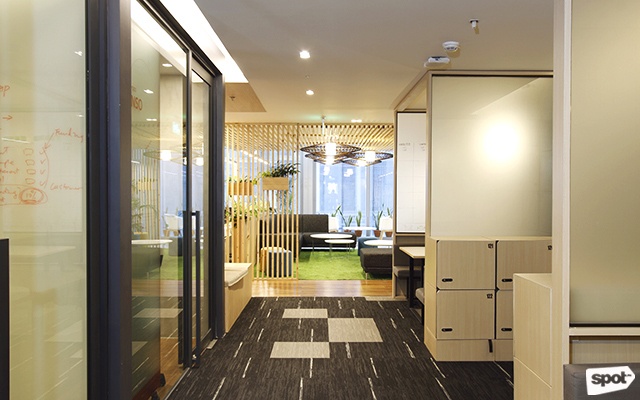 This corridor separates the agile and fixed working spaces. At the end of the hallway is another common area called the Oasis.
The office occupies 1,600 square meters of space, and the large floor plan allowed Macak and Serrano to create a central core that contains the meeting rooms and lockers. All the other areas revolve around this core, with two main divisions—the "agile working spaces" for the marketing, PR, and creative teams to hot desk in, and the "fixed work stations" for the admin and operations departments.
ADVERTISEMENT - CONTINUE READING BELOW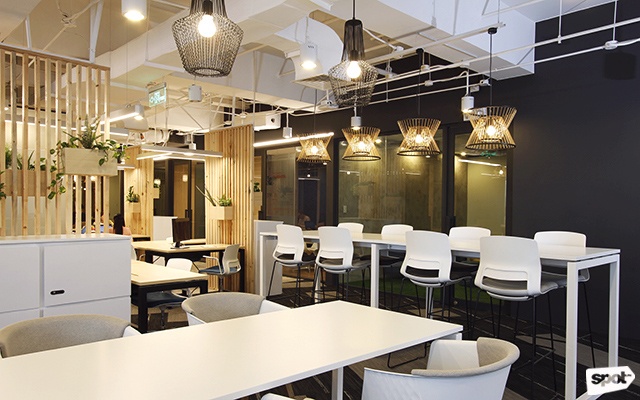 In this workplace, they practice the concept of hot desking, which means employees could work anywhere they please within the office premises. Pictured above is the agile working space for Cashalo's creative teams.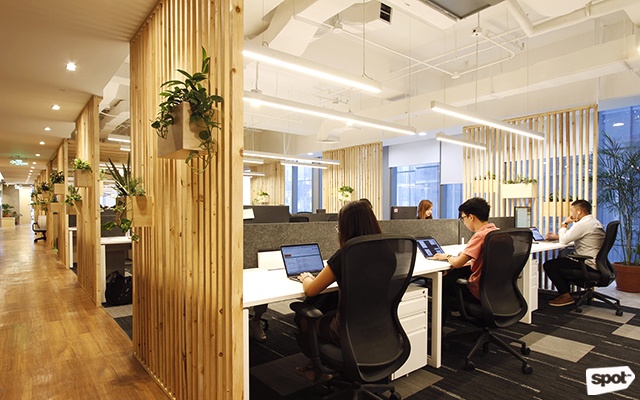 ADVERTISEMENT - CONTINUE READING BELOW
As in traditional offices, there are also fixed working spaces in Cashalo. These desks are specifically for departments such as admin and operations.
These two divisions have contrasting layouts. The agile spaces have a variety of seating options such as standing desks, communal tables, and private booths. "The beauty of hot desking is you don't own the seat," says Macak. "You can come in and think, what task will I do today? If you need to meet with people, you can use the booth. If you want to focus on one task, you can choose one of the quiet spaces." 
The fixed work stations, meanwhile, are more rigid with people occupying rows of long desks. The monotony is offset by several design elements that give life to the areas, such as the slatted partitions in the operations area where plant boxes are hung. Each employee will even be given a small plant for a pet, which they have to take care of. "The idea is to teach them responsibility, that they have to water and care for it every day," says Macak.
ADVERTISEMENT - CONTINUE READING BELOW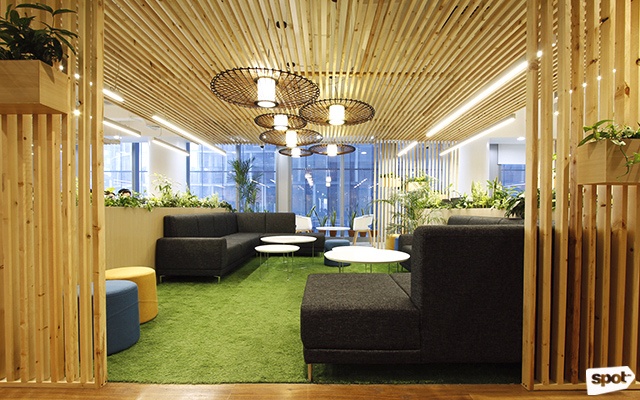 Employees could take a breather in the middle of a busy day by staying in the Oasis lounge.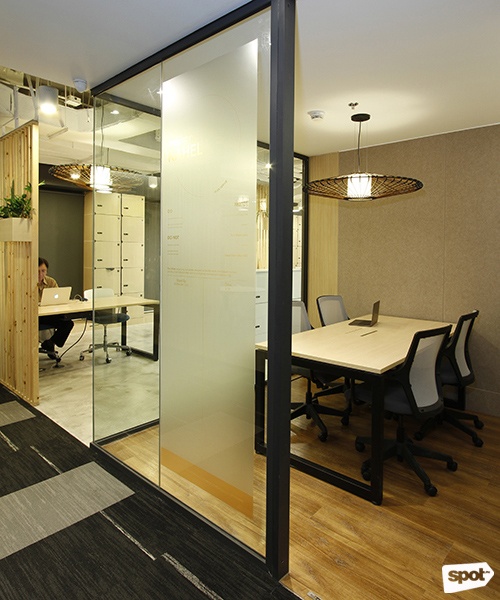 ADVERTISEMENT - CONTINUE READING BELOW
Their meeting rooms are cozy yet conducive for discussions.
Integrated between the fixed work stations is the Oasis lounge, a space where people can relax or hold casual meetings. The space has a lush ambience that's in keeping with its name, and is ideal for employees who want a quiet break.
The Oasis is just one of the numerous meeting spaces within the Cashalo office. Collaboration among employees is encouraged, so there is an abundance of meeting areas for employees to choose from depending on their needs. The rooms are designated with colors such as Esmeralda, Bughaw, and Tanso, and reservations are written on the glass and can easily be erased. For one-on-one meetings, smaller rooms are available.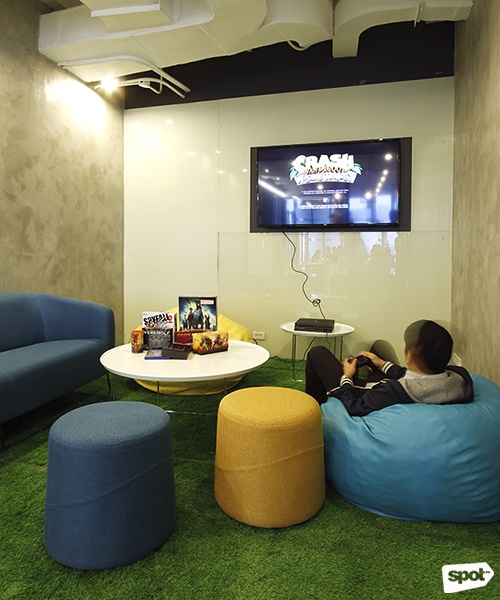 ADVERTISEMENT - CONTINUE READING BELOW
De-stressing is the end game at the office's gaming nook
Macak and Serrano wanted most of the spaces to be as flexible as possible, capable of fulfilling numerous functions for the employees' convenience. The work café is a good example. Apart from being a dining area where free lunch is served daily, employees can also do their work in the loosely arranged tables. The lobby, called the work plaza, can also function as a congregation space for town hall meetings or movie screenings, where people can watch on a projection screen.
While holding movie screenings is one of the office's ideas for improving camaraderie and reducing stress, there are other areas for recreation where employees can unwind if they need to. The game room, located near the agile working spaces, is a cozy little nook where one can slouch in a bean bag and play video games or board games with friends.
ADVERTISEMENT - CONTINUE READING BELOW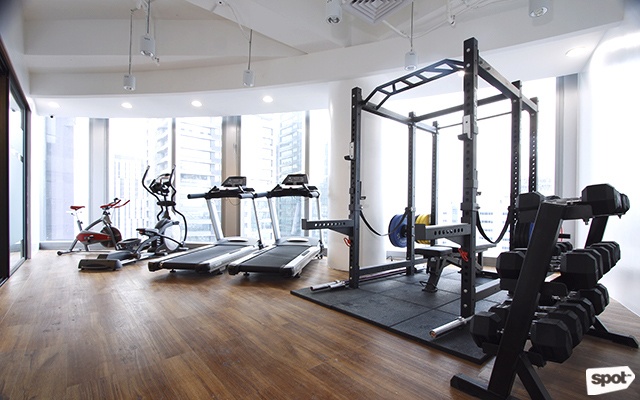 A gym area helps employees let off steam...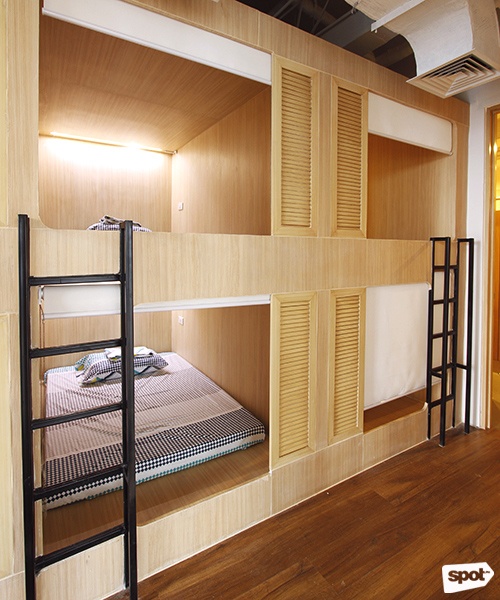 ADVERTISEMENT - CONTINUE READING BELOW
...and sleeping pods make it easier to take power naps.
The gym is another area of relaxation, where employees can work up a sweat any time of the day. One of the company founders is a big proponent of health and wellness, so a gym was one of the main requirements for the office. Employees can shower in the adjacent room, where sleeping pods are also located for people to rest or sleep in.
Taken as a whole, the Cashalo office transcends our idea of what offices should be. It aspires to be several things to its employees—a café, a hotel, even a wellness center. The owners are even thinking of partnering with local artists to hang their artwork on the walls, with a different artist chosen every few months. This will transform the office into a makeshift art gallery for the enjoyment of its employees, introducing a state of constant change that isn't far removed from what a home feels like. It's quite fitting, as it won't be difficult for Cashalo employees to call their multi-faceted office their second home.
ADVERTISEMENT - CONTINUE READING BELOW
For more information, visit Cashalo's website.
Photos by Vincent Coscolluela
Updated June 19, 11 a.m.: The first version of this article came with an editor's note saying that the app is currently available to employees and customers of partner companies only. The app is now released to the public. The note has been removed.
Share this story with your friends!
---
Help us make Spot.ph better!
Take the short survey
More Videos You Can Watch
Load More Stories