The Philippine Diary Project: Yesterday, As If It Were Today
What if you could read about one day in history from several different points of view?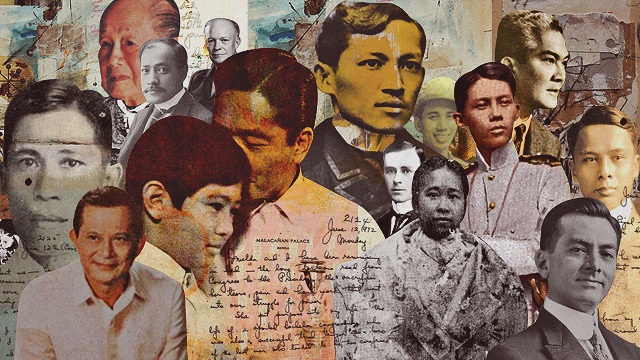 (SPOT.ph) Let's take today, June 12. Through diaries we get snapshots of past lives on this day.
In 1912, one of the pioneer female doctors of the Philippines, Olivia Salamanca, who'd come down with tuberculosis and had a year left to live, conscientiously wrote down all the visits and little gifts she'd received from well-wishers while she was confined in the Philippine General Hospital. In 1942, a Spanish Dominican, Juan Labrador, described Manila six months into being occupied by the Japanese: soldiers on shopping sprees, manufacturers of liquor making a killing, and prostitution booming. On the same day, in the same year, but half a world away, Francis Burton Harrison wrote of how Filipino leaders in exile were depressed over what they were discovering about American attitudes towards Southeast Asia after the war.
ADVERTISEMENT - CONTINUE READING BELOW
In 1945, held in prison in Iwahig Penal Colony for collaborating with the Japanese, Antonio de las Alas wrote a reflection on his having attended college in America and the American national character. In 1972, Ferdinand E. Marcos reminisced about his early political career while lying in bed with his wife. He worried that his son Bongbong was lazy. He decided he should write him a letter:
Bongbong is our principal worry. He is too carefree and lazy.
So I wrote him the fatal secret of the Marcos man—"they are brilliant but lazy. And they tend to be so careless they buckle down to a dogged, unrelenting resolve to fight off sloth or a traumatic experience turns them into bitterness that congeals into a determined resolve to achieve and be victorious.
I wrote him about me—how the political and financial reverses of father had made me bitter. It had come to a point where I had to get a scholarship to continue my studies. So I became a scholar—a server scholar in law.
ADVERTISEMENT - CONTINUE READING BELOW
I discovered that I had a brain and a photographic memory. And I made the best of it.
I must write him about the Nalundasan case and how I vowed to top the bar after graduating Cum Laude.
For the boy must get character. I have told him that since we have enemies, he will have to fight the battles I fought in the past against myself and against circumstance. Although I told him that perhaps circumstance had been kinder to me because it had given me the motivation to work hard.
I must tell him of his ancestors, his great-grandfather of the revolution, the direct line of brilliant and brave men whose saving grace was the character of their woman—how many fasted like Antonio Marcos who had exceeded the record of excellence in scholarship of Rizal—but had not done much of his life because of wine, woman and soup.
ADVERTISEMENT - CONTINUE READING BELOW
The boy must realize his weakness—the carefree, wayward ways that may have been bred in him.
Irene Marcos, if memory serves me correctly, once recounted to me how her father would sit at the family dining table in the evening, scribbling down his diary entries, "With, you know, that far-away look he famously had," pausing from time to time, she said, to chuckle to himself (a cautionary reminder not to be too easily seduced by the Great Dictator!).
Also on June 12, but in 1985, Doy Laurel wrote in his diary of his being nominated by UNIDO as its presidential candidate—and that Cory Aquino would not run. Of course, in the end, she did—though in the entry, Laurel confesses to a suspicion this might be so.
This is just one day, with seven different viewpoints over as many decades, from both the famous and the obscure. Diaries are a broad category of things, ranging from deeply personal, secret writings not intended for public consumption, to the exact opposite—chronologies meant either to be official or written with the clear understanding that others would be reading them one day. Rizal in his diary (published elsewhere) is perhaps the pioneer, as far as Filipinos are concerned, with this self-conscious mission, and so filled with a sense of how important his life is. You can imagine he had a Hans Zimmer soundtrack playing in his mind: "I am arriving in Spain, alone and unknown; the first stage of my unknown journey is there. What am I going to do and what is going to become of me in the future? My money is dwindling. I know I would meet friends, but despite this, no one is capable of overcoming the emotions that a new country produces in a young heart." (Bwooooooahmmmm, dun dun dun goes the soundtrack).
ADVERTISEMENT - CONTINUE READING BELOW
There are others who wrote to let off steam and as a memory-aid for the future. Sometimes you can see all three at work: From Manuel L. Quezon you get the written-for-posterity version on April 5, 1939, while from General Fidel Segundo on May 18, 1939, and from then-Col. (and much later, president) Dwight D. Eisenhower on November 15, 1939, we get the inside scoop; in any case, three different versions of the same incident, which was Douglas MacArthur threatening to resign as military adviser to the Philippine government over the creation of the Department of National Defense, which he took to be a public demotion for himself. Quezon, after a day's irritation, calmed MacArthur down; Segundo, one of the first Filipino graduates of West Point, was no fan, and had many confrontations with MacArthur. Eisenhower, who was at first MacArthur's protégé, got disillusioned with his boss in Manila, but his entry on the whole tempest in a teapot provides an insight into how and why he became a great general and a successful president. He understood politics.
ADVERTISEMENT - CONTINUE READING BELOW
There are also what I call diary fragments, the pieces of diaries that are either lost or which have only been partially drawn from, in other sources. Take Rafael Palma of Palma Hall fame in U.P. Diliman, where we only have one, as it turns out, remarkable entry which happened to be quoted in a book. Writing on December 30, 1896, the day he witnessed the execution of Rizal:
The people crowded around the scene and in spite of my efforts, I failed to see the moment of his death. A shot rang out and something like an immense sigh arose from the multitude, indicating that all was over…
Shouts of "Long Live Spain! Death to the Traitors!" could be heard three or four times. People began to disperse and to leave the place, contented and happy at satisfying their curiosity. I even saw some Filipinos laughing.
Or take General Gregorio del Pilar, whose diary was published in his lifetime, but all we seem to have today, are portions that happened to have been quoted by the historian Maximo Kalaw in one of his books. So we see him, writing in a kind of emo-like, romantic rhapsody on January 4, 1897:
ADVERTISEMENT - CONTINUE READING BELOW
Very early in the mornings I go to the springs to watch the river flow. An enchanting sight indeed! And I ask the river the fate of my parents, and of my brothers and sisters whom I left behind, and whose memories I keep. But—the rivulet mute at last—answers me not, with nothing but the murmurs of its wavelets struggling to join the waters below.
Also from Maximo Kalaw we have fragments of a diary kept by General Venancio Concepcion who was a soldier and future delegate to the Malolos Congress. From him, we can get a glimpse of the moment, on June 6, 1899, when word arrived that General Antonio Luna had been assassinated:
Immediately I went to see General Aguinaldo and told him of the lamentable happening showing the telegram I received and he showed great surprise not being able to say a word for five minutes, and then said at last: "Please return to your headquarters; in the meanwhile reserve to yourself such a grave incident and order the presentation to the captain-generalship of all the forces armed with mausers!"
ADVERTISEMENT - CONTINUE READING BELOW
In contrast to these fragments, complete, or nearly complete diaries, are also included in The Philippine Diary Project. The World War II period is one of the best covered because it's close enough to our period that people's diaries have survived. From these diaries, a particularly interesting exercise is to see different facets of the same day or period of days, from different perspectives.
Take December 8, 1941: for the Philippines, the start of World War II. At present, you can read about that day from no less than six different points of view: David L. Obert, a newly married pilot assigned to Nichols air base; Ramon Alcaraz, a young torpedo boat captain; Eriberto Misa Jr., a young ROTC officer;  Fr. Juan Labrador, a Spanish Dominican who was then the rector of the Colegio de San Juan de Letran; Aurea Labrador, a nurse and Housekeeper of Malacañang Palace at the time; and Gen. Basilio J. Valdes, Chief of Staff of the Philippine Army. The diaries also include contrasting points of view, for example, that of a father in Manila and his son in Bataan in 1942; or between President Marcos and a Constitional Convention delegate, Augusto Caesar Espiritu, as martial law unfolded in 1972.
ADVERTISEMENT - CONTINUE READING BELOW
There are also personal ordeals: in UST, where the Japanese locked up Americans and other foreigners, you can read, day by day, how a man, Raymond Leyerly, slowly starved to death from September 1944 to February 1945. Throughout the Cordillera, you can track how Emilio Aguinaldo, his doctor, and an aide, evaded the Americans, until they were, at last, captured.
Two entries, in particular, are haunting. The aide, Santiago Barcelona, recounted how, on November 10, 1899,
The whole family left Villasis at night for Bayambang. On reaching the ford before Alcalá, the President's daughter, Flora Victoria Aguinaldo y del Rosario, died without her mother knowing it. It must have been midnight. At dawn, on the 13th, we reached Bayambang. The President's wife, still unaware of her daughter's death, requested me to buy more medicine for her when we passed by a drugstore. On my way, I met the President and informed him of the demise of the girl. Without a word to his wife, he, accompanied by P. Aglipay went to bury the child at the Bayambang church.
ADVERTISEMENT - CONTINUE READING BELOW
The doctor, Simeon Villa, on the other hand, recounted an incident that happened between April 8 and 9, 1900:
…On the afternoon of the 9th the honorable president attended the drilling by the soldiers, and his attention was attracted to a 16-year-old boy among them, who, besides being well versed in tactics, showed by his bearing that he was of noble and refined parents. The honorable president, unable to resist his affection for the boy, had Major Gatmaitan called, and then asked him who that boy was. The major told him that the boy was a son of the lawyer Ventus, of Nueva Ecija Province, who was shot by the Spaniards during the revolution of 1896. Then the honorable president at once sent for the boy, who did not delay in presenting himself, and asked him who he was, and how and by what means he had entered the army.
The boy replied that his name was Paquito Ventus, a son of a man shot by the Spaniards; that his father was a paralytic years before the misfortune; that his mother had also been dead some time; that he had eight brothers, but five of these were minors like himself; that impelled by the profound grief under which he was suffering he entered the Filipino ranks of General Tinio's brigade; that his present rank was that of a corporal; and that during a fight with the Americans in Ilocos he was on the point of being captured, but owing to the fight taking place in the mountains he had been able to escape by climbing up among the precipices.
ADVERTISEMENT - CONTINUE READING BELOW
When asked by the honorable president if his ideas were firm and inflexible, he replied that he would prefer to live and die in these mountains rather than submit to foreign rule. The honorable president immediately ordered the captain of the company to strike Ventus's name off the rolls, as the honorable president would take charge of him. Since then Ventus has been in the honorable president's quarters, being well-treated and considered as a veritable son.
There are campaigns of exploration and conquest. It may not be so unusual to consider that Antonio Pigafetta kept a diary (later incorporated into a book: see April 27, 1521, his account of the Battle of Mactan—fatalities: Eight Spaniards, including Magellan, and four converted Cebuanos; and from the forces of Mactan, 15); but so did the Archbishop of Manila and the British general fighting it out over Manila in 1762; or the Spaniard who conquered the Cordilleras in 1829: in all these, we, who are now known as Filipinos, were alien extras.
ADVERTISEMENT - CONTINUE READING BELOW
There is a young 14-year-old girl, Lydia C. Gutierrez, running for her life as Ermita and Malate erupted in flames on February 12, 1945:
Suddenly, a shell fell on Wright and Remedios streets. Then another fell and broke the wall between our house and the Amadors'. We ran out into the backyard. Nong ran back to call Tony and Toots just in time cause the next shell hit our front porch. We ran under the Bagasans' house. There were around a hundred refugees there. The next shell fell in the driveway between our houses. We ran out. The smoke and dust in the driveway reached high over our heads and choked us. We wanted to go to the Hemingway's but their house was burning too. The Japanese saw us from the street and machine-gunned us! We ducked and then ran back to our backyard. Nong remembered the wall they had torn down and we all jumped over to the Gonzales' house. All the refugees from the Bagasans' followed us.
ADVERTISEMENT - CONTINUE READING BELOW
Under the Gonzales' house there were many, many people, most of them wounded. The shells and shrapnels and explosions fell without stopping. It was very noisy and explosions, people crying of pain, despairing, praying. We held our medals tight and didn't stop praying. One shell fell and hit the Amadors' house. We heard voices screaming and shouting hysterically. Then Joseling came to join us saying everyone in his house had died. Then a shell burst so near and I felt hard things hitting my face. I thought I was hit and dying. I couldn't move. None of us were hit. Then the Japs came again and they machine-gunned us! We hugged the ground. Those sitting were hit. Mr. Bagasan got hit in the neck and Nong bandaged him. Baby's dress was full of blood but she said it was the man beside her who got hit and died.
ADVERTISEMENT - CONTINUE READING BELOW
Naturally, as a writer, personally I am drawn to the diaries of writers. The wartime generation is represented by three such writers: Teodoro M. Locsin, writing as a civilian in Manila in the first few weeks of the war; Felipe Buencamino III, writing as a young intelligence officer in Bataan; and Leon Ma. Guerrero, who was also at Bataan but who kept a diary when he ended up as a young diplomat in the Philippine Embassy in Tokyo during the closing months of the war.
The diaries come from many sources. Some have been published, but are now out of print. Others were made available by the descendants of those who kept the diaries. Others, particularly those of American soldiers during World War II, are publicly available—the U.S. Army, at the end of the war, made a point of copying, then filing away, the diaries kept by soldiers and some civilians, so that today, you can find them online.
ADVERTISEMENT - CONTINUE READING BELOW
Hopefully you, the reader, might find it interesting and worth your while, to explore these diaries. Whether famous or unknown, it seems quite true that times change, but people don't. Take it from William C. Allen, a Quaker who visited Manila in 1915. Writing in his diary, he made this surprising observation on February 16, 1915:
This morning I addressed the high school on "International Peace." The student body constituted 600 young people and, as usual, they manifested intense interest. The Filipino audiences are more emotional and applaud much more easily than do those of China. A curious indication of the national temperament was manifested when I happened to refer to the sufferings of women in times of war. About half the students looked very sober, but the rest of them giggled. At the conclusion of the lecture one of the audience remarked upon the different mental attitude of many Filipinos toward trouble from that of Americans. For instance, a young person will, with smiles, announce that he or she has just lost a parent by death. A teacher in one of the schools of Manila told me recently that when she was going over a lesson she spoke of how Ghazan Khan had some of his enemies thrown into a cauldron, of boiling oil. Immediately the whole class laughed outright. She asked, "Why do you laugh? Would you like to be thrown into boiling oil?" They responded, "No." At the same time the thought of suffering amused them very much.
ADVERTISEMENT - CONTINUE READING BELOW
On Facebook, The Philippine Diary Project page features a diary entry a day. A good place to start.
Recommended Videos
Load More Stories