10 Memes and Posts That Perfectly Capture Our Confusion Over That Tête-à-Tête
We're still not sure about what just happened.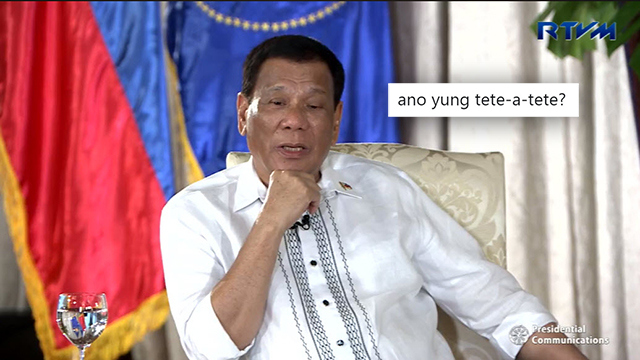 (SPOT.ph) When President Rodrigo Duterte announced on September 10 that he will be holding a press conference the next day to "address the nation," many Filipinos wondered what exactly did he have to announce publicly. This afternoon, several tuned in to listen to President Duterte's address, originally scheduled at 3 p.m.—however, confusion arose when it was announced that the press conference would be cancelled, and then it was later clarified that the President would be addressing the public via a "tête-à-tête" alongside Atty. Salvador Panelo, without the media present.
ADVERTISEMENT - CONTINUE READING BELOW
Many Filipinos were confused by the whole affair, with the whirlwind turn of events regarding the schedule of the address to the content of President Duterte's speech. Several took to the Internet to express their confusion regarding the "tête-à-tête"—we round up 10 of the most interesting tweets and memes in reaction to it.
Still confused?
PCOO: No Presidential Presser anymore, we can't say why.
Bong Go: No presser but speech to proceed at 3:15.
Panelo: No presser was scheduled in the first place.
Roque: No cancellation happened; what was scheduled will push through but under modified format. pic.twitter.com/zECiJneUWo

— Manuel L. Quezon III (@mlq3) September 11, 2018
There were a lot of mixed messages.
I stand corrected.

This is the appropriate meme for the president from today's tete-a-tete: pic.twitter.com/RR0boKdIET

— Magz Bautista (@magzshots) September 11, 2018
A-plus Friends reference!
ABS-CBN news caster just said "what did we just watch"

Hard same, b. Hard same.

— modern-day hippie (@trishaobannon) September 11, 2018
Raise your hand if you can relate.
It... it... It's already a law https://t.co/FNoQi8NNbu

— Jonathan de Santos (@desamting) September 11, 2018
Some were frustrated at President Duterte's inconsistencies.
while watching this tete-a-tete pic.twitter.com/Hgt0Ya0wJ9

— sakuna matata (@txctwts) September 11, 2018
We feel ya.
malacanang right now: https://t.co/ed1SiwIeBD

— Pabebe Dancel (@naalimpungatan) September 11, 2018
LOL, witty.
Me listening to this tete-a-tete. pic.twitter.com/VP0vTh0veG

— Miguel Lizada (@mlizada) September 11, 2018
Sashay away.
Trillanes: pic.twitter.com/gYIDJy21ly

— PAULEEN LOOΠΔ #STANDWITHWORKERS (@Punongbayan_) September 11, 2018
For some points of the address, at least.
YUNG NAPA-SEARCH TAYONG LAHAT, ANO YUNG TETE-A-TETE pota

— Ina Nocheseda (@inanocheseda) September 11, 2018
Hey, at least you got a new word to add to your vocabulary!
So perhaps the best summary of the tete-a-tete is a visual: pic.twitter.com/XqWOfbbzk7

— Manuel L. Quezon III (@mlq3) September 11, 2018
No words.
Load More Stories