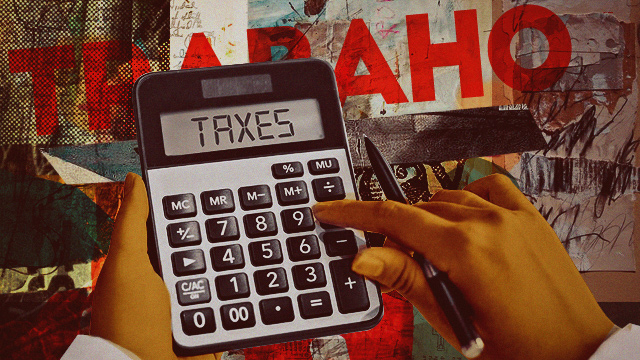 (SPOT.ph) TRAIN 2 or TRABAHO refers to the second package of tax reforms being pursued by the administration. (We'll simply refer to it as Package 2 in order to avoid confusion.) Conceptually, the entire tax reform package aims to make the tax system simpler, fairer, and more transparent. In general, these proposals revise certain provisions of the tax code, the law containing all the important tax provisions of the country, and amend or repeal the various other special tax laws which might be in conflict with the spirit of the reforms.
ADVERTISEMENT - CONTINUE READING BELOW
The first package—or Tax Reform for Acceleration and Inclusion (TRAIN) law—updated provisions which directly affected households and consumers: personal income tax, various excise taxes, and other consumption taxes such as the Value Added Tax, and others.
Package 2 is not another round of excise taxes like TRAIN, but rather deals with provisions in the tax code related to businesses and corporations. There are two main versions of the proposed package: a version passed by the House of Representatives (HB 8083), entitled "Tax Reform for Attracting Better and High-Quality Opportunities" (TRABAHO); and a version filed by Senator Vicente Sotto in the Senate (SB 1906).
In a nutshell, these versions contain two components: a lowering of the corporate income tax rate and the rationalization and modernization of Fiscal Incentives. The proposal also contains administrative reforms.
On Lowering the Corporate Income Tax Rate
Businesses in the Philippines pay the highest corporate tax rate in the ASEAN region—30%, compared to an average 22.5% rate in our neighboring countries. Cutting taxes on corporations makes our businesses more competitive. By lowering taxes, businesses will face lower costs and higher profit margins, potentially generating more employment and investment.
ADVERTISEMENT - CONTINUE READING BELOW
Recommended Videos
TRABAHO will lower the tax rate paid by corporations by 2% every two years, settling on a final tax rate of 20% by 2029. On the other hand, SB 1906 will immediately bring the tax rate down to 25% in 2019.
Of course, we don't want the big corporations to benefit from a huge tax cut. However, a lower tax rate would also benefit 90,000 small and medium enterprises compared to the 4,000 large businesses in the country.
The main drawback to lowering taxes would be a substantial loss in government revenue. The Department of Finance estimates that lowering the corporate income tax rate from 30% to 29% in 2019 would result in P26 billion of uncollected revenue. This revenue is important as it enables the government to provide crucial services such as healthcare and education and to pursue the administration's infrastructure plans (Build, Build, Build).
On Rationalizing and Modernizing Fiscal Incentives
Some firms, especially foreign ones located within special economic zones that enjoy special tax breaks, say that they are likely to relocate to countries with more favorable incentives—resulting in job losses and capital flight.
ADVERTISEMENT - CONTINUE READING BELOW
Currently, many firms are able to enjoy privileges for an unlimited amount of time. Allowing already profitable firms to enjoy incentives forever is like a parent giving allowance to their working children who are well into their 30s. Incentives are also given almost indiscriminately—these benefit large corporations, despite an unclear contribution to the rest of the country.
Fiscal incentives are tax privileges given by the government to businesses in order to encourage investment, expansion, and innovation, especially in important industries. These are done through income tax holidays, preferential tax rates, and other special privileges. Ideally, these should help emerging or innovative businesses which may not yet have a competitive advantage, but would potentially produce long-term benefits for our developing economy.
Our inefficient fiscal incentives system represents taxes which could have been collected but were not. In 2015, a total value of P104 billion was spent on tax incentives to benefit 2,844 firms—many of which have belonged to the most profitable corporations in the country.
ADVERTISEMENT - CONTINUE READING BELOW
Package 2 aims to correct this by harmonizing dozens of incentive laws into one Omnibus Investment Code, modernizing the available incentives given to firms, making incentives time-bound and based on key performance indicators, institutionalizing a more Strategic Investment Priorities Plan, and increasing the transparency and accountability of receiving firms through stronger and more responsive governance.
Much concern has been raised over the clause in the Senate version, which repeals Section 12 of RA 8047, the Book Publishing Industry Development Act of 1996. This repeal would remove the exemption of books, magazines, periodicals, and newspapers, as well as publishing, printing, and distribution from value added tax and other import fees and duties, which could potentially raise the price of educational materials. But the Philippines signed the Florence Agreement, a 1950 UNESCO Treaty wherein countries agreed not to impose customs duties on educational, scientific, and cultural materials. Whether or not the special law is repealed, the international treaty will be followed—our books will not be taxed higher.
ADVERTISEMENT - CONTINUE READING BELOW
In the long run, these are necessary reforms. However, there are costs we will immediately face. There will be transitionary pains as these companies move out and the more strategic industries are emphasized.
Thus, our policy-makers have to make reasonable compromises and transitory adjustments that will mitigate the short-run costs while pursuing the long-run benefits of the reform.
AJ Montesa is with the non-government organization Action for Economic Reforms.
Share this story with your friends!
---
Help us make Spot.ph better!
Take the short survey
Load More Stories