UPDATED: Dog Cafe in QC Criticized for Poor Treatment of Dogs
Tip: Maybe don't drag and force dogs to interact with people.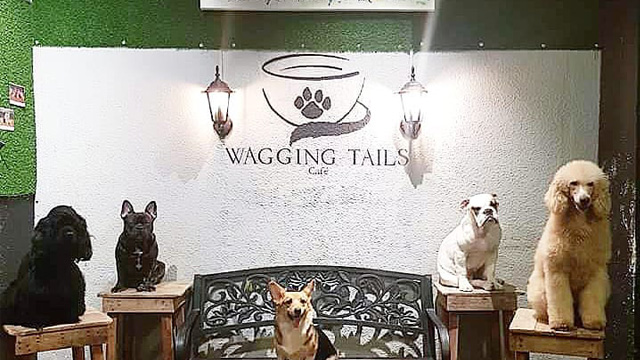 (SPOT.ph) Over the previous weekend, Twitter user @DARLENESLAYS tweeted about her unfortunate experience at a pet café along Maginhawa Street in Quezon City.
? DON'T GO TO WAGGING TAILS, MAGINHAWA, QC! ? — a thread

— ???? ???????????????????????????????????????????????????????? ???? (@DARLENESLAYS) December 8, 2018
In her thread, she detailed how she and her sister had to deal with unwanted comments from the male servers.
Then the first guy said "First time mo lang ba masabihan na maganda ka mam?" then I said "No." and rolled my eyes. He said "maganda ka naman talaga mam" and then I just shrugged it off. That's the first concern I'd like to raise and I have a few more so please keep on reading

— ???? ???????????????????????????????????????????????????????? ???? (@DARLENESLAYS) December 8, 2018
Aside from that, Darlene also noticed that the dogs in the café seemed nervous and uncomfortable, especially around the employees. She and sister waited for the dogs to approach them themselves, yet one of the employees forcibly dragged a pug towards them. The employee even pinched the dog's ear because it wasn't looking at the camera, and another dog was struck with a slipper later on.
okay let's continue... the pug was bitting the employee's pants bc ya know... dogs. they do that and i wouldn't be mad if the dog did that because they usually do that. the employee removed his slipper and hit the dog. the other customers were shocked too.

— ???? ???????????????????????????????????????????????????????? ???? (@DARLENESLAYS) December 8, 2018
Other people who have been to the café have shared their own experiences, and some have called for the Philippine Animal Welfare Society to look into these complaints. The café's Facebook page has since been inundated with negative comments and a look at the reviews shows that there have been complaints both about poor customer service and the temperament of the dogs as early as October 2017, a few months after it opened. The owners of the café have previously said that they were standing behind their employees.
ADVERTISEMENT - CONTINUE READING BELOW
Animal Rescue Family Manila has already reached out to the people behind the café and to Darlene to get both sides of the story, and they have reached an agreement with the café. The animal rescue and welfare group will be providing updates on the situation on their page. We've reached out to the café for comment but have received no reply as of writing. 
Pet cafés have been a charming addition to Metro Manila over the past few years. But this incident sheds light on the possibility that not all is cute and cuddly in this world, and that owners need to learn how to treat the stars of their cafés and their guests well. Similarly, guests need to look out for the pets and make sure they're not stressing out the animals.
CONTINUE READING BELOW
Recommended Videos
The cafe issued a statement on their Facebook page on December 27, 2018, along with a second related post on January 2, and improvements are being made in their operations, which include training in dog handling, proper behavior, and customer service for new staff members that have come on board.
ADVERTISEMENT - CONTINUE READING BELOW
Animal Rescue Family Manila (ARF Manila) has been monitoring the cafe over the past month, sharing updates about any progress made, and also facilitated a discussion and agreement between the cafe and the individual who originally posted about her experience.
Share this story with your friends!
---
Help us make Spot.ph better!
Take the short survey
Load More Stories