Everything You Need to Know About the Universal Health Care Law
Find out how much will you contribute as the years go by.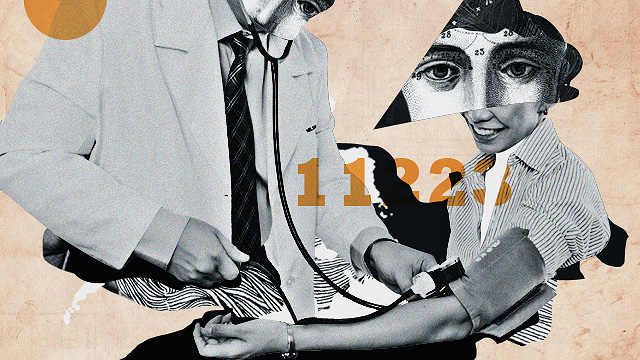 On February 20, President Rodrigo Duterte signed the Republic Act 11223 or Universal Health Care Act, which seeks to provide every Filipino access to health care services. Under the measure, every Filipino citizen is automatically enrolled in the National Health Insurance Program or the Philippine Health Insurance Corp. This means that even without any Philippine Health Insurance Corp. (PhilHealth) membership, any Filipino may be able to get "promotive, preventive, curative, rehabilitative and palliative" health services, in any private or public health facility in the country, at an "affordable cost."
ADVERTISEMENT - CONTINUE READING BELOW
CONTINUE READING BELOW
Recommended Videos
With this system, members are categorized into two: Direct contributors, or those who can pay health premiums, and indirect contributors, or those who cannot afford to do so. Direct contributors would have to pay higher premium rates in the long run.
Under the current PhilHealth system, members pay a standard rate of 2.75% of their income, an amount shared by the employee and the employer. This applies to any member who has a monthly basic salary of at least P10,000 to as much as P40,000. Any member that earns higher than the latter amount pays the rate of 2.75% of the salary ceiling.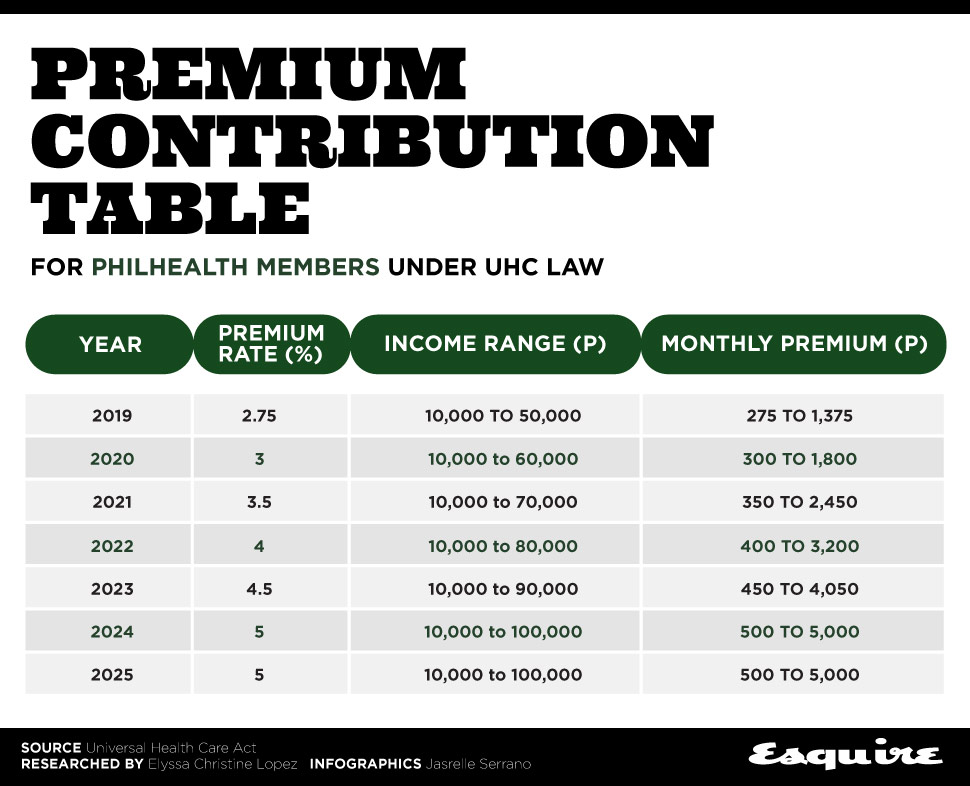 ADVERTISEMENT - CONTINUE READING BELOW
But with the National Health Insurance Program (NHIP), members are expected to increase their PhilHealth contribution starting at 3% of their income by 2020 to as much as 5% by 2024, as seen in the infographic on this page. The new scheme will affect high-earners the most, especially those earning P100,000 and above, as their contribution will increase by almost five times than what they currently provide.  
The extra cash is not only expected to subsidize the services for indirect contributors but will also fund the additional benefits for direct contributors, which include free medical consultations, laboratory tests, and medicines for specific illnesses. Because of this change, there is a possibility that some members would prefer to drop their PhilHealth memberships and just avail of the health services without additional costs.
To prevent this, the law has imposed penalties for those who will miss their contributions. Employers and self-employed direct contributors will be required to pay all of their missed premium payments with interest, compounded monthly of at least 3% for those employed and a maximum of 5% for self-employed individuals.
ADVERTISEMENT - CONTINUE READING BELOW
Aside from PhilHealth contributions, the government is expected to pool more funding for the program from a myriad of sources. The Philippine Charity Sweepstakes Office and the Philippine Amusement and Gaming Corp., or PAGCOR, are mandated to contribute 40% and 50% of the national government's share in their income, respectively, to the NHIP. Income collected from sin taxes is also seen to be funneled to the program, as well as a part of the annual appropriations received by the Department of Health.
These all sound too good to be true, but the Department of Health (DOH) still has to craft the implementing rules and regulations of the Act in the next six months before the government even starts taking the necessary steps for its implementation.
While the law is not without its critics, most see it as a major step towards better health care for Filipinos. Statistically, the program may benefit more than 30 million Filipinos, as only 66% of the population are found to be direct members of PhilHealth, according to the Philippine Statistics Authority. 
ADVERTISEMENT - CONTINUE READING BELOW
The World Health Organization also called the law "an excellent basis" for the implementation of universal health care in the country. "This is not the end point but just a starting point for major reform effort in the Philippines," World Health Organization (WHO) country representative Gundo Weiler said.
This story originally appeared on Esquiremag.ph. Minor edits have been made by the editors.
Load More Stories