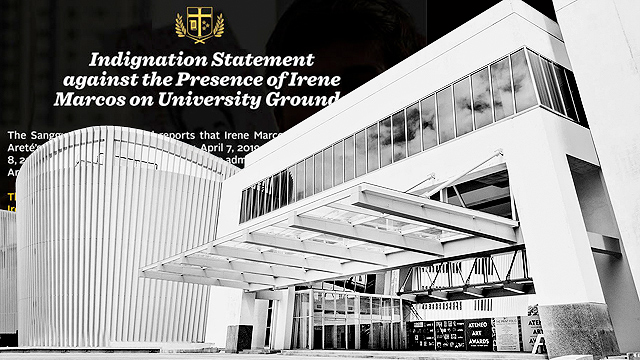 (SPOT.ph) This is what I picked up from two Viber groups: Yael [Buencamino] is the daughter of Elvira Araneta, Patty and Greggy's youngest sister. Greggy is, of course, husband to Irene Marcos. Her father is the columnist Boom Buencamino, son of Nini Quezon by her first husband.
ADVERTISEMENT - CONTINUE READING BELOW
Well. From such connections are a dictator's name laundered...The invitation of Yael to Irene would have passed as normal—as the simple invite to an "artist" to join other artists, or even as the thoughtful gesture of an executive director to have family join her at a university gathering. If it were not for an outraged Ateneo, and, to be fair, to its decisive officials. This was so small, this was so innocent. Just the opening of a creative center of a university on Katipunan. Irene's presence would've blown over in a day. But Ateneo has shown us all that, in fact, nothing is ever too small, nothing is ever too innocent. For a long time, we've behaved like we didn't know this or have never given it a thought—and we've paid the price. It is these tiny and courteous and easy invites that have eased the Marcoses back into our lives. A dinner invitation here, a book launch there, a ribbon cutting, a scholarship drive... all seemingly normal, regular, everyday things the middle class does, except that Ateneo knows better. It knows that a few more of those innocent invites, and we could've come to erasing one family's crimes for good. As it is, the family is back. Moved quietly back into the neighborhood. There was no grand homecoming announcement. They just eased their way back in through those small invites...and now they're all over the place, ready for Malacañang again. It feels really good to hear that Ateneo isn't falling for it. Nothing is ever too small, nothing is ever just innocent.
ADVERTISEMENT - CONTINUE READING BELOW
Recommended Videos
[Ed's Note: This was posted on social media and is being published on SPOT.ph with permission.] 
ADVERTISEMENT - CONTINUE READING BELOW
Share this story with your friends!
---
Help us make Spot.ph better!
Take the short survey
Load More Stories