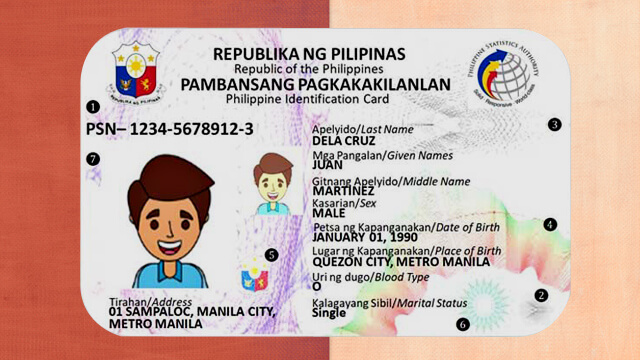 (SPOT.ph) Have you ever wondered what IDs are really for? Sure, there are the obvious reasons: it's proof you're part of a group, it's an efficient way to track members, and it helps with logistics overall. But what happens when the entire Philippines is put under an identification system? Well, it looks like we're about to find out. The current administration has announced plans to start a pilot run of the Philippine Identification System in September, with a goal of registering 105 million Filipinos at the end of President Rodrigo Duterte's term in 2022—basically the entire population. The move has sparked multiple concerns over the benefits of such a system, how it would affect privacy, and what it means for our nation's future. If you've got questions about the national ID system, we put together some basic facts to put you up to speed.
ADVERTISEMENT - CONTINUE READING BELOW
Also read:
PSA: Here's a Valid ID You Can Get Pretty Easily
These Banks Let You Open a Savings Account With Just One ID
Here's what you need to know about the national ID system in the Philippines:
History of the Philippine Identification System Act
Duterte signed RA No. 11055 into law on August 6, 2018, with the measure was principally authored and sponsored by Sen. Panfilo Lacson. According to the act, the Philippine Identification System (PhilSys) will be "the government's central identification platform for all citizens and resident aliens." Their rationale for this system, according to the Republic Act, is that it aims to "promote seamless delivery of service, to improve the efficiency, transparency, and targeted delivery of public and social services, to enhance administrative governance, to reduce corruption and curtail bureaucratic red tape, to avert fraudulent transactions and misrepresentations, to strengthen financial inclusion, and to promote ease of doing business." It's a mouthful, we know, but in a nutshell, PhilSys' main use will be to streamline public and private services.
This isn't the first attempt at a national ID system; three other administrations have tried as well. The first to do so was former dictator Ferdinand Marcos—sorry, we meant president—who tried to establish a National Reference Card system that would have been regulated by a National Registration Coordinating Committee. Under Presidential Decree 278, series of 1973, registration was mandatory for all Filipino citizens and resident aliens—anyone who didn't register was subject to imprisonment—and the card was meant to replace all other government IDs.
Former President Fidel Ramos, during his term, issued Administrative Order No. 308, which mandated a National Computerized Identification Reference System in 1996. The measure was struck down by the Supreme Court on the grounds that it posed risks to the people's right to privacy. The order only had eight sections, mostly setting which agencies would be in charge of the data but lacking proper parameters on what information would be gathered and what it could be used for.
The last attempt was by President Gloria Macapagal Arroyo, when she issued Executive Order No. 420 in 2005. The measure called for all government agencies and corporations to streamline their already existing ID systems into a single one, which they called the Unified Multi-Purpose Identification scheme. Yes, it's the one you most likely have in your wallet right now. While the last attempt by Arroyo marketed itself as a completely optional way to streamline your IDs—similar in use to the PhilSys ID—RA No. 11055 explicitly calls itself a national identification system.
What To Expect Once the System Is Put in Place
ADVERTISEMENT - CONTINUE READING BELOW
There will be two main components to your PhilSys registration: a PhilSys Number and the Phil-ID. The PhilSys Number (PSN) will be the unique and permanent code assigned to a citizen upon birth, or more likely for this scenario, upon registration. All government agencies are expected to use this single code for their respective database. The Phil-ID will be your physical proof of having joined the system. This card will contain your PSN, full name, picture, sex, blood type, place of birth, address, and optionally, your marital status. Also hidden in the ID will be a QR code with fingerprint information and added security features to prevent forgery.
At the helm of this digital system will be the Philippine Statistics Authority, which will put all gathered information into a digital registry. Information of the supposed 105 million people to be enrolled into the system will be kept "in a manner that allows safeguards for data privacy and security, access controls, and change management," according to the law's implementing rules and regulations.
So what information will the system gather from you, exactly? First, PhilSys will ask for your basic data: full name, sex, date of birth, place of birth, blood type, address, and whether you're a Filipino citizen or a resident alien. You could opt to include your marital status, mobile number, and e-mail address. Second, it will gather your biometrics—namely a photograph, fingerprints, and finally, an iris scan. We're not so sure how the last bit will work out.
Citizens and resident aliens alike are expected to register personally at the government offices of any of these agencies: the Philippine Statistics Authority (PSA), Local Civil Registry Offices, Government Service Insurance System or Social Security System (depending on which one you're a member of), Philippine Health Insurance Corporation, Home Development Mutual Fund, Commission on Elections, Philippine Postal Corporation, and other offices to be announced later by the PSA. Initial registration shouldn't cost you a thing, according to the implementing rules and regulations (IRR)—you simply fill out a form and bring your supporting documents.
A Question of Security
In a world where information is the hottest currency, the PhilSys has unsurprisingly raised a lot of questions. It also wasn't too long ago when the information of around 55 million registered voters were leaked after hackers entered the Commission on Election's (COMELEC) database in 2016. "Disguised as an 'economic and social tool,' it becomes a mechanism for control and repression in the hands of the military," said Cristina Palabay, secretary-general of rights group Karapatan, in an interview with PhilStar. According to Palabay, the national ID system is a "wolf in sheep's clothing."
Duterte himself acknowledged that past administrations have failed to establish a national identification system due to concerns about privacy and data security. During the signing ceremony of the law on August 6, 2018, he told the crowd that the information to be put into the system will simply be the same with what other government agencies already have on the people. "There is therefore no basis at all for the apprehensions about the Phil-ID, unless of course that fear is based on anything that borders to illegal," he was quoted as saying in a report by PhilStar.
ADVERTISEMENT - CONTINUE READING BELOW
Senator Franklin Drilon also said, "The law has enough safeguards to protect the sanctity of the individual's information and protect their right to privacy. It protects against unlawful disclosure of information and punishes those who will subvert the system for unlawful ends," according to the Philippine News Agency.
Social surveillance is nothing new, of course. The digital age has ushered in completely brand-new concepts and mechanisms that past societies could never have even dreamed of. From the thousands of cameras monitoring the streets of London to the social credit-scoring sytem in China, who can say for sure what kind of future we're looking at? Let's all just hope this doesn't go Black Mirror on us.
Your guide to thriving in
this
strange new world.
Share this story with your friends!
---
Help us make Spot.ph better!
Take the short survey
More Videos You Can Watch
Load More Stories