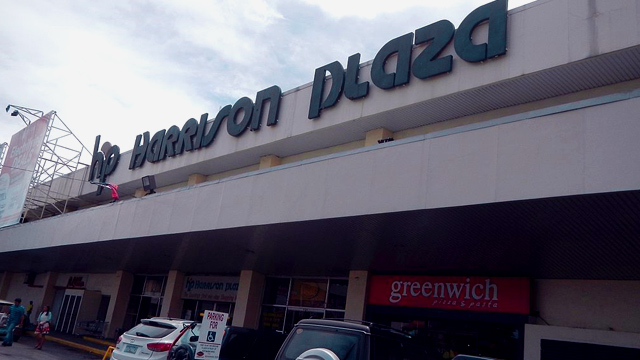 (SPOT.ph) Harrison Plaza used to hold the crown as one of the first big shopping malls in Metro Manila, along with Ali Mall in Cubao, which both opened in 1976. But because of years of underdevelopment, Harrison Plaza is now a shell of its former self. Though still a destination for good bargains, the mall's central fountain is now gone, the lighting dim, and general areas are lacking in maintenance.
ADVERTISEMENT - CONTINUE READING BELOW
There have been rumors circulating about Harrison Plaza's impending sale and demolition, fanned again in 2018 by this report that SM Prime Holdings is finalizing plans to buy and redevelop the area of Harrison Plaza into a new shopping center or mixed-use development with condominiums.
But did you know that 114 years ago, it was supposed to be a sprawling, open-air park? According to architect, landscape architect, and heritage advocate Paulo Alcazaren, the grounds of Harrison Plaza, including that of Rizal Memorial Sports Complex and Bangko Sentral ng Pilipinas, were once planned as Harrison Park, just one of four parks in the master plan of the city. In a series of sketches, the architect proposes that the area would be better redeveloped with a park, as originally planned.
The Park That Could Have Been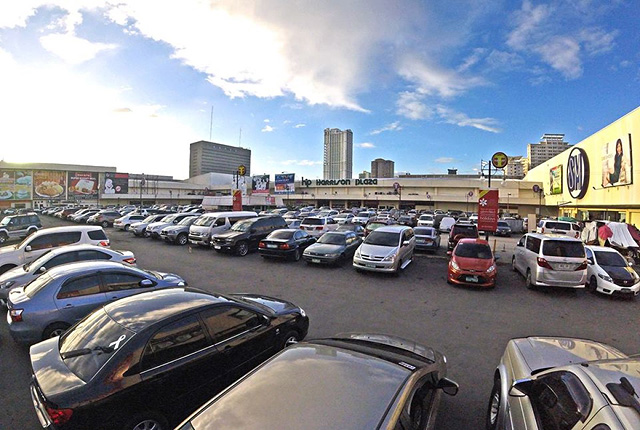 "It was planned as a park by Daniel Burnham in 1905," reveals Alcazaren in an interview, referring to U.S. architect and urban designer Burnham, who created the master plan of Manila and Baguio under American rule. "Landscape plans for its development were prepared with several revisions two to three times before World War II, but only the Rizal Memorial Sports Complex was built in those decades. It remained an open space and used as a de facto park (albeit with little amenities), until the late 1950s, when parts of it were carved out for the Manila Zoo and the Ospital ng Maynila."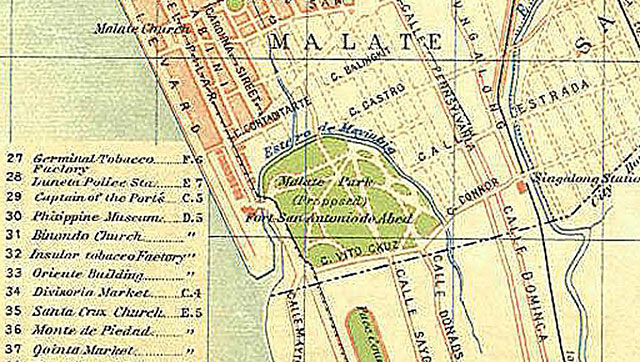 ADVERTISEMENT - CONTINUE READING BELOW
This initial plan could be seen in portions of a map of Manila dated 1915, wherein a large green area called "Malate Park (Proposed)" is indicated at the corner of Vito Cruz Street (now Pablo Ocampo Street) and Dewey Boulevard (currently Roxas Boulevard).
But whatever happened to Harrison Park? By all accounts, any plans for developing it were scrapped after World War II. "In the late '60s, the Central Bank was built, followed by most of it disappearing when Harrison Plaza and the Century Park Hotel were built," Alcazaren continues. "It would be too difficult to recover all this land today. A compromise would be to recover at least most of the area of Harrison Park."
The "Harrison Park" of the Future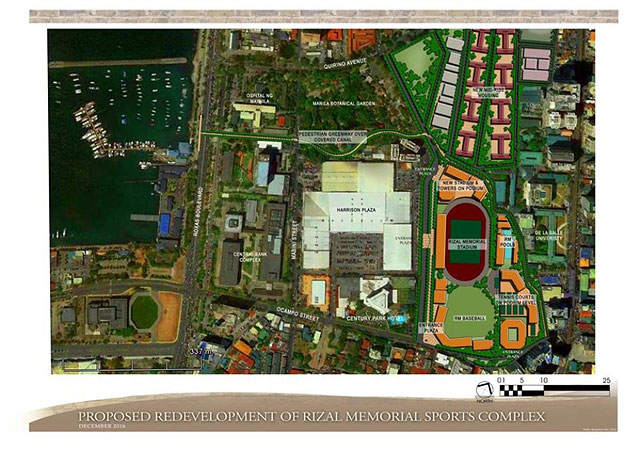 ADVERTISEMENT - CONTINUE READING BELOW

Manila Mayor Isko Moreno is currently on a city-wide cleanup and rehabilitation streak, but before this, as early as 2016, Alcazaren had proposed improvements and redevelopments for the Harrison Plaza area.
When Rizal Memorial Sports Complex was threatened with demolition in 2016 (the complex was eventually declared a national historical landmark by the National Historical Commission of the Philippines and saved from demolition in April 2017), Alcazaren, who is head of PGAA Creative Design, a consulting firm that won the Haligi ng Dangal award for its design of the Iloilo Esplanade, mapped out a plan to make the district more pedestrian-friendly. In the plan, he proposed a forecourt or plaza for the sports complex, along with elevated greenways that connect it to the mall, new condominiums, Manila Zoo, and even Roxas Boulevard.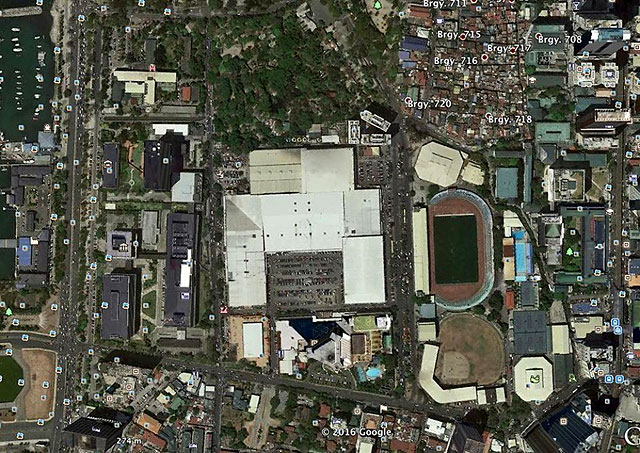 ADVERTISEMENT - CONTINUE READING BELOW
An aerial shot of the existing Harrison Plaza along with Rizal Memorial Sports Complex, Bangko Sentral ng Pilipinas, and Ospital ng Maynila shows that the only remaining green area is the Manila Botanical Gardens (upper portion, middle). In Alcazaren's proposed "Interim Partial Redevelopment Plant" wherein he superimposed his suggested improvements over the actual aerial view, you can see a greened-up Rizal Memorial Sports Complex and a pedestrian greenway linking the complex and the mall right over to Roxas Boulevard.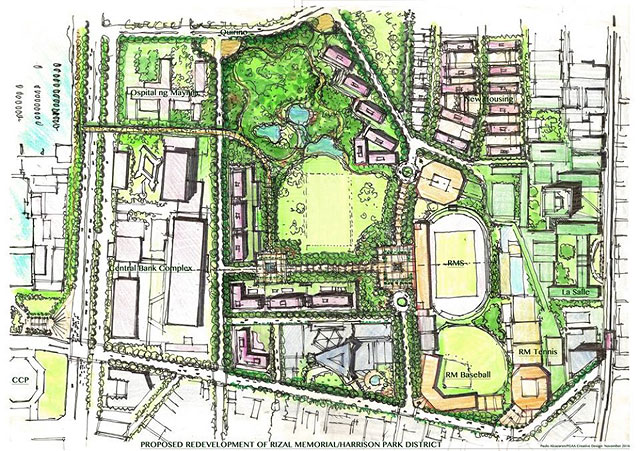 ADVERTISEMENT - CONTINUE READING BELOW
And in the final total redevelopment plan, which Alcazaren sketched freehand, it shows the entire Harrison Plaza mall complex gone, converted into an open-air park with ponds and surrounded by a series of condominium blocks (in pink) as new housing developments. "The current total retail area or GLA [Gross Leasable Area] could be accommodated in a consolidated series of podium blocks whose total footprint would occupy only a third of the current space it takes from the park. The redevelopment cost could be recovered by condominium towers above the podiums," Alcazaren explains in the Facebook post.
"The freeing of land area…would allow the chance to provide the main Rizal Memorial Stadium with a forecourt or plaza (which is what it had always needed)," the architect adds. "It would also create the opportunity to connect the complex with the park and Manila Zoo. The rerouting of vehicular circulation shown in the scheme would also fully pedestrianize the inner core of this revitalized district."
ADVERTISEMENT - CONTINUE READING BELOW
Don't Forget the Manila Zoo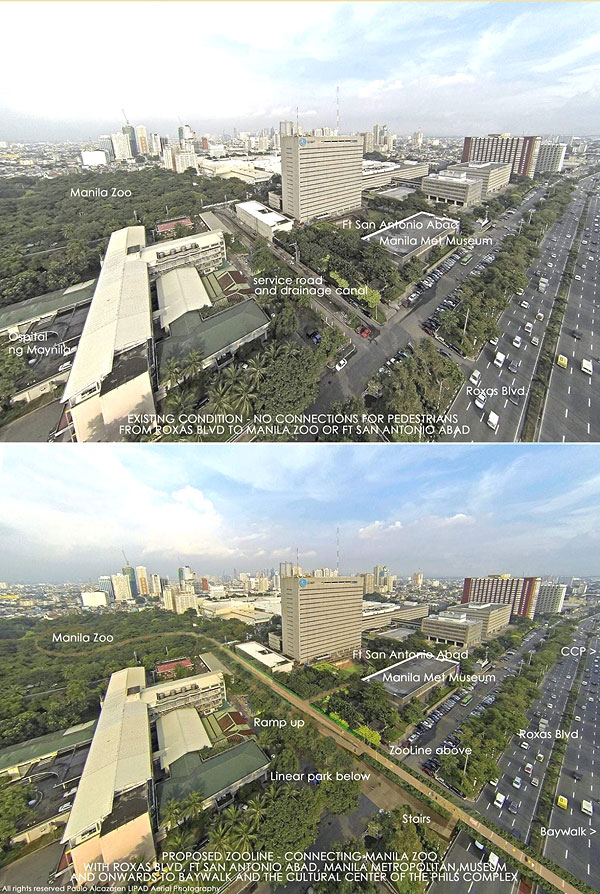 One of the adjoining establishments in the area is the Manila Zoo, which was ordered temporarily closed by then-mayor Joseph Estrada in January 2019 after reports that it was draining sewage into Manila Bay. "The consolidated park would now consist of the old Harrison Plaza Mall and Manila Zoo…the next opportunity would be to connect this to Roxas Boulevard, via an elevated greenway as shown in the scheme. This greenway (for pedestrians and bikers) is ramped on both ends," Alcazaren says.
ADVERTISEMENT - CONTINUE READING BELOW
The architect met with Mayor Moreno on July 11 to discuss the mayor's vision for a new Manila Civic Center. When asked if the redevelopment of Harrison Plaza and its adjoining areas was brought up, Alcazaren admits that this was not discussed, but that he had "exchanged views on the matter with the mayor's staff."
With this proposed redevelopment, Alcazaren hopes that it would tackle the main concerns in the area, mainly conserving heritage structures, creating more green space and public squares, and integrating a whole district with an urban but shaded pedestrian core. "It brings back good urbanity and pride of place, where everyone is welcome and development is sustainable," he stresses.
Your guide to thriving in
this
strange new world.
Share this story with your friends!
---
Help us make Spot.ph better!
Take the short survey
More Videos You Can Watch
Load More Stories