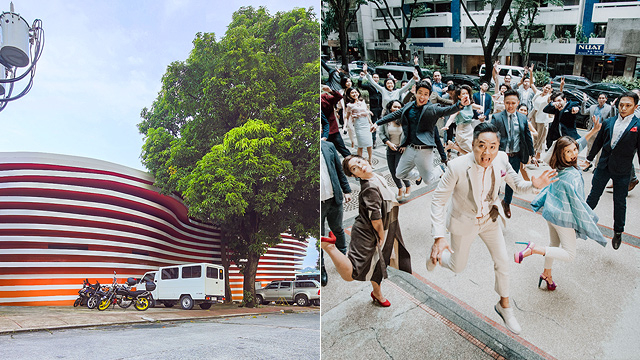 (SPOT.ph) Everyone remembers how badly hit Marikina was by Tropical Storm Ondoy almost 10 years ago. On September 19, 2009, the Marikina River went up to 19.9 meters, flooding most of the city. In the aftermath, more than 70 people in Marikina died, and 25,500 of its residents were displaced from their homes.  

You'd think that after this disaster, Marikina citizens would opt not to return—but return and rebuild, they did. And there was one developer after the other who boasted that they had created "Ondoy-proof homes" to address the imminent flooding problem, but these were only houses raised a few feet on landfill with a roof deck. 
Jason Buensalido and His Unusual Response to Post-Ondoy Housing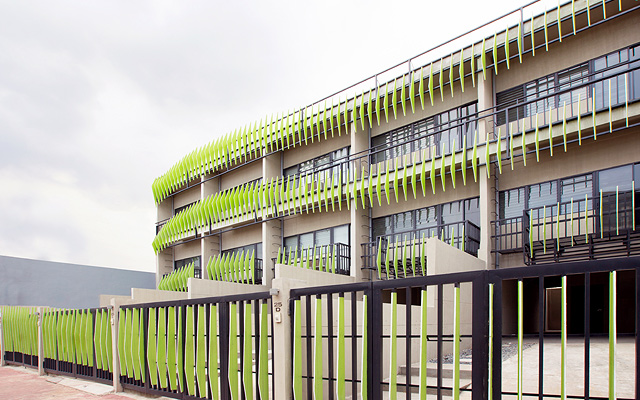 ADVERTISEMENT - CONTINUE READING BELOW
And then there is Project RAFT. From afar, the development simply looks like a series of townhouses with a modern façade, balconies, and a brise soleil (sunscreen) inspired by waves. But upon closer inspection, its flood-responsive functions come out: a metal mechanism embedded in the carport becomes a pontoon during heavy flooding, allowing your car to float. Part of the balcony detaches to transform into an actual raft that the family can ride to the nearest evacuation center. And the main living areas—where most of the appliances and furniture are used in—are located on the third floor, away from the flood's highest reach. 
Architect Jason Buensalido explains this flood-responsive design: "Sabi namin, instead of fighting the flood, why not adapt to it? Of course, the long-term solution is not to live there, but because of their roots, and for whatever reason, people will continue to live in flood-prone areas. This is a simple response to the context of flooding."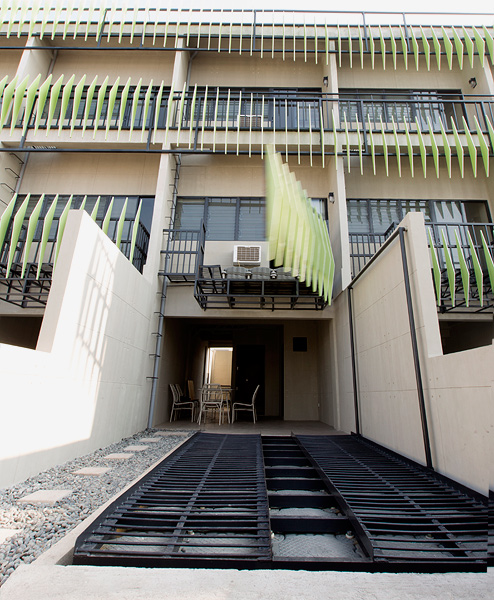 This is just one of the many out-of-the-box projects his design firm, Buensalido + Architects (B+A), has worked on. The projects of the 33-strong and relatively young architectural firm aren't cookie-cutter structures. Here, cantilevered overhangs become balconies that encourage residents to interact with each other. Buildings open up like a curtain on a stage. And a modern housing development alludes to Filipino design and camaraderie, but very subtly.
These buildings don't have any unnecessary ornaments, but rather, design solutions that address its environment and community situations. And how the firm's designers think outside of the box isn't even tied to any advanced building technology or expensive foreign design education. Buensalido reveals that it is all because of constant communication—talking.
A Weekly Exchange of Ideas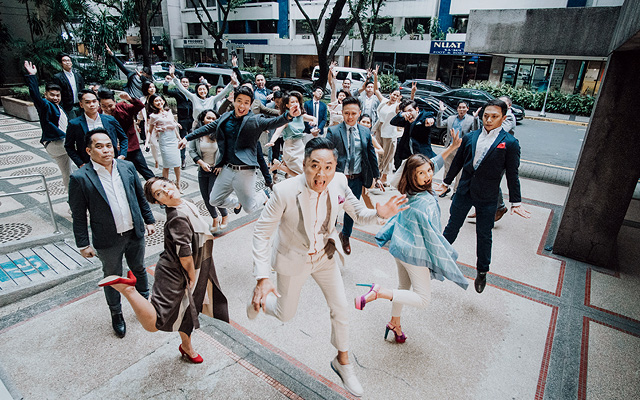 ADVERTISEMENT - CONTINUE READING BELOW
Aside from design, talking and sharing ideas are what Buensalido does on a constant basis. The young architect noticed that not everything was taught in school. Once designers set up practice like he did in 2006, there were a lot of holes left to fill. He decided that if different people in the company would have a free exchange of thoughts and experiences, it would help the entire office.
"We would have projects of our own. But the learning in each project, we want the whole firm to benefit from it. We'll say: 'Oh, let's present it to the entire team.' So that when the next project comes, we will not repeat the same mistakes…or you can get the best practices." At first these internal, informal talks that began in 2009 were about their commissioned projects, but then it became about other experiences. "It wasn't just about design. It became about where you went over the weekend. It became about the thesis that you did in school. Lahat. And most importantly, what did you learn from it?"
Positive Change Through Talk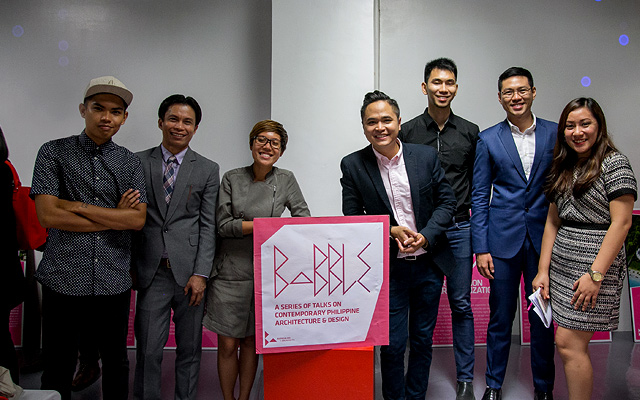 No matter how busy the office was, the team would set aside time to "babble" every week. But after five years of it, they realized the constant exchange of ideas could also help other design pros.
"One of the firm's goals is positive change through the built environment. And design, architecture, and critical thinking are all mechanisms to achieve that goal, so if we want the Philippines to change, let's not keep it amongst ourselves," the architect explains. The solution was to hold a formal babble—or rather, a B+Abble—and invite other professionals and students outside of the firm.
This first official B+Abble: A Series of Talks on Contemporary Philippine Arts and Design was held in 2015 at Local Edition, a tiny coffee shop across their office. "About 40 people showed up, and lot of students too; plus a few architects went as well," Buensalido recalls. The next B+Abble had more than a hundred people in attendance. CPD (Continuing Professional Development) points were eventually given to the architects who attended these talks, but Buensalido stresses that the talks are mainly about learning first, and that the professional points are just a bonus.
ADVERTISEMENT - CONTINUE READING BELOW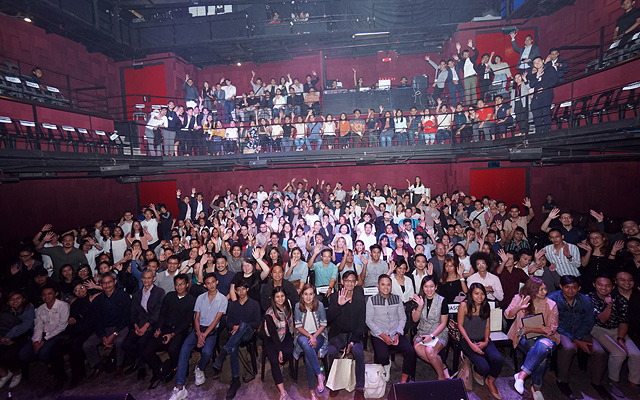 Since then, B+Abble has been held in various venues once or twice a year with speakers from unexpected industries. "Because if we need positive change, it can't be just about design work," Buensalido says, noting that learning from wildly different fields can help you think of a wider array of solutions. In 2017, they invited Mike Constantino, who talked about music science and how one can use music to target the desired market of your brand. The last B+Abble in June had improv artist Gabe Mercado, whose quick-witted improv style helped the entire audience at PETA Theater boost their communication skills.
A Different View of Filipino Design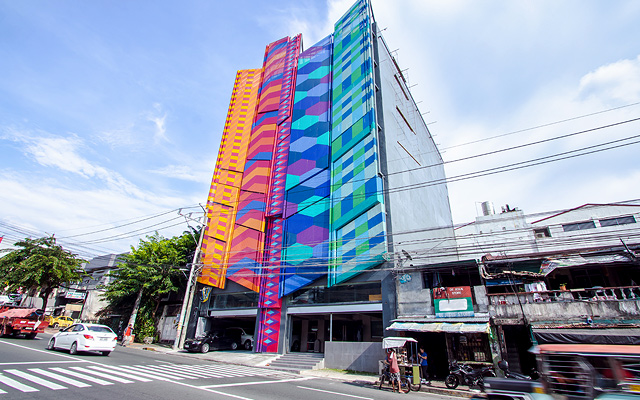 But B+Abble didn't just stop at talk—many projects came out of it with the vision of a different way of seeing Filipino design. "To move this forward, we developed the four points of Philippine culture in architecture." Buensalido stresses that the points aren't what you'd usually expect of Pinoy design, such as sawali walls and thatched roofs; it's more non-tangible. "Sino ba tayo talaga? Ano ba ang pagkatao natin that we can show in architecture?"
Their four points include personalization, optimism, weaving, and responsive vernacular models. Buensalido cites Filipino food as an example of personalization. "Dito, hindi ka pa nakaupo, nandiyan na ang calamansi, toyo, at bagoong. 'Yong iba, gusto ng bagoong, 'yong iba, ayaw."
ADVERTISEMENT - CONTINUE READING BELOW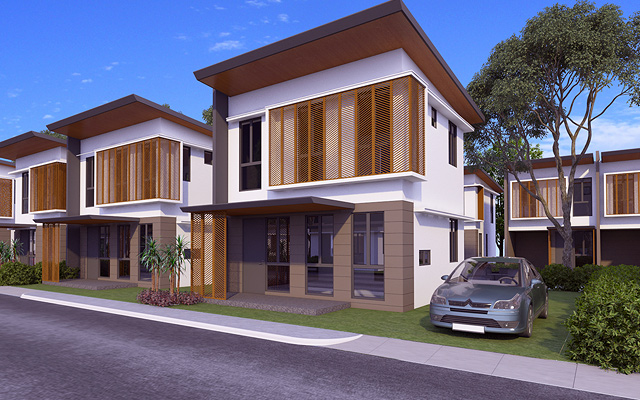 This type of personalization, along with the other three points as well, appears in the subtle modern Filipino design of the houses in the 60-hectare Amoa Development in Compostela Valley, Cebu. "A lot of people think that we're only involved with high-end projects, but we actively seek out housing projects because it's an opportunity for us to cause change." Here, the resident has the option to make one of the homes their own with customizable ventanillas, a screen that is inspired by a design element from the traditional bahay-na-bato. It provides privacy, but still allows residents to interact with each other.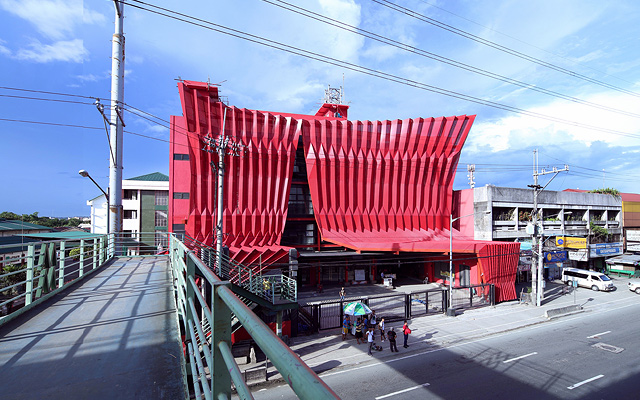 The concept of optimism is best seen in B+A's design of the APT Theater of the popular noontime show Eat Bulaga! Now, Eat Bulaga! and modernist Filipino design may seem like strange bedfellows, but it all works. Buensalido shares: "We got a lot of flak for this. People said: 'The architecture should be simple, why this?' And then noong nalaman nila na para sa Eat Bulaga!, they got it na. It was a privilege for us to design a backdrop for Filipinos to have a source of hope every day." The façade is like a red curtain that is drawn open, welcoming people in to let them forget about their problems for a few hours.
ADVERTISEMENT - CONTINUE READING BELOW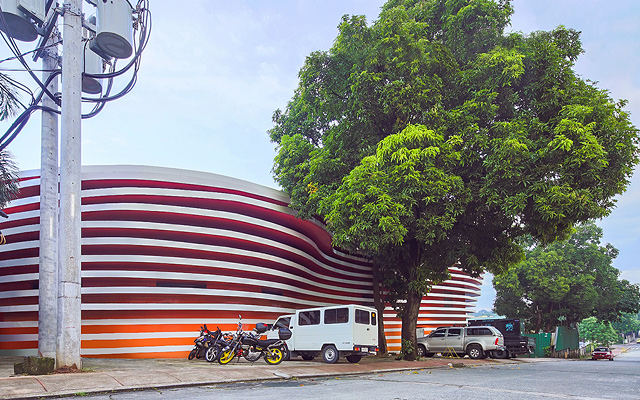 In the end, this constant exchange of ideas helps bring Filipino design forward, away from the old themed developer villages of Greek villas and Swiss chalets that stick out like sore thumbs. From now on, design that pushes the envelope but stays rooted in context while addressing the needs of the community is the only way to go.
"I hope you weren't bored by my babble," says Buensalido apologetically after our lively interview in his office. I wasn't bored at all, but I was too shy to mention to him that I learned more in a single hour than I had sitting through an entire month of design class. So much so that I had to share it.
B+Abble is open to professionals, non-professionals, and students. To learn more about B+Abble and their future talks or events, follow Buensalido + Architects on Facebook and Instagram. 
Photos courtesy of Buensalido + Associates
Rachelle Medina is a licensed interior designer, heritage enthusiast, and the former editor-in-chief of Real Living. She spends her free time exploring museums and decaying old buildings. Follow Rachelle on Instagram @goldosmom.
Share this story with your friends!
---
Help us make Spot.ph better!
Take the short survey
More Videos You Can Watch
Load More Stories