(SPOT.ph) An insurance company has the reputation of being as stuffy and—well, as corporate as corporate could be. But the serious business of insurance gets a major upgrade over at Manulife Philippines' new head office, where coral-pink booths, hot desks, and quiet rooms with built-in acoustic sound systems abound.
Nothing says "do it for the 'gram" like a plant wall these days, and the NEX Tower, where Manulife Philippines occupies six floors, has the biggest one in the country. Salie Acupan, senior assistant vice president and head of communications and corporate affairs, says that NEX Tower is a LEED-certified building, and when Manulife saw it being built from across the street from their old office, they knew it fit the new direction Manulife was headed.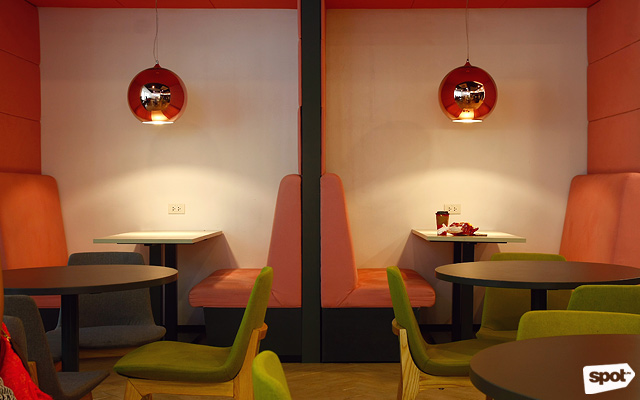 ADVERTISEMENT - CONTINUE READING BELOW
Walking into each floor of Manulife's office, you're welcomed to a café with free coffee, filled with long tables and bar stools. But it's hard to ignore the highlight of the room—plush booths in coral, and rose-gold hanging lights fit more into a hip coworking space, rather than a company that's literally in the serious business of life and death. Melissa Henson, senior vice president and chief marketing officer of Manulife, said, "It's a work café, and it's dual purpose. It serves as sort of a pantry, cafeteria-style area, but people actually also work here, have meetings," She continues, "We like to meet over food. So they can collaborate, get together, and work together also."
"Café-like" pantry areas, open layouts, collaborative areas, and "hot desking" are nothing new for companies in the creative industry, but for an insurance company, this complete turnaround from traditional to modern comes as a surprise.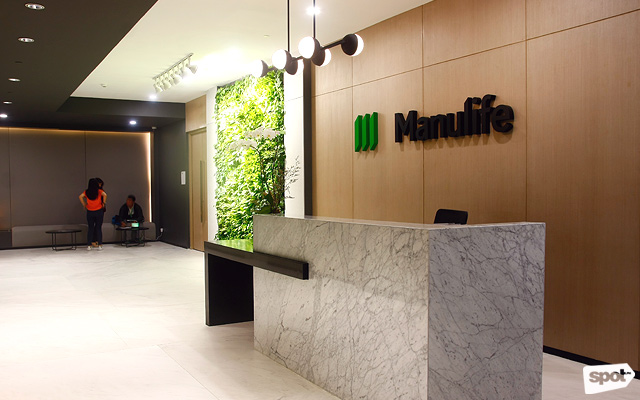 Their obvious facelift as a brand is a global initiative, down to the minute detail of redesigning their logo, and making it a few shades lighter than their previous green hue. "It's very different from what they expect from an insurance company, but that's actually the point. That's why we want it to look and feel this way. It's to signal and symbolize that transformation, and encourags people who occupy the space to also think differently," Henson explains.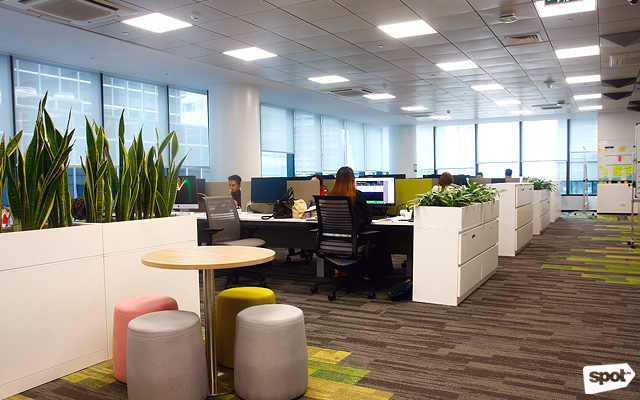 Since the 800 or so employees moved to the new office in March 2019, the change in the workforce has been palpable. Henson says, "It's very different. Our old office was traditionally designed, so we had the usual workstations, with that semi-high divider, a pantry in the back. So with the different feel, it's a different way of working, and a different way of using our space. The agile methodology requires a space where people can collaborate, work together, sit with people they're working with on a specific project."
ADVERTISEMENT - CONTINUE READING BELOW
An agile methodology means hot desking is the norm for Manulife employees. Each one is given a "hot box", a backpack of sorts that contains all they need to live their work life—like a roving cubicle pedestal. "When someone leaves their desk, they must log off, take their things, and put them back in the lockers," Henson says. The exception to this "sit wherever you want" rule are the higher-ups, like the CEO, simply because their people need to know where to find them. But their desks adhere to the same "no walls" principle.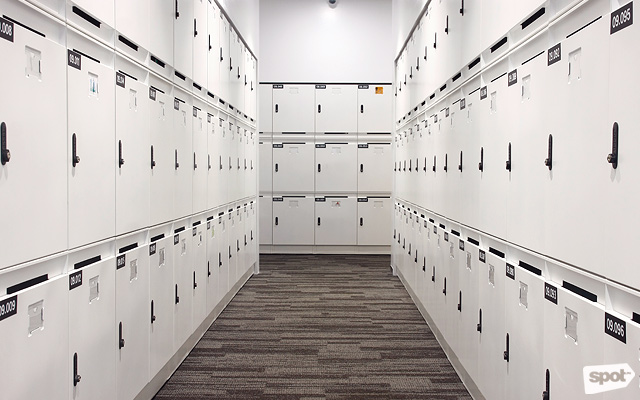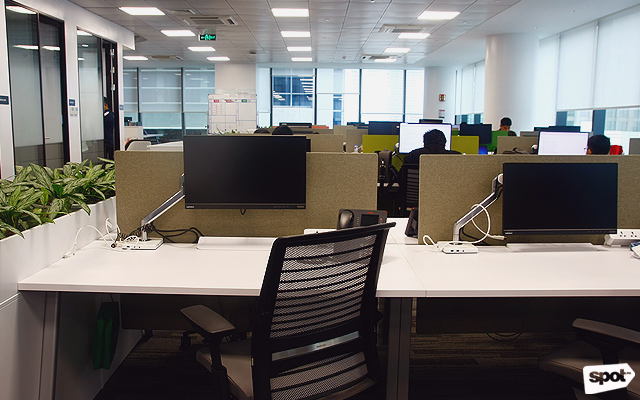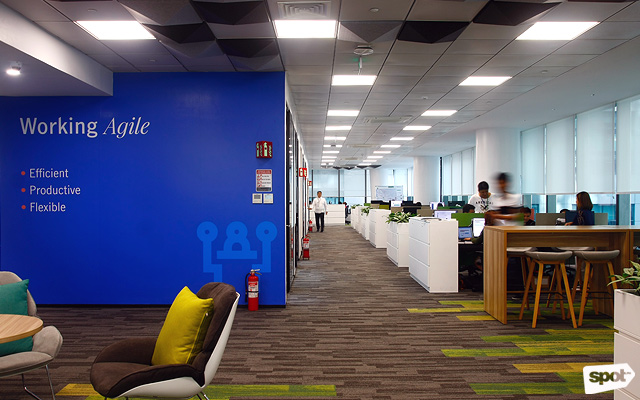 Collaborative areas are everywhere in this office, too. And you'd find plenty of sofa chairs, or bar stools, comfortably fitting three or more persons in different designs and styles. Some areas have sofas with higher partitions, and can comfortably sit around four to six persons. "We've marked collaboration areas with colorful carpets," Henson points out.
ADVERTISEMENT - CONTINUE READING BELOW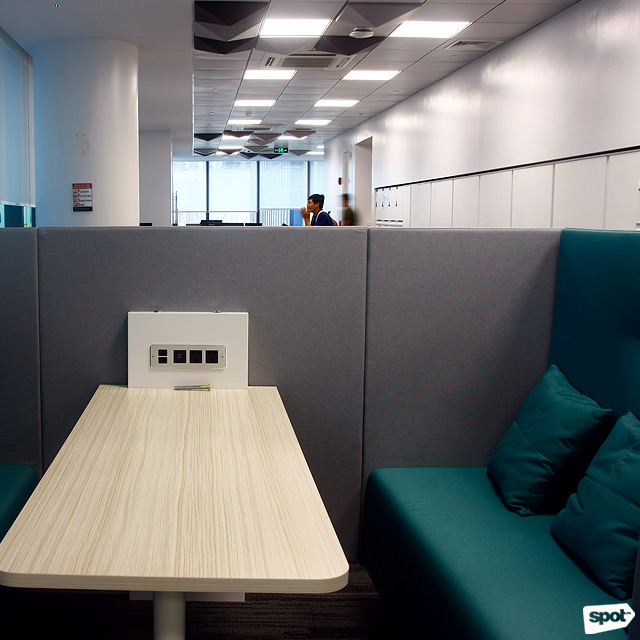 Look up in any collaborative area and you'll find what looks like felt pyramids stuck on the ceiling. What we thought was just done for aesthetic purposes was really a built-in acoustic system, to help bounce the sound back when there are discussions happening in a particular spot, so as not to bother employees at their hot desks.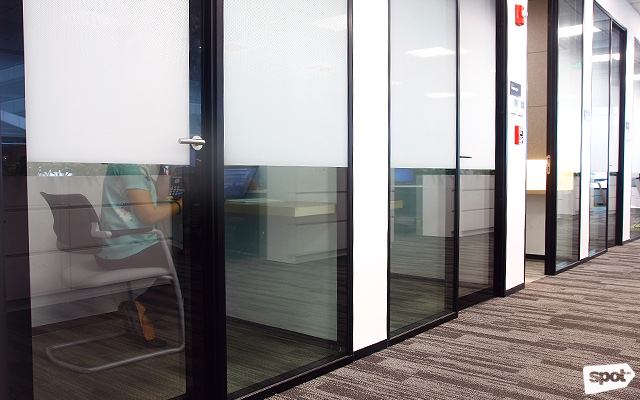 An agile, free-for-all desk culture doesn't mean that you'll never get privacy. Quiet rooms with single or double seating are available for employees, while phone rooms are equipped for those who need to take a private or conference call. "You can also do interviews or talk to your boss," Henson adds. Quiet rooms can be for, well, some peace and quiet for employees who want some alone time, or in the case of what we saw during the tour, a team of five crammed inside to experience a whole new level of togetherness.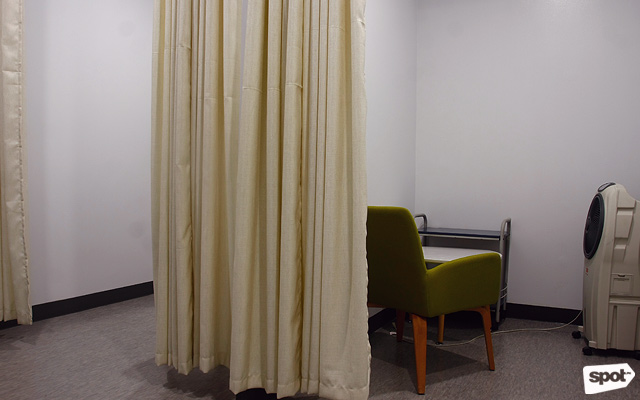 ADVERTISEMENT - CONTINUE READING BELOW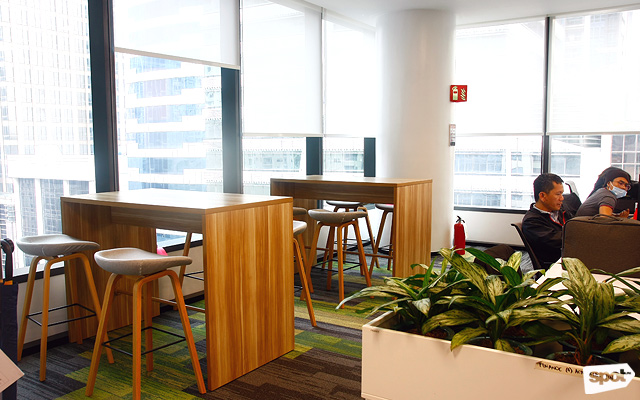 It might be too soon to tell if Manulife's more agile approach to insurance is going to pay off, but Henson thinks it already partly has. "The feedback has been quite positive. People are liking the energy, the openness. I think that the change in the environment, the change in the space, has allowed us to embrace and live the new ways of working much more quickly. And also, with our rebranding, we introduced a new mission, and a new set of values, one of which is 'Share Your Humanity.'" She adds, "It's all about getting things done together. It's about respect, accepting each other, showing your true self, having fun together. I think the open office just brings that whole value to life."
Photos by Jun Pinzon
Share this story with your friends!
---
Help us make Spot.ph better!
Take the short survey
More Videos You Can Watch
Load More Stories