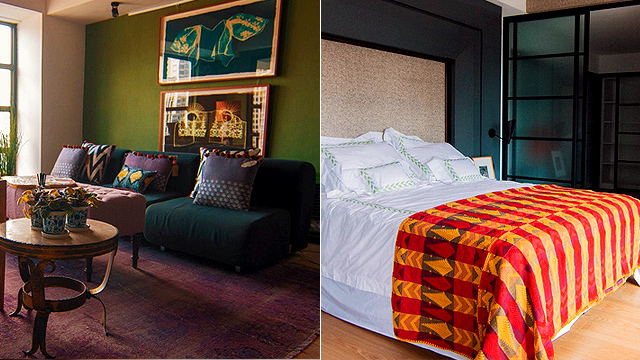 (SPOT.ph) The unit at one of the topmost floors of a premium condo in Salcedo Village is all that you'd expect a penthouse to be: moss and sapphire-blue fabric walls to go with the Kelly-green doors and the rose-quartz pink kitchen, fine antiques and Italian lighting, silk rugs you can sink your feet into, and the marble floor underneath it all.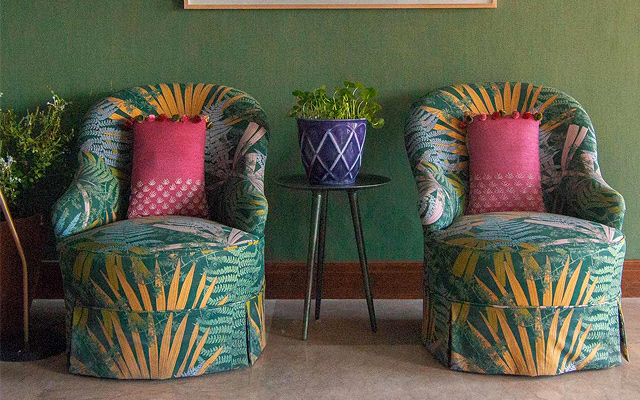 ADVERTISEMENT - CONTINUE READING BELOW
But the most stunning feature of the 312-square meter apartment is the view: a wide expanse of Salcedo village, the rest of Makati's Central Business District and beyond; unhampered by curtains or blinds. It is interesting to note that this penthouse is especially lucky, as it faces the Makati Sports Club, one of the few spots in the city without a tall building to block its view.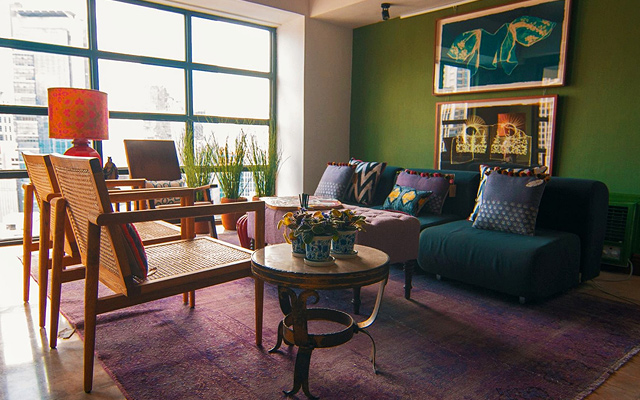 This incomparable view is what welcomes guests at Casa Collective X, the latest entrepreneurial project of couple Ricco and Tina Ocampo, who are best known for fashion retail. The lifestyle/real estate project may be the first of its kind in the country, and is touted to be "a purposeful home built by a collective of designers, artists, and creative individuals." It was this detail on their Instagram account that prompted me to ask: Is it a home? A shop? Is it all for sale? Or is it all of the above?
An Option to "Experience" the Unit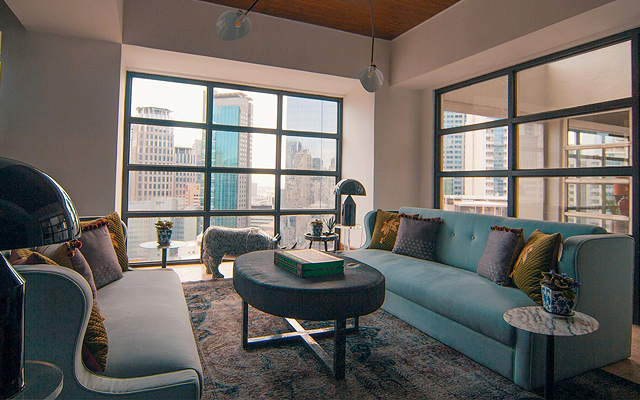 "We are a real estate company that has a different perspective on how to sell properties, and so we purchase homes and redesign the space to add more beautiful features," explains Juliana Ocampo, Ricco's daughter and occasional host for Casa Collective X. "But what makes us different is that we just don't stage a home for an open house; we have a collective of about 15 vendors who have been inspired by the space and who bring in products that best fit the home."
Casa Lafayette, the apartment that we were touring, is just the first of many homes that Casa Collective X will be launching. Ricco adds that they will introduce one property a month, each with a different theme. For the duration of every launch—which, like Casa Lafayette, may last two to three weeks—guests and even curious visitors who are not really looking for a home can, with an appointment or invitation, attend a series of events and cocktail parties, all with the purpose of "experiencing" the unit, even just for a few hours. 
ADVERTISEMENT - CONTINUE READING BELOW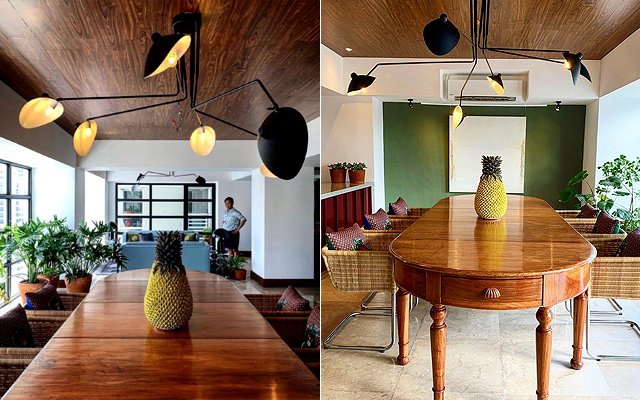 Juliana shares that in the Casa Lafayette launch, there were hosted dinners and cocktail parties in which one could experience firsthand how it is to entertain and "live" in the unit. Guests were encouraged to lounge about with their friends and admire the view from the den and living rooms, which is spectacular to see at night. 
Others who opted not to attend the events simply had a relaxed tour to get decorative inspiration, sit in the three living areas and bedrooms to admire the artwork and see how each artist's piece would look in a particular room. Juliana reveals that there were some guests who visited only for the art, or to possibly shop. 
"What's cool is that this home can be something that you come in and experience once, or you could have it for yourself. We are open only for two weeks, so there is this excitement of people seeing it and experiencing it firsthand," Juliana says. "People would hang out and have cocktails, and they could purchase whatever object they see in the unit. It's so fun, because you're invited as a guest and you're like: 'Oh where did you get this chair? I love it!' And then you can buy it and take it home with you!"
A Place to Shop
With the future Casa Collective homes, Juliana says that the events, vendors, and concept will change. "The whole point is that each home has its own perspective and it is very unique, and when we show it, we are not doing it for a buyer, but we are doing it to inspire anyone around us in the community, either to bring it back to their own home, or as inspiration to challenge your style," she explains.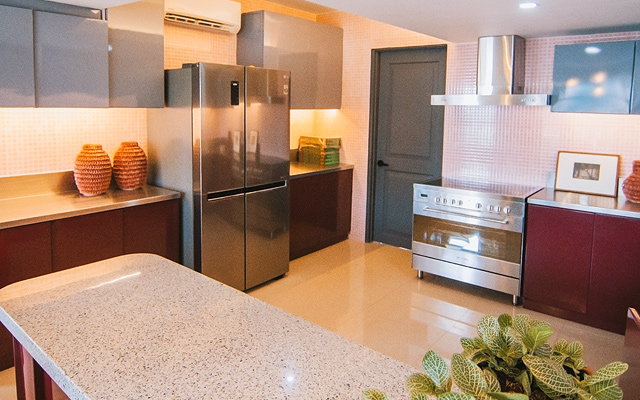 ADVERTISEMENT - CONTINUE READING BELOW
The purchasing concept of the property is clarified by Juliana, who explains the buying options. "There are three: First, you can buy the apartment empty and on its own. Second, you can buy individual items that you see…even if you are not on the market to buy a new home, you can come over and get inspired by experiencing all the different art and designs instead of seeing it in a gallery or store. And third, you can buy everything that you see in the home."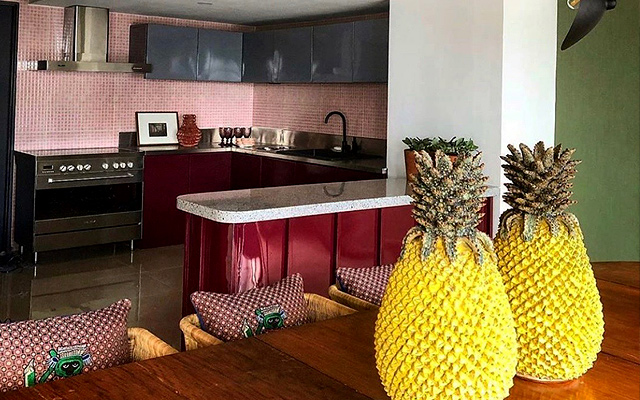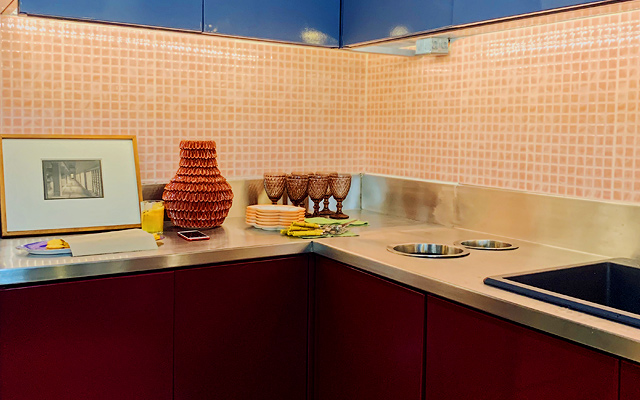 She adds that if you choose the fully furnished option, you get literally get everything in the duplex apartment and more—the two-car parking space, all the artworks, appliances, and furnishings—even the potted plants and the Pratesi Italian bed sheets. Moving in means just bringing in your clothes and personal belongings. The final tab: a cool P65 million.
If this apartment's price tag is too steep for some of us (A fact: many brand-new luxury condo units in Bonifacio Global City go for twice that price, unfurnished!), then we could just purchase the furniture and décor to recreate the luxe vibe at home, or visit it for the "X" part of Casa Collective X, which is the experience. 
But what happens if someone buys one of the paintings, or the chairs? Juliana reassures that the vendor will replace it with similar pieces, and the team could set it up again if a potential buyer wants to view it.  "We also have a fixed price for everything inside the apartment, for all of the vendors of the items here."
ADVERTISEMENT - CONTINUE READING BELOW
A Curated Lifestyle
But why dabble in the grueling, highly competitive business of real estate—even if this Ocampo version of real estate is, like the rest of their businesses, undeniably glamorous?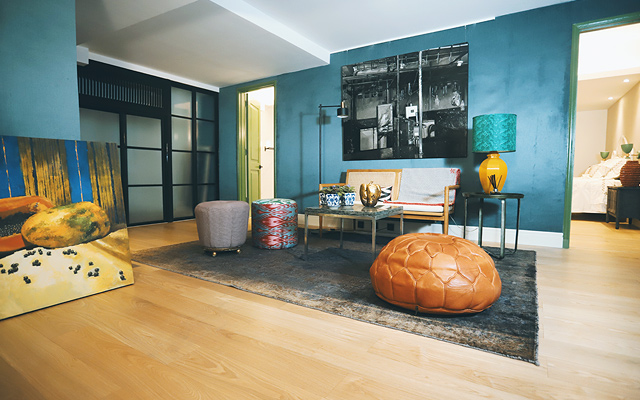 "I think it's something that I've subliminally liked—and I've always liked real estate. Because the way we live—I think we've moved 12 times—and even living in New York, we moved around four or five times…it's always an opportunity to get more creative," says Ricco. "And I've always wanted to be an architect. It's my frustration. I like design, I like furniture, and I like to design furniture as well, plus this. It all fell into place and it's a new career that I'm excited to do."
He then reveals his plans for the future Casa Collective homes. "Each home will have its own character and flavor of the person who we foresee living there. Like in this one, it's possibly a bohemian couple with one or two kids, and they love the neighborhood, and even the mix of furniture is very eclectic, and there's so much color in it," he says. "The next one will be very upscale, because it's a bigger penthouse, and maybe it's for an older person."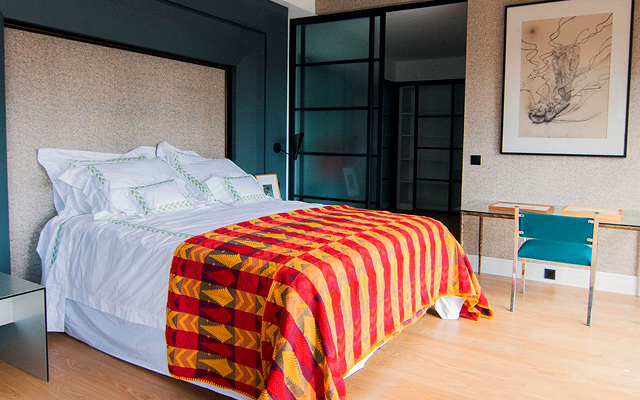 ADVERTISEMENT - CONTINUE READING BELOW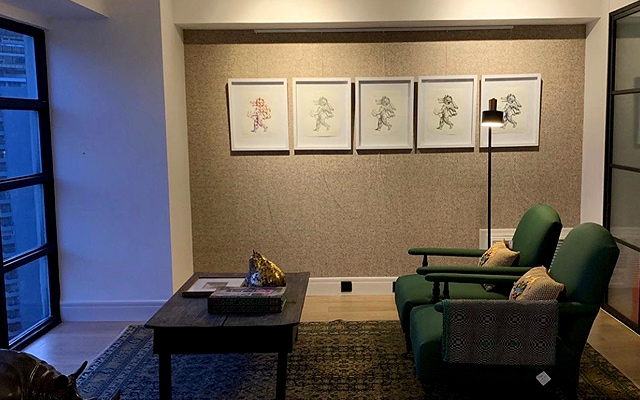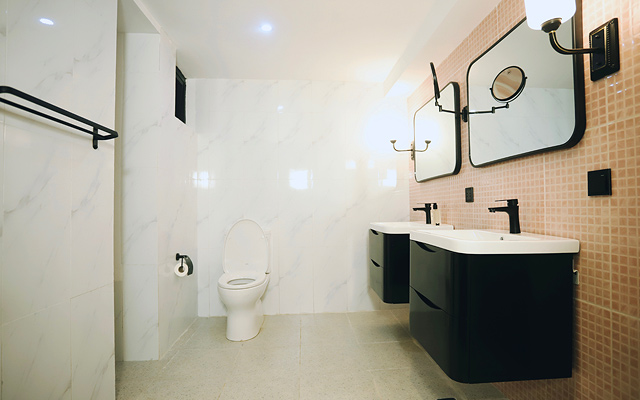 Both father and daughter relate how going through the city's many show units inspired them with this project. "In New York, I loved going to open houses, because you had no idea what you were going to see. The building could look old or janky, and then when you open the door, it's amazing inside," Juliana gushes. "We wanted to bring that kind of energy to the Philippines, so people could discover an area or building they never thought they'd live in. And we're not here just to sell the apartment, we hope not only to disrupt the business, but also the culture."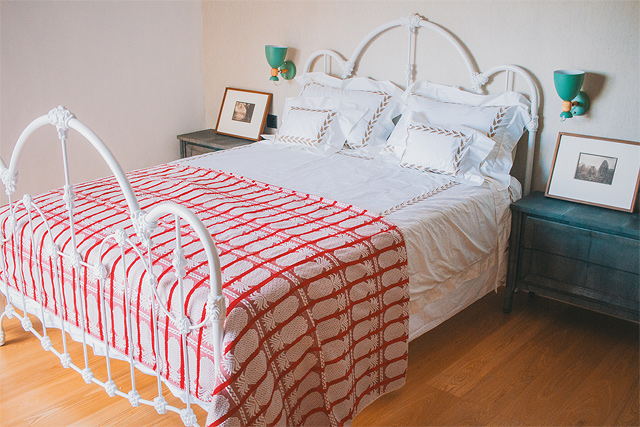 ADVERTISEMENT - CONTINUE READING BELOW
"For me, it's really important to see how people live. They should live well—not extravagantly, but how one should live. I think it's a very important lesson that everybody has to put into their lives," Ricco muses. "Because even if I invite somebody here who's not buying real estate but for them to experience the lifestyle…it could be something that they could learn from." 
For more information, follow Casa Collective X  on Instagram and Facebook.
Rachelle Medina is a licensed interior designer, heritage enthusiast, and the former editor-in-chief of Real Living. She spends her free time exploring museums and decaying old buildings. Follow Rachelle on Instagram @goldosmom.
Share this story with your friends!
---
Help us make Spot.ph better!
Take the short survey
More Videos You Can Watch
Load More Stories