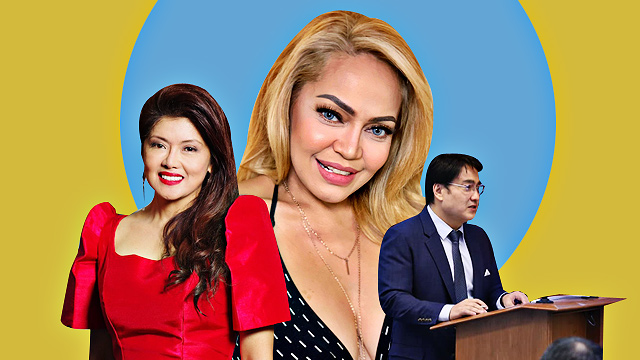 (SPOT.ph) It's a lot easier to say things to a screen than to an actual person—which is both a bad and a good thing. Sure, it allows us to be a whole lot meaner than we would be IRL, but on the bright side (squint with us a bit here), it also lets people be extremely creative with their insults. The Internet never disappoints when it comes to the zingiest clapbacks and the shadiest reacts, and 2019 was no exception. A lot of shit went down this year, so we rounded up some of the funniest online hits we saw. We're done crying over 2019, so why not get in on the joke?
ADVERTISEMENT - CONTINUE READING BELOW
Here are some of 2019's funniest Internet clapbacks:
"Had Us in the First Half" UPCAT Pro Tip
What better way to motivate kids than by totally demoralizing them? Getting into college is arguably one of the biggest goals Filipino students have, with a degree seen as the ultimate ticket to a good life (or at least a job with a steady salary). The University of the Philippines College Admission Test is an annual brain-cell fry fest for students nationwide, so when this tweet came out a few days before the tests on October 5 and 6, it definitely got an evil-slash-sad cackle from us.
ADVERTISEMENT - CONTINUE READING BELOW
Recommended Videos
The Godfather, But With Brands
The supreme monarch of Twitter attitude, Angkas gave us one of the shadiest tweets we've seen all year. Whoever runs the motorcycle taxi's social media accounts knows what they're doing. Amidst the transportation crisis—excuse us, Panelo—that plagued Metro Manila citizens for most of 2019, heck, most of our lives, Angkas responded to this picture of one of their partners in a "scandalous" position with a competitor using the perfect adage. Michael Corleone would be proud.
ADVERTISEMENT - CONTINUE READING BELOW
Lani-Mercado Revilla Schools Us on GMRC
Anybody who remembers the old "Good Manners, Right Conduct" subject would agree with Lani-Mercado Revilla's sentiment. The original tweet is fine and all, it's the fact that she's the wife of an accused plunderer, Bong Revilla, that set the Twitterverse on fire. In all fairness, the replies were mostly respectful ones, just laced with a whole lot of sarcasm.
ADVERTISEMENT - CONTINUE READING BELOW
Bong Revilla (Unknowingly) Throws Out an Uno Reverse Card
A few months after the GMRC debacle, the Revillas hit us with another seemingly misplaced comment, this time from Senator Bong Revilla himself. "I personally support the President's call to reinstate capital punishment for offenses related to drugs and plunder," said the alleged plunderer himself. Obviously, people were a little confounded by the statement, and began giving their condolences for the senator.
The Best Rare Insult We've Seen So Far
ADVERTISEMENT - CONTINUE READING BELOW
A lot went down during the Philippines' hosting of the 30th Southeast Asian Games, but the biggest drama of all arguably came from the main organizer himself, Alan Peter Cayetano. Seemingly smarting from all the flak the event received, his closing speech for the regional tournament devolved into a bit of a cringe-fest and earned him this oddly accurate description.
The Charot Queen Says What We're All Thinking
ADVERTISEMENT - CONTINUE READING BELOW
When news broke out that the cauldron built for the 30th Southeast Asian (SEA) Games cost around P50 million pesos, people didn't take it lightly. Amidst cutbacks for education and health budgets in 2020, the amount felt unjustified, so people really felt the same when Ethel Booba gave her, uh, succinct opinion on how the cauldron should be used.
Students Cancel City Mayors
ADVERTISEMENT - CONTINUE READING BELOW
This tweet perfectly captures how students feel when they're made to go to school in the pouring rain. The #WalangMayor comes back to life every few months or so in a tropical—and ridiculously flood-prone area—like Metro Manila, thanks to the students whose classes aren't suspended (so they cancel their city mayors instead). This tweet just had the perfect mix of sarcasm and passive aggressiveness that could not be passed over.
Belabored Doubts and Vanquished Whilom
ADVERTISEMENT - CONTINUE READING BELOW
Season 81 of the UAAP games was filled with all the usual trash-talking, and not just from the athletes. Twitter was alight with competing universities throwing jabs left and right, but none set themselves up for the trap so well as the University of Santo Tomas Central Student Council. After a very, uhm, flowery tweet declaring their victory in a deciding match against the University of the Philippines Fighting Maroons, practically all of Twitter had a seizure trying to figure out what they were saying, and sparked an entire highfalutin movement.
Even "God" Doesn't Know
ADVERTISEMENT - CONTINUE READING BELOW
The annual trash-talk festival was encapsulated in the UAAP Cheerdance Competition, where the National University took back their throne from Adamson University. Twitter was an absolute goldmine of rare insults, below-the-belt jabs, and a whole lot of shade, but because everybody hates a winner the most, this one question flooded the cheerdance feed—and even God (probably a fake account though) put in his two cents.
Imee Marcos Gets Disowned by an Entire Facebook Thread
Imee Marcos is a senator now. And when she took over the office space of Antonio "Sonny" Trillanes IV—a known critic of the current administration—after the May elections, she was quoted as saying, "Siguro magpapatawag ako ng Igorot namin dahil kailangan basbasan office ko." Her comment sparked an entire Facebook comment thread of people representing groups refusing to do the job for her, starting with the Igorots, to Satan, all the way to Champion (yes, the detergent).
ADVERTISEMENT - CONTINUE READING BELOW
Share this story with your friends!
---
Help us make Spot.ph better!
Take the short survey
Load More Stories