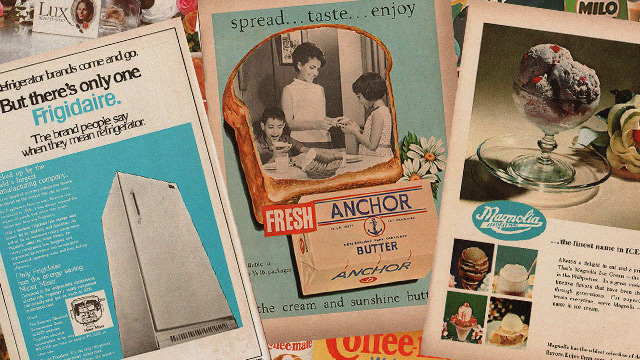 (SPOT.ph) Nothing beats the feeling of being at your parents'. "Home" just takes on a whole new meaning when you're safe and secure in the place you grew up in, surrounded by all things familiar. Remember all the stuff you guys used to have? (Or maybe, still have stashed somewhere in the garage or backroom.) From the Frigidaire refrigerator—yes, young ones, it's an actual brand and not some made-up word—to the Lux soap and more, we dug up a couple vintage ads from a past era.
Also read:
PHOTOS: Vintage Print Ads Featuring Pinoy Celebs
PHOTOS: Vintage Print Ads Featuring Cool Old-School Cars
PHOTOS: Vintage Beverage Ads From the '60s
Your parents might remember these vintage print ads of the biggest brands:
Anchor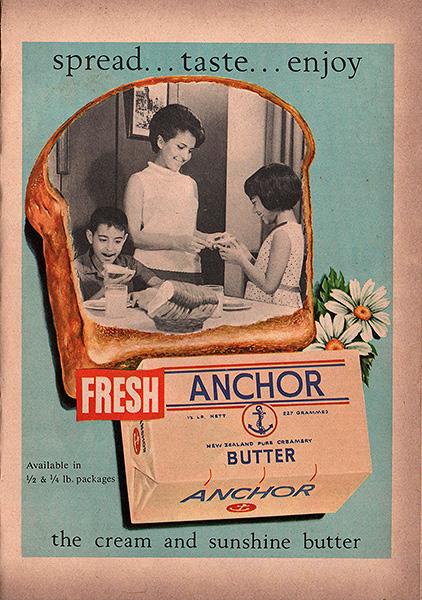 ADVERTISEMENT - CONTINUE READING BELOW
We love our bread and we definitely love our butter. We're digging the simple look of Anchor Butter's packaging back in 1968, when this ad came out. Plus, that kid about to eat some quality bread and butter has a real relatable expression.
Carnation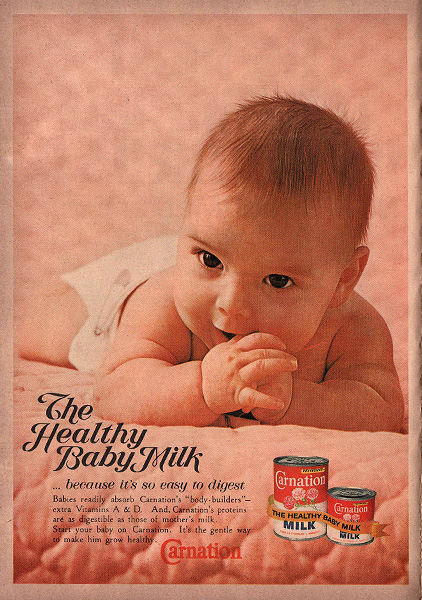 ADVERTISEMENT - CONTINUE READING BELOW
Recommended Videos
Can you spot the comically huge safety pin on this baby's diaper? We always thought that was just a cartoon thing, but this 1968 Carnation ad begs to differ. The brand's logo has not changed much through the decades—and neither has the effective "aww" factor of an adorable baby.
Frigidaire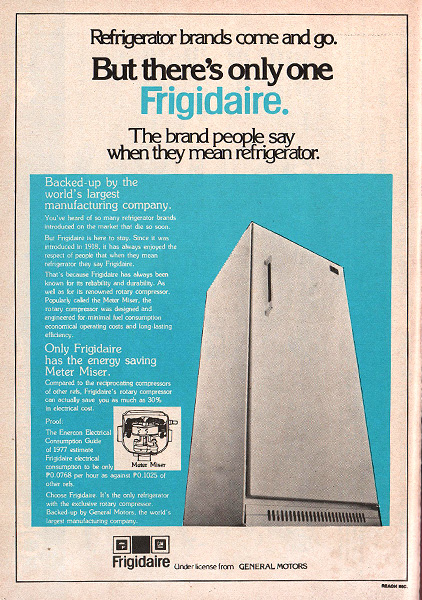 ADVERTISEMENT - CONTINUE READING BELOW
Well, they weren't lying for the tagline; Frigidaire was once the catch-all term for refrigerators. We know you've heard it before, possibly with a local punto (i.e. "Prigider"). Also, can you imagine a ref that only takes up less than a peso per hour worth of power in today's world? 
Colgate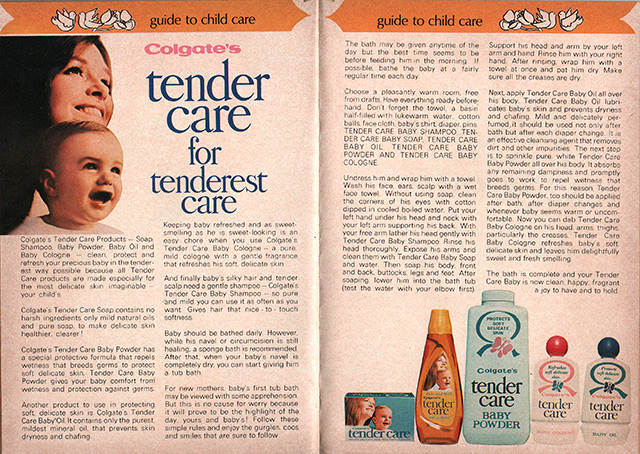 ADVERTISEMENT - CONTINUE READING BELOW
Nope, it's not just a toothpaste! Anyone remember their line of baby care products back in the '70s? We know this ad carries a lot more copy than we're used to today, so bear with us here. The text is worth reading even if it isn't in infographic form; just check out this decades-old advice on bathing a baby! Disclaimer: We know next to nothing about caring for babies. The rules may have changed since then so consult someone else.
Lady's Choice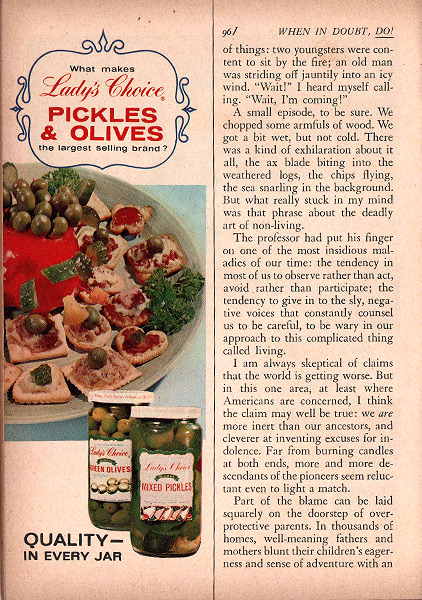 ADVERTISEMENT - CONTINUE READING BELOW
Looks like the sandwich-spread brand once carried a line of olives and pickles, too. One look at that party tray and we're instantly transported back to the old afternoon gatherings our titas and lolas had (a.k.a. prayer meetings). Plus, you have to admire that lovely script used in the logo.
Lux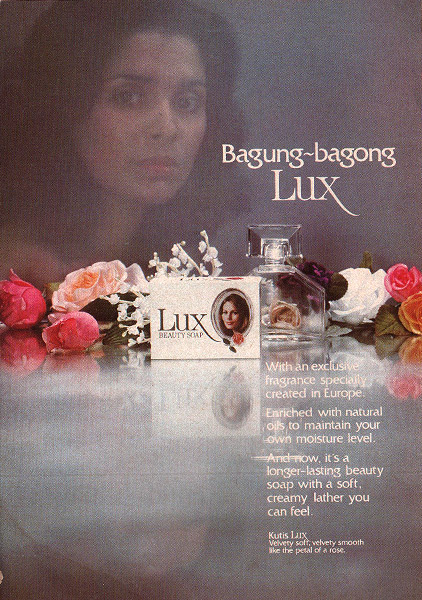 ADVERTISEMENT - CONTINUE READING BELOW
There was a time everyone wanted "Kutis Lux." This beauty soap was probably what your mom used back in the day and was known for its scent and creamy lather. Plus points for the very old-school, faded picture effect in the background!
Magnolia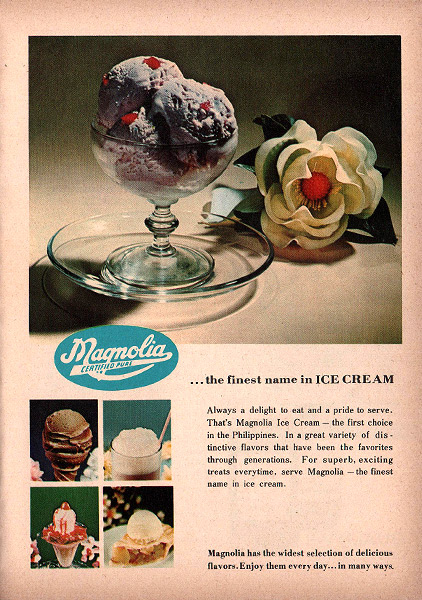 Here's one that is really nostalgic: Remember the old Magnolia Ice Cream House? They used to serve all kinds of frozen dairy treats—with their ice cream front and center, always. Check out that ultra-tempting slice of pie on the lower left. And yes, we're taking that advice that says to "enjoy them every day"—if only we could!
ADVERTISEMENT - CONTINUE READING BELOW
Milo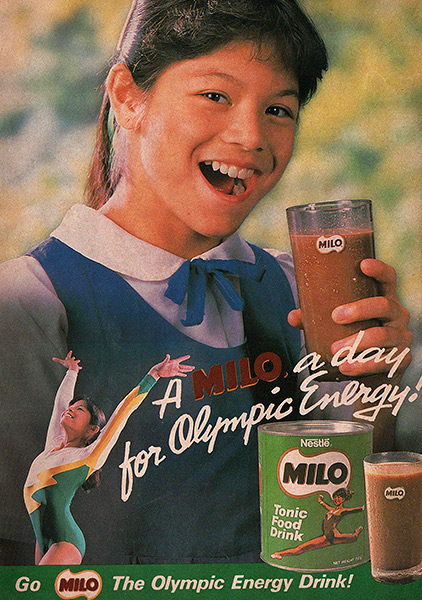 Looks like Milo was once touted as a tonic food drink and as the "Olympic Energy Drink." We're not entirely sure what that means but this choco malt beverage has been a part of Pinoy kids' lives even before this 1987 ad even came out. You might want to do some checks 'round the garden—we wouldn't be surprised if you find an old tin Milo can repurposed as a plant pot somewhere around the house.
ADVERTISEMENT - CONTINUE READING BELOW
Purefoods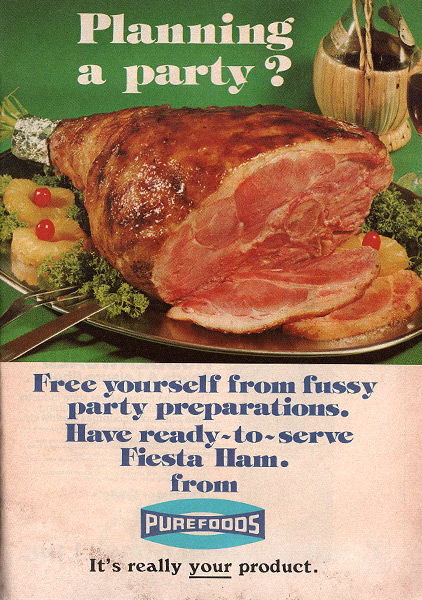 Take a look at Purefoods' old logo! Turns out the Fiesta Ham has been a product of theirs since the '70s. Who can say no to this gorgeous hunk of meat? We're into the old-school pineapple slices and cherries décor, too. Plus, we're amused with their tagline—you mean, like, it's really for me? Cool.
ADVERTISEMENT - CONTINUE READING BELOW
Royal Macaroni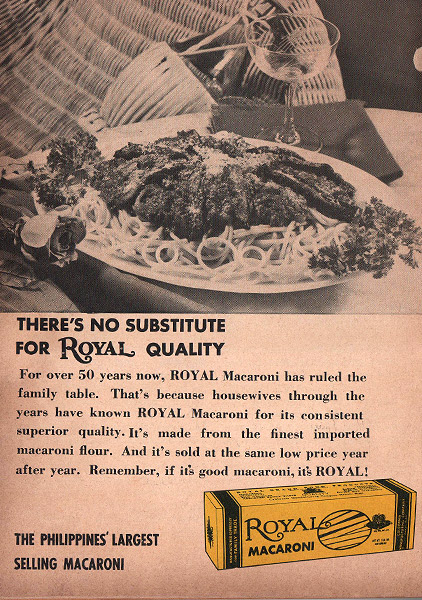 Chances are your lola's old spaghetti and chicken soup recipes used this brand of pasta. Royal is still a pretty popular choice today, though the old box-packaging is long gone. We're sure the recipes will still taste the same, just be sure to add lots of love like your lola did!
ADVERTISEMENT - CONTINUE READING BELOW
Sanyo Color TV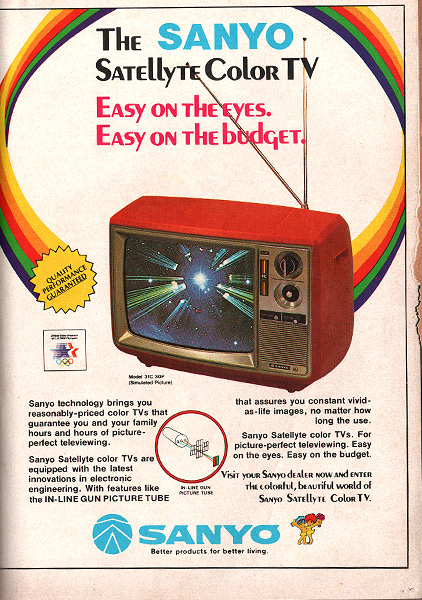 Remember when color television first came out? This 1983 ad is proof that TVs—and all the different platforms we now use—have come a really long way. This old TV comes with knobs instead of buttons, and the bright red box is giving us cool retro vibes.
ADVERTISEMENT - CONTINUE READING BELOW
Swift's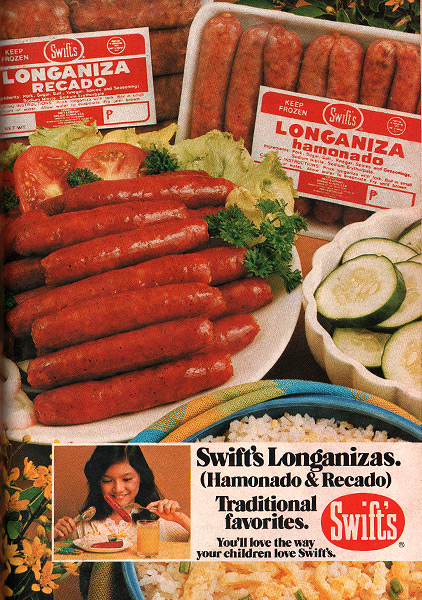 Who doesn't love longganisa? This old Swift's ad features the Pinoy breakfast staple in full color. Imagine a steaming hot plate of fried rice, crisp sunny-side up egg, and pieces of the Pinoy sausage—you'd be smiling like that kid in the photo! Tastes just like home.
ADVERTISEMENT - CONTINUE READING BELOW
Share this story with your friends!
---
Help us make Spot.ph better!
Take the short survey
Load More Stories