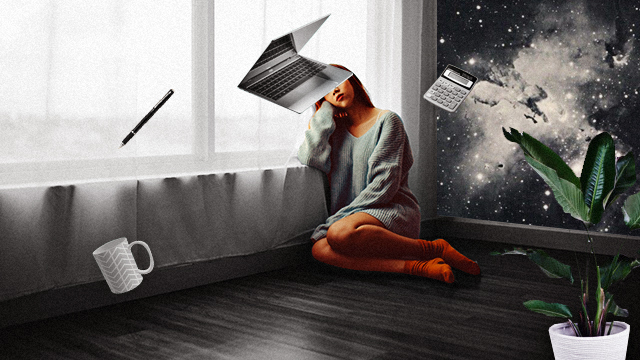 (SPOT.ph) Most of us have officially passed the six-month mark of working from home, which is the labor force's solution as a coronavirus safety measure. If this was a new job, we would now be entitled to vacation leaves, sick leaves, and/or flexible working hours. But the reality is that work-from-home (WFH) has totally blurred the lines between work and home to the point that we might as well say we're living at work devoid of holidays.
You wake up at 8 a.m., prepare breakfast while booting up your computer, and gobble down your bowl of cereal in front of your screen. You attend your online meeting at 10 a.m., switching back-and-forth from off-cam and on-cam as your toddler (or dog) demands your attention. The rest of the day is spent juggling tasks like finishing that report while making sure that your rice doesn't get burnt, eating lunch and dinner with your phone on alert (just in case), and sighing endlessly as your Internet connection gets unstable for the nth time.
ADVERTISEMENT - CONTINUE READING BELOW
If you were still working at the office, you'd be timing out by 6 p.m. to make the mad dash home—but you're not, since work's less than a feet away anyway. You continue tapping on your keyboard until your Internet or your laptop or your kids/pets act up again—but never you.
Effects on Mental Health Are "Quite Alarming"
This set-up is taking a toll on our mental health. According to a survey by Premier Value Provider Inc. reported by The Philippine Star on June 1, the stress, anxiety and depression levels of Filipino employees amid the pandemic are "quite alarming." The sample size was at 450 employees who were either working from home or shuffling between WFH and on-site arrangements from May 5 to May 16. Generally, a significant percentage of respondents reported experiencing critical levels of stress (15%), anxiety (29%), and depression (21%).
When divided between WFH employees and on-site employees, higher levels of all three mental health issues were seen from the former. It also concluded that "millennials and Gen Zs were most affected" by the shift. Long-term effects were also seen among young employees as 43% reported severe stress levels, 87% are experiecing severe anxiety, and 62% are having severe depression.
A Nikkei Asian Review article on June 11 reported stress levels among employees in Hong Kong, Thailand, and Singapore were similar. A study by Cigna, a U.S. health services company, surveyed the anxiety levels among workers as the region switched to telecommuting. Most of the WFH respondents suffered from work-related-stress, with Singapore at 63%, Thailand at 52%, and Hong Kong at 47%. Over 70% of the respondents described an "always on" work culture.
CONTINUE READING BELOW
Recommended Videos
"The bosses think that I can work anytime, as I am stuck at home. On weekends and public holidays, I am also expected to do work for the same reason. Most of the time, the bosses want the work done immediately," said Claire Ng in the Nikkei Asian Review report. And we could totally relate.
The Philippines Is Also Not WFH-friendly
On top of the mental health issues that WFH employees are now facing are logistical concerns surrounding the adjustment to the telecommuting scheme. A BPO Industry Employees Network survey revealed common issues faced by WFH employees, including: "lack of logistical assistance (such as delivery of equipment)," "longer working hours," "unpaid wages due to poor or no Internet connection," "unjust sanctions due to technical problems," and "shouldering of Internet and utility expenses by employees." Up to 77% of respondents say that they've been shouldering their own Internet costs while 54% did not receive Internet allowance and 20% did not receive work laptops.
The Philippines' Internet infrastructure isn't exactly the most helpful for all the bandwidth that we need for Zoom meetings, VPN usage, and other connection-hungry software. Data recorded by Ookla's Speedtest in August 2020 showed that the Philippines has one of the lowest mobile and broadband speeds. Just imagine all the added stress because of the repeated "choppy ka" while on a virtual meeting, the unneccesary 30-second wait just for a website to load while you're trying to beat a deadline, or the repeated rebooting of your router because you can't get a decent connection.
ADVERTISEMENT - CONTINUE READING BELOW
Still, Filipinos Prefer the WFH Set-up
Charge it to our so-called resiliency or an affinity for suffering, but a GlobalWebIndex study conducted in June reported that Filipino employees were expecting that the WFH set-up will be a more common occurrence even after the quarantine. People might also choose to "work from wherever," when social distancing measures ease.
Another survey by Lenovo Philippines as early as April reported that up to 87% employees were ready to shift to WFH when required. "Our survey suggests that the employee experience was already changing before the pandemic hit," said Michael Ngan, president and general manager of Lenovo Philippines, reported Business Mirror.
Working from home definitely has its advantages. We don't have to wake up at an ungodly hour to avoid the long lines at the MRT station, waste time sitting in traffic, or spend almost half a day commuting. People get to have more time with their families (while they're working, obviously). We also spend less on Grab or taxi fare, gas and car maintenance, parking fees, clothing, restaurant food, and other expenses we incur when we go to the office on a daily basis.
But do the advantages make up for the disadvantages? The Premier Value Provider Inc. survey pointed out: "While companies may be focused more right now on the operational part of getting their business back on track with the easing up of quarantine restrictions, they should not forget that in order to bounce back, they need an organization that's mentally healthy and sound."
ADVERTISEMENT - CONTINUE READING BELOW
And while we're still unsure what would happen in the near future, both private and public sectors need to step up in ensuring that employees are adjusting well to the compromises that the COVID-19 pandemic has brought us. The workforce, after all, is the backbone of our economy; and you can't keep sending exhausted soldiers to battle.
Hey, Spotters! Check us out on Viber to join our Community and subscribe to our Chatbot.
Share this story with your friends!
---
Help us make Spot.ph better!
Take the short survey
Load More Stories