(SPOT.ph) Remember back in March 2020 when the entire world decided to just stop? Schools were sending kids home while corporate decided to let pretty much everyone work from home. "It's just two weeks they say." Well, those two weeks have already turned into two years and counting. 
It's not just the schools and offices that were affected by what happened, countless businesses have struggled to stay afloat, some even end up closing altogether. While most turn their attention to the more large-scale effects, we can't not mention the more personal side of things either: what about those that had plans to celebrate momentous occasions like weddings? Most had to reschedule their big day, some, not just once or twice, but thrice due to the various versions of the lockdown we all experienced.  
In the past two years, this author has had the pleasure of being invited as a guest to three weddings: the first being at the height of enhanced community quarantine, the second during the Delta surge, and lastly, during Alert Level 1. So what was it like?
Also read:
Top 10 Cheesiest Songs Played at Pinoy Weddings
10 Great Wedding Photographers for Any Wedding Theme
Here's what it's like to attend a pandemic wedding:
Wedding #1: Enhanced Community Quarantine Edition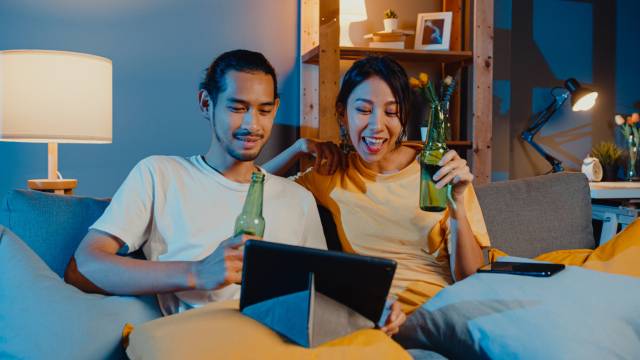 ADVERTISEMENT - CONTINUE READING BELOW
The first wedding I was invited to was roughly one year into the pandemic. We still used the community quarantine label for our lockdowns. Initially, the bride had a big wedding in mind (she actually booked a venue for 250 people!) but ended up with just 15 guests on-site—the rest was online. Zoom weddings became a trend in 2020 when literally everything wasn't allowed to take place IRL. It was a way for people to still be part of the celebration despite being cities or miles away. What was nice about a Zoom wedding was the fact that I didn't need to glam myself up, or wear a bra for that matter, in order to participate in the festivities. I sat comfortably in my bed as I watched the bride and groom say their "I do's" with a bottle of beer in hand. 
Wedding #2: The Delta Surge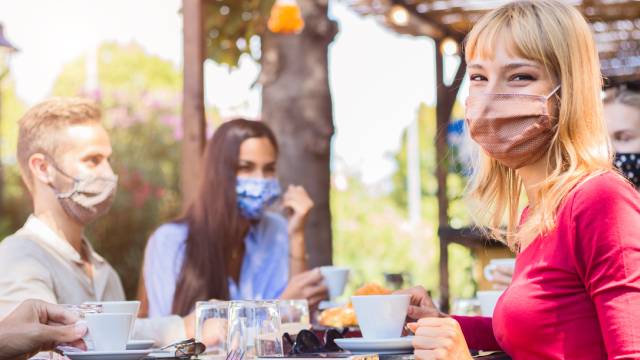 ADVERTISEMENT - CONTINUE READING BELOW
Recommended Videos
Around July of 2021, I was invited to attend my second pandemic wedding. We had yet to shift to the Alert Level labeling for lockdowns but we were already under GCQ status with everything semi-normal. It was a particularly epic day as not only were we in a pandemic but the bride and groom experienced a typhoon and earthquake as well. In terms of the wedding guests, most were still cautious since the Delta variant was spreading rapidly across the country. I could see people dousing their hands with alcohol every five minutes or so while we sat in our socially distanced chairs (a pre-pandemic wedding dinner would have sat 10 to 12 people a table, health guidelines only allowed six). The actual meal—my favorite moment of any wedding—was served by waitstaff in face masks and gloves instead of the usual buffet setup. Most people, I noticed, tried to finish their meals quickly in order to wear their masks right away. They also tended to take pictures with masks, only removing them when prompted.
Wedding #3: Alert Level 1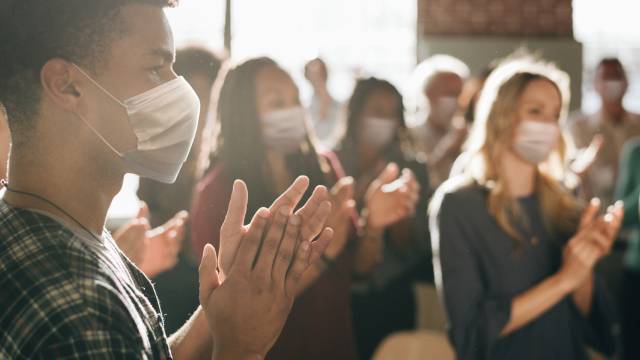 ADVERTISEMENT - CONTINUE READING BELOW
Flash forward to March of 2022: Metro Manila shifts to Alert Level 1. Practically everything has been allowed to operate with a 100% capacity. It is almost as if there isn't a pandemic: people move freely, and of course, traffic is crazy. All of that and more hit me when we attended this third wedding. Masks were a mere formality at this point; everyone sat close at the church, the "one seat apart" rule no longer in place. The previously enforced maximum of five to six people at a table during the reception increased to eight people, giving us a little breathing room but still feeling somewhat crowded in a way.
People also moved freely in short strides with their masks halfway on, as compared to the previous months wherein most would place the mask on properly before doing anything else. The buffet set-up for the actual meal made a comeback, though the servers were still clad in face masks and gloves. Concessionaire stands such as a mobile bar and snack station are also allowed under Alert Level 1 which means people are now allowed to congregate and consume food and drinks with minimal physical distancing.
Given that curfews are more or less non-existent at this point, it became easier for the wedding festivities to continue on long into the night, ending at roughly around 10 in the evening. 
The verdict?
Overall, with the three weddings that I've witnessed during this time, I can honestly say that each couple took the right precautions in order to celebrate their union safely with the parameters that took place in that time.
ADVERTISEMENT - CONTINUE READING BELOW
Economically speaking, moments like wedding #3 show that we are on the way to recovery and that the pandemic is nearing its end as we enjoy the limited and almost non-existent pandemic restrictions. But, as an individual who has developed anxiety from being stuck at home for the past two years, I'm not sure if I'm quite ready for an "upgraded reality" where we act the way we did pre-pandemic but with face masks and minimum public health measures in place. 
As a reminder, however, regardless of what the next step in this "panini" journey will be, it would be prudent to always mask up, practice proper hand hygiene, maintain a semblance of distance from other people, and test for the virus when feeling under the weather. We don't want to be labeled that girl from last December, right?
Editor's Note: In order to keep the privacy of the couples and other guests, stock photos have been used for illustrative purposes.
We are now on Quento! Download the app and enjoy more articles and videos from SPOT.ph and other Summit Media websites.
Share this story with your friends!
---
Help us make Spot.ph better!
Take the short survey
Load More Stories