Why You Should Go Contactless with Your Visa Card
What is 'contactless,' exactly?
(SPOT.ph) Here's the thing: We live in a time where cash is no longer absolutely necessary when we want to update our wardrobe, take someone out to dinner, or simply settle our bills. Most people have grown accustomed to making cashless payments because it's the safer and more convenient option.
Cashless payment is defined as the use of credit, debit, and prepaid cards, or electronic fund transfers to pay for goods or services. However, this technology is set to give way to an even more secure platform—contactless payment.
With contactless payments, credit cards utilize radio-frequency identification (RFID) technology or near-field communication (NFC) to make payments. This makes shopping and paying for your purchases faster and more seamless.
It even saves you time on dinner dates. When dining at your favorite restaurant, there are times when you have to wait longer than expected for your bill. And then you have to wait some more before they hand over your receipt and change, or your credit card. You can do away with this inconvenience if you go contactless.
And of course, shopping. Imagine yourself at your favorite boutique, ready to pay for the outfit you'll be wearing at a life-changing event. All you have to do is tap your card against the point-of-sale (POS) terminal. Your card does not come into contact with anyone else. You don't even have to swipe your card. In fact, you don't even have to hand it to the shop personnel.
This extraordinary innovation is now available in the country.  Visa has fully embraced contactless technology and aims to be the premier provider of contactless products and solutions in the country.
Use contactless payments to enjoy the following benefits:
Increased convenience. You don't have to worry about carrying a lot of cash. All you need is your card. You're good to go as long as you're transacting with a store or merchant equipped with a contactless POS terminal.
Enhanced Security. The contactless card is embedded with several layers of security features to protect you against fraud. You also don't have to be worried about accidentally paying for some other person's shopping haul. In typical transactions, a sales assistant first has to enter an amount on the contactless POS terminal first, and have you approve it. Then, you have to hold your credit card within a couple of centimeters from the terminal for longer than half a second so that the payment process is completed. Your card never leaves your hand when you pay for transactions.
In cases where your card goes missing, you can easily call your bank and have the card disabled and replaced with a new one.
Reduced Waiting Time. You no longer have to wait too long in line to pay for your chosen items. It's basically a tap to pay thing. No more waiting around for change.
New Form Factors. Contactless payments are encouraging more innovations in the payment industry.
Freebies. Convenience comes with contactless technology, but it's not the only thing you get for free. Enjoy special perks when you tap to pay with Visa at SM*!
Collect your Visa contactless charge slips and exchange for these items for FREE:
1 slip = 1 Snickers Chocolate Bar or 1L Box of Selecta Fortified Milk 
You may redeem until June 30.
Tap to pay with Visa at SM Supermarket, SM Hypermarket, SM Appliance, and SM retail affiliates and joint ventures (Uniqlo, Forever 21, Watsons, Toy Kingdom, Miniso, The Body Shop, Ace Hardware, Our Home, Baby Company, Kultura, Pet Express, Surpulus Shop, Sports Central, Adidas Shop, Nike Shop, Levi's Mall, Sfera, Joseph, Calvin Klein, Crate & Barrel, Crocs, Bata).
You may redeem your freebies at the redemption booths in select SM Supermarkets, and SM Hypermarket in SM Makati, SM Megamall, SM Aura, SM Southmall, SM North EDSA, and SM Mall of Asia.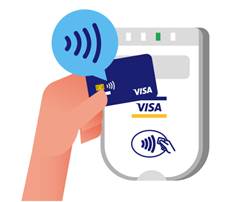 Contactless payments are the wave of the future—and Visa is ready to bring you there. Log on to the Visa Philippines website for updates on its contactless payment features.
*Terms and conditions apply.
This article was created by Summit Storylabs in partnership with Visa.