'Limelight' Is The Hottest Year-End Party of 2017
Featuring top musical acts, prizes, and a whole lot more.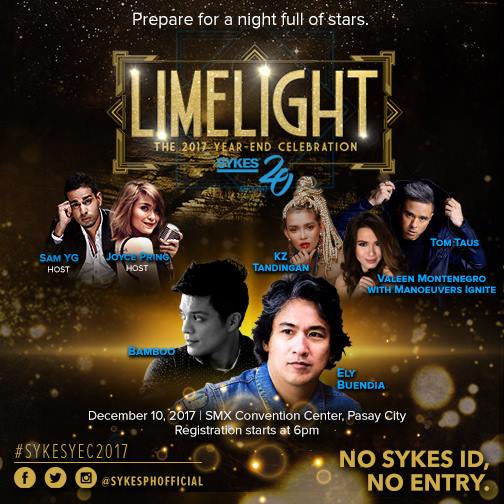 (SPOT.PH) It's easy to get excited about Christmas because of all the lavish festivities that happen during the season. And "Limelight," SYKES' annual year-end party, is shaping up to be one of the most glamorous yet.

SYKES, the pioneer call center in the Philippines, also happens to be a pioneer when it comes to throwing lit parties. Here are the reasons why SYKES holds the best year-end celebrations.

The party only gets better
From their futuristic fashion-themed bash named "SYKES Future Forward" in 2015, that had more than P1.5 million worth of prizes, all the way to their hot SUNsational party last year with over P2 million worth of prizes, this year's event is slated to give more than P3 million worth of prizes. 

A night of glitz and glamor
Nothing beats the classics, which is why "Limelight" features a Hollywood theme, where more than 15,000 SYKESers are expected to arrive as their favorite Hollywood stars. 

An all-star cast
It's always a good time when Sam YG and Joyce Pring hype up the audience. But get ready for this: OPM icons Ely Buendia and Bamboo are going to rock the stage for one night. Other guests include KZ Tandingan, DJ Tom Taus, Valeen Montenegro, and the Manoeuvres Ignite.

Prizes Galore
When your employer showers you with bonuses and big prizes, you know you're in it for the long haul. SYKES is going to be playing Santa this Christmas with all the prizes to be given away at "Limelight." In fact, one lucky SYKESer will bring home a sizeable cash prize!

Sykes Asia, Inc. is the first multinational call center in the Philippines. It started its operations in 1997, supporting top global brands and Fortune 500 companies. Currently, the company has over 15,000 employees and has sites in Shaw, Makati, Alabang, Quezon City, and Cebu. For more info, visit this Syke's Facebook page.
This article is sponsored by SYKES.