WATCH: This new Converse video may be its most star-studded yet
Wait a minute, was that…?

(SPOT.ph) The road to #forever has always been a matter of debate for many. Some say it's a mirage, the lucky ones say it's definitely just around the corner. But thankfully for the 100-year-old Converse brand, the world-famous rubber-soled Chuck Taylors are here to stay. The iconic sneaker has been omnipresent in pop culture throughout the century, from 80s teen heroes such as Michael J. Fox and Ally Sheedy, to the pop stars of today. Chucks have always been a staple in the lives of the youth, and are definitely high on the list of "coolest sneakers, ever."

In the recently-launched finale of the Forever Chuck campaign, Converse's versatile canvas sneakers take center stage with today's newest crop of celebrities and young creatives born in the mid-90's.



How many celebrities in the video can you name? Maisie Williams fans would have surely spotted her, most popular for her portrayal of the feisty Arya Stark. The lovely Millie Bobby Brown, a new-school celebrity darling, also makes a cameo appearance. And then of course there's this swell trio from LA: rapper Vince Staples, the professional basketball player Jordan Clarkson, and graffiti artist and cancer survivor Spanto, who also founded BornxRaised. And who could miss super model Winnie Harlow with her fierce roar?

Fearlessly declaring "I want to feel uncomfortable" and "I want to do it for myself," the Forever Chuck campaign speaks volumes about today's bold youth. "The Chuck Taylor has always been a cultural icon with a rich history and even more incredible future," says Julien Cahn, Chief Marketing Officer at Converse. "Through the debut of our Forever Chuck film, we will have officially introduced our collective of exciting people, who share our brand values and are driving the spirit of youth culture forward."

Sensual and moving, the video is directed by Karim Huu Do. His masterpiece is described as a "visual collage of the dreams and desires that drive a diverse cast of creative collaborators." The dramatic finale is a recognition of this generation's cultural heroes, the brave souls who make a difference and soldier on—while rocking a pair of Chucks, of course. This sets a blank canvas for a colorful and infinite future ahead.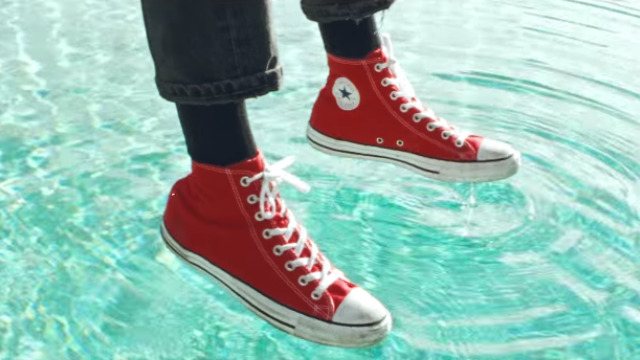 Visit Converse's website for more information.