The Other Cool Shirts in Town
SPOT.ph shirts the issue with four cool t-shirt brands flying just under the Manila radar
Everyone knows Team Manila by now, but SPOT.ph tracked down the other local t-shirt brands that are dishing out quality designs for people who need what they wear to be an effective embodiment of who they are.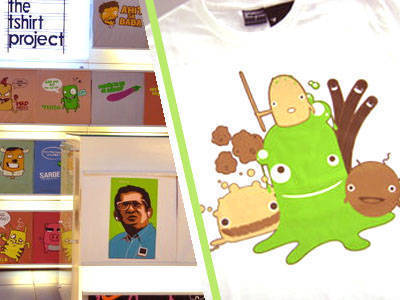 THE T-SHIRT PROJECT
Da Virgi Nizer (Da Vinci Code), Pornobucket (Photobucket) and eBak (eBay) are just a few of the inane but creative shirts that The T Shirt Project has under (or should we say over?) its belt. With plenty of sexual innuendoes, it takes a person with balls to actually wear their apparel. But the guys behind T Shirt Project know more than just how to stir up controversy, they also know good design.
Andrew Marcelo and Carlo Dobles were still students when they took a chance and turned in their feasibility study for a business that pretty much involved spoofing iconic brands and putting them on a shirt. Fortunately for them, their professor approved their paper. Surprisingly, their shirts were a hit and they chose to pursue their offbeat business after they graduated. From their Spoofs brand came 11 more (Branded, Customized, FCME [Filipino Company Making Everything], Metro Adobo, Shirts for a Cause, MaliS'ya. Sounds Family, Ang Bagong Barong, Blanko, and Volume One), each with a different graphic take on the Filipino experience. And with an average price tag of under P400, you can also own a slightly offending shirt. Surprisingly, they're quite popular among OFWs.
ADVERTISEMENT - CONTINUE READING BELOW
For a complete list of The T Shirt Project branches, please visit their website at www.thetshirtproject.ph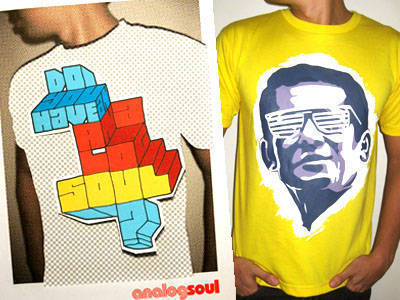 ANALOG SOUL
What's great about Analog Soul is that the company essentially came from three frustrated kids (Mika Bautista, Paolo Lim and Miguel Naguiat) who wanted to wear shirts they could relate to, for a price they could afford. They ended up designing their own shirts and hawking them to their friends and family. After a year or two of participating in bazaars, their designs started becoming more popular. Now they have three stores (Powerplant, Glorietta and TriNoma) and occasionally have guest designers like Electrolychee and Pepper Roxas.
CONTINUE READING BELOW
Recommended Videos
With the kind of designers that they're associated with, expect to shell out at least P500+ if you want one of their shirts. It's easy to understand why they've created such a buzz among college kids and young professionals alike: they sell shirts with soul.
ADVERTISEMENT - CONTINUE READING BELOW
Analog Soul is located at the Archaeology Wing of Powerplant Mall in Rockwell, The Ramp at Glorietta 4 and at the 2nd level of TriNoma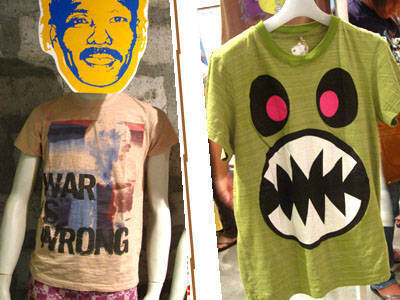 ARTWORK
John Villamiel, VP for Operations and co-founder of Artwork has been in the shirt business for what seems like forever. They started out during the three-for-100 era when most of the shirt designs were US-centric (shirts sporting images of NBA teams and other American sports teams). But when their family planned to relocate to Canada, a strong surge of nationalism suddenly came over him. John chose to stay and turned their shirt business into something that would highlight Filipino talent but was at the same time something that people would be proud to wear. From this concept, Artwork was born.
Those who count themselves as '90s kids will definitely recognize an Artwork shirt when they see one. Quirky, designs inspired by pop culture plus a very affordable price tag make Artwork one of the few places you can get genuine Filipino-designed shirts for well below the industry-average price of P350+. Might be why majority of the people you see when you enter their store are hyper kids who've just saved up enough to buy a shirt they've been obsessing over for weeks.
ADVERTISEMENT - CONTINUE READING BELOW
But there's a growing sentiment that Artwork has gotten too mainstream. John has decided to address this issue by replenishing their stores with new designs every two weeks. This means fewer chances of you trying to avoid a total stranger in the mall because you happen to be wearing the same shirt.
For the complete list of Artwork branches, log on to their website at www.artwork.ph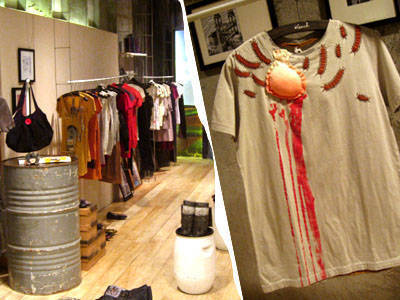 BLEACH CATASTROPHE
Cristine Villamiel, a graduate of UP Fine Arts and art director of the brand wanted a place where she could showcase more upscale shirt designs that would appeal to a more mature market. When asked what their target market is, Cristine describes it as "Mick Jagger-ish."
The store's interiors are by Christine's father. From the moment you catch a glimpse of their shop, you'll see that their approach is unlike the usual colorful, quirky designs of most popular shirt designers today. Black, gray and patches of earthy and metallic tones pervade the walls. The slender, mummy-like figures in the middle of the store make you think that you're in a Salvador Dali painting. The rough, edgy look is also perfectly executed in their shirts which exude taste that's more mature, but playful at the same time. The designs are a bit eerie but are definitely interesting. And despite the rebellion against bright colors, the whole attitude of the brand is very refreshing. For the most part, the shirts seem more like pieces of art that are a part of a whole installation (the store). This father-daughter collaboration has spawned a dark, rock-and-roll, artsy type of brand that's sure to be a hit not just locally, but even abroad.
ADVERTISEMENT - CONTINUE READING BELOW
So don't get bummed when you see the price tag (that's about P1000+ per shirt) because you're getting two for one: a shirt you can wear plus a piece of art that you can frame and hang on your wall.
Bleach Catastrophe is located at the 3rd level of TriNoma, 2nd level of the Ayala Center Cebu and at the 2nd level of Greenbelt 5
We'd love to know what you think! Please post your comments below:

Share this story with your friends!
---
Help us make Spot.ph better!
Take the short survey
Load More Stories