V-Day Cards for Modern People
Valentines get a progressive facelift--capturing the zeitgeist of Love in the Time of "It's complicated" and designed for all sexual orientations.
Behold the new face of greeting cards: "Faces of Love" is a limited edition collection of modern-day Valentines created by illustrator and men's fashion blogger Jody Castillo and writer Sara Dumaup and designed for unconventional romantics with more profound things to say than the usual trite sweet nothings.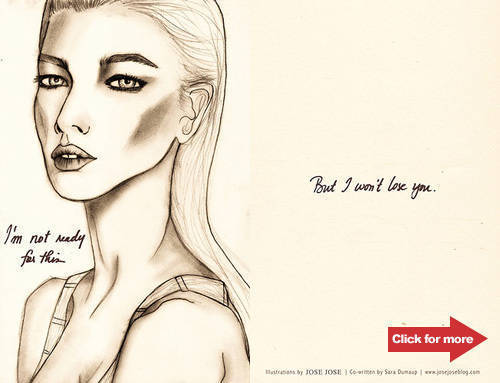 "Lynn," front and back. Click for more photos.
SPOT.ph got to meet the artist behind the artistic depictions of modern romance, who told us about his inspiration, artistic approach, thoughts on love, and more:
"The inspiration for the cards is really rooted in fashion editorials--how they convey a story through images specifically through expressions of the face and shapes of the body," Castillo says. But more so, the cards reflect the artist's own experiences with love: "Each of the stories in these cards find its roots in my own past relationships, in how I wish love was, and what I've learned love to really be."
ADVERTISEMENT - CONTINUE READING BELOW
What stands out in the concept of the whole series is the irony of its ambiguity and ability to still tell a story. Castillo told SPOT.ph, "The process [entailed making] actual 'short stories' for each card so that we would have layers of material to draw from, and so that the copies would kind of be 'in medias res,' as if the cards were capturing moments in the middle of a conversation or scenario What I wanted was to be able to say sweet words, convey real and deep feelings, but conceal them cleverly in indirect lines."
Dumaup, who is currently in Bali for a writing assignment, worked on the copy for each card. According to Castillo, "There were times, though, that Sara didn't have to put too much thought into it. In some of the copy, like with Kate's "Yes," or Jakob lying down, she wrote the copy in less than five minutes."
CONTINUE READING BELOW
Recommended Videos
Apart from the non-conformist and dramatic designs (all cards are in dark and light values), another notable detail about the collection is that the cards are gay-friendly. "I'm so tired of having Valentine's exclusively for straight people," Castillo says, adding that he made sure none of his designs would be construed as strictly pertaining to a heterosexual relationship. "A straight guy can buy the "Paolo" card and give it to his girlfriend, but so can a gay guy for his boyfriend. "Crystal"'s' "Damn" can apply to both straight and lesbian relationships."
ADVERTISEMENT - CONTINUE READING BELOW
Castillo's own take on love? He says love �love is "somewhere between love and action" and takes time to work. "But I think it pays off not only through the obvious perk of having someone adore you and care for you but also in the little, un-heroic moments of love, like two feet touching, or an extra toothbrush, or the first time you realize how beautiful he/she is," he concludes.
Get the limited edition "Faces of Love" cards at Fully Booked Bonifacio High Street for P79 each. You can also purchase through Castillo's blog (limited stocks only) with the following rates: P65 per card, P60 if you buy five cards, and P55 each when you buy 10. Each card measures 8.5 x 5.5 inches and comes with its own envelope. Email j@josejoseblog.com. Orders delivered within two days. Visit �www.josejoseblog.com for updates.
Photos courtesy of Jody Castillo.
Share this story with your friends!
---
Help us make Spot.ph better!
Take the short survey
Load More Stories