CHECK IT OUT: CrossFit Insurrecto at Scout Torillo, Quezon City
It's time to get fit.
CrossFit Insurrecto
4th Floor, Triple A Health Plaza, 36 Scout Torillo, Diliman, Quezon City
Tel. Nos. 0917-929-9119; 0999-995-5330
http://crossfitinsurrecto.com/
Open Monday to Friday 7:30 a.m. to 5:30 p.m., 6:30 p.m., 7:30 p.m.; Saturdays 4:30 p.m.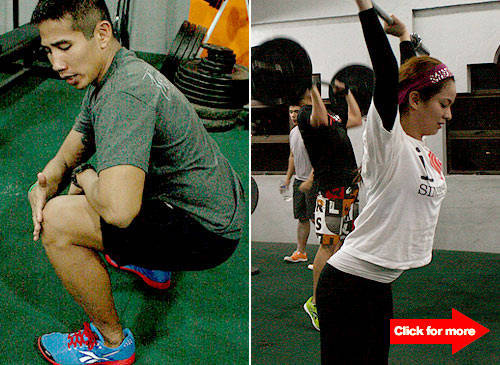 Total fitness the CrossFit way. Click for more.
(SPOT.ph) Let us get this off our chest now: you will not bulk up. Not necessarily and only if brawn is somehow embedded in your genetic code. Fitness, not mass, is the primary qualifier for any CrossFit program.

"It's a misconception," says CrossFit Insurrecto partner Joaquin Pedro Valdes on why people, especially women, are hesitant to try Crossfit. He gestures at the girls currently engaged in their WOD (that's Workout for the Day), all of whom have enviable cuts in all the right places and bear no resemblance to some kind of She Hulk. "Our goal is not about losing weight or looking good. It's not body building," he clarifies, adding that the overly buffed CrossFitters on TV are usually professional athletes who require more intense training.

The workout, unexpectedly, begins at the stairs. A slow, semi-torturous warm-up where one must traverse through four flights to reach the gym. Don't be thankful yet, because the real action's just about to start. And after an hour, you might find yourself wishing you're climbing stairs instead.

CrossFit is a constantly varied, high-intensity, functional exercise. As Valdes puts it: "If you want to look good, you can go to Belo, but if you want to survive the zombie apocalypse, you have to do Crossfit." Each class is different and begins with a series of positions that eventually prepares you for the WOD, scaled exercises done in circuit and within a brief time frame. Rookies are first sent to attend an eight-session foundation course in order to master the positions frequently encountered in the program. If you're not huffing and puffing at the end of it, chances are you're not doing it right.

Co-partner and coach Ferds Catabian explains that basic CrossFit postures like squatting and jumping are inspired by everyday actions. "The movements we do here are functional and applicable to everyday life... These are what our bodies (were) made to do," he adds.  With its GPP (general physical preparedness) system, CrossFit Insurrecto effectively covers all aspects of fitness. A group of three coaches with different backgrounds-Ferds (triathlete), A Dela Cruz (powerlifter), and RJ Garcia (martial arts expert)-maintain the well-rounded regime.

And well-rounded, it is. But not just physically. The cozy Crossfit Insurrecto-comfortingly cluttered with barbells, bars, and pipes; loud music blaring in the background; coaches yelling in encouragement, walls with graffiti-is not only a place of (good) pain, it's also a barkada where everyone supports everyone else.



ADVERTISEMENT - CONTINUE READING BELOW
CrossFit Insurrecto has monthly unlimited packages worth P4,250 (one month), P3,950 (three months), P3,500 (six months), P3,000 (12 months). Coach Ferds advises working out for three straight days at a time then taking a day's break in between.


Photos by Jason Mariposa and Joaquin Pedro Valdes
CONTINUE READING BELOW
Recommended Videos
Share this story with your friends!
---
Help us make Spot.ph better!
Take the short survey
Load More Stories