360 Fitness Club
2/F Esna Building, 30 Timog Avenue, Quezon City
Tel. No. 413-1365
www.completethecircuit.com
Open 7 a.m. to 10 p.m.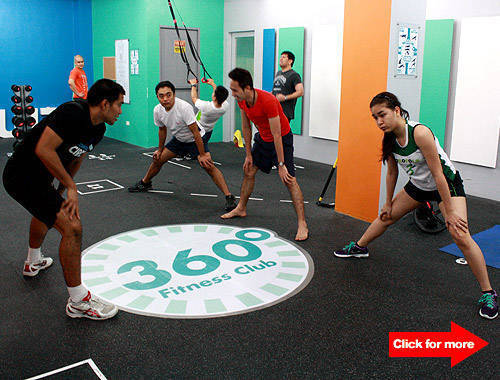 Your fitness options are about to go full circle. Click for more.
(SPOT.ph) Step inside the new 360 Fitness Club branch in Quezon City, and the typical gym rat may wonder where all the treadmills went. Aren't treadmills the quintessential gym equipment, the pound-for-pound ultimate fitness machine for losing pounds?
ADVERTISEMENT - CONTINUE READING BELOW
"There's nothing wrong with treadmills, but they are so inefficient," says Chappy Callanta, 360 Fitness Club co-founder and, not coincidentally, personal trainer of Josh Aquino (yes, Kris Aquino's firstborn), who's lost 150 pounds since he started his circuit regimen under Coach Chappy. "They're big, they take up so much space, they're expensive. There's a lot more things you can do that are a lot more functional."
Instead of treadmills, or racks of weights, or sets of intimidating, unpronounceable metal equipment, the main hall of the gym is separated into eleven workout zones of simple, compact exercises. The club also offers 30-minute workout classes that are slim enough to squeeze into any schedule-specialized sessions based on kettlebells, for example, body weight resistance, or suspension training.
"Right now, there's a shift towards functional fitness," Coach Chappy says, explaining the philosophy behind 360's workouts. "We train to improve our functions in everyday life. If you're an athlete, you train as an athlete. If you're a desk worker, it's the same-you still need to function correctly, you still need to be in shape."
ADVERTISEMENT - CONTINUE READING BELOW
Recommended Videos
Each workout zone in normal circuit training has five levels of difficulty, with Level 1 being the kind of workout that anyone can do, even those who are not physically active, and with Level 5 being-well, no thanks, but we never even tried to touch a Level 5. 360 Fitness helpfully provides laminated guides beside each station, and painted guides on the floor. The goal is to make each member as independent as possible, working through his or her regimen while a trainer watches from a central location in the gym, stepping in when your form is wrong, or when you're ready to transition to the next level.
Under Coach Chappy's watchful eye, we got to work. Whether you start in Station 1 or Station 11, the first exercise should always be a full-body workout, to ease yourself into the regimen. (We started at Station 11, which was a kettle bell swing.) Each station after that works on a plane of movement, from push to pull, to rotational and dynamic cores, and every other station functions as a hard cardio "break."
ADVERTISEMENT - CONTINUE READING BELOW
There were two stations that use the SMRT-Core Grid, which, despite its high tech name, looks like a rubber car mat rolled up into a giant tube. It's a favorite of Coach Chappy-he's even built a whole specialized class around this deceptively simple fitness tool. It adds challenge to commonplace workouts, like the Renegade Grid Grow, a punishing variant to the vanilla push-up: place the SMRT-Core Grid under one hand, do a push-up, roll it to your other hand, and repeat.
Despite officially opening barely a month ago, 360 Fitness' Timog branch is packed on Saturdays, and co-founder  Joana Pinon is mulling opening its doors on Sundays, as well. All of this makes Coach Chappy one happy guy.
"In the 1950s and the 1940s, gyms were for bodybuilding. But everyone needs them right now because life is so automatic. We lost our mobility-we don't need to walk anymore, we don't need to bike anymore. We're geared more towards our careers, so there's less time for fitness." But with compact, 10- to 30-minute workouts on tap in Fitness 360, there's no excuse not to go to the gym-no excuse except our own lazy asses, that is.
ADVERTISEMENT - CONTINUE READING BELOW
Photos by Bok Hong
Share this story with your friends!
---
Help us make Spot.ph better!
Take the short survey
Load More Stories