CHECK IT OUT: KARADA Japanese Body Therapy in Makati
Straighten up with this new concept from Japan
KARADA 3/F The New Glorietta Mall, Makati City 
Tel. No. 553-8731
Greenbelt Radisson, Makati City 
Tel. No. 569-1928 
Open from 10 a.m. to 9 p.m. (Monday to Friday) and 10 a.m. to 10 p.m. (Saturday and Sunday)

(SPOT.ph) Snap, crackle, pop. These were sounds we didn't realize our body could make until we went to KARADA Japanese Therapy. Inside the little stalls, therapists hover over customers dressed in identical black pajamas. A little stretch of this, a knead there. It looks like the ideal setup of your run-of-a-mill massage parlor, but, as you may have already guessed, there's more to this than shiatsu.

"KARADA offers revitalization of both mind and body through AP (Atlas-Pelvis) Balance, an original technique from Japan," says KARADA general manager Grace Reyes.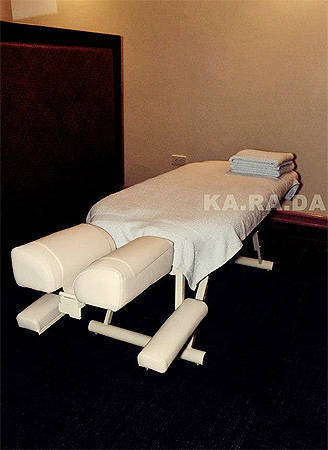 ADVERTISEMENT - CONTINUE READING BELOW
Where the magic happens. KARADA is divided into stalls for privacy. For those with nudity issues, therapists make clients change into a set of black pajamas before beginning.

Take this example: you sit inside an office most of the day with exercise pretty much restricted to reaching for the stapler and walking to the car. It doesn't feel like it, but your body actually takes a beating from such monotony. It's in these routinary positions where poor posture, stiff muscles, and body aches develop. As this writer learned, even something as simple as crossing your legs affects your body's natural alignment.

Instead of a simple massage to ease muscle aches for short-term satisfaction, KARADA focuses on realigning the body back to its natural balance by applying precise pressure on specific points of the body. The process, which is based on ancient Japanese techniques, thus follows a more clinical and practical approach compared to other wellness centers that tend to pamper rather than fix.
CONTINUE READING BELOW
Recommended Videos
ADVERTISEMENT - CONTINUE READING BELOW
Consultation is a crucial part as therapists try to understand the causes of aches and pains.


The treatment is a five-step process. Each begins with consultation which includes an inquiry into the client's lifestyle and habits. From this, the therapist makes an assessment as well as the recommended treatment. Before anything else, however, a muscle conditioning massage prepares the body for the subsequent treatment. This is where the "cracking" begins. 

There are four types of services offered in KARADA. The signature Atlas and Pelvis Balance or AP Balance, combining chiropractic, Seitai, and Judoseifuku, is the most popular. It involves straightening up both the atlas (neck and shoulders) and the pelvis to its natural state, resulting to improved posture and immediate relief to back pains. Waiting for the therapist as she kneaded through our muscles to find the right spot was a bit unnerving, but the motion was swift and sudden, ending only with a muffled pop. It's divided into three categories: Energizer (P345, 20 minutes), Therapeutic (P745, 45 minutes), and The Bliss (P945, 60 minutes).
ADVERTISEMENT - CONTINUE READING BELOW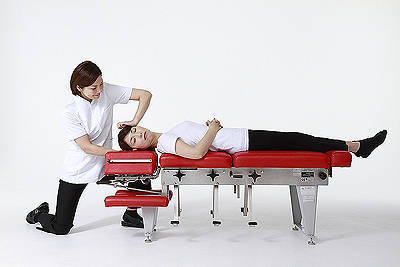 Neck alignment. It doesn't hurt, we promise!

For muscle aches, the Body Treatment (P295 to P845) and Foot Treatment (P545 to P645) might prove beneficial. Both try to reach the deepest core of stiff joints for a deep tissue massage to reduce stiffness all while strengthening weak muscles. Better yet, mix it up with the AP & BT (P1,195 to P1,295) which combines both styles into 60- to 90-minute super relieving treatment. 

When we've sufficiently been stretched and snapped, at last, the therapist made the final recommendations: changes in habits, home-based exercises to practice.

As we stood up to leave, we felt the effects immediately. Our back felt straighter-so much so that it seemed only natural for our walk to turn into a semi-strut. Whether this is the result of better posture and overall improved wellness or just a psychological reaction to it, it doesn't matter. We-as will you-will walk out of KARADA feeling good.
ADVERTISEMENT - CONTINUE READING BELOW
Share this story with your friends!
---
Help us make Spot.ph better!
Take the short survey
Load More Stories