10 Yoga Classes to Try
Roll out your mat and let yoga help you pave the way to a calmer, stronger mind and body.
(SPOT.ph) For something that's known to relieve stress, yoga can be a bit complicated. Imagine trying a class for the first time expecting to do some simple stretching exercises, only to end up having to attempt a headstand. What is Hatha yoga, anyway, and why is Bikram so challenging? Here's a list of 10 of the best yoga classes available in Manila, and what they can do for you.
Read our list of the 10 Best Yoga Studios in Manila.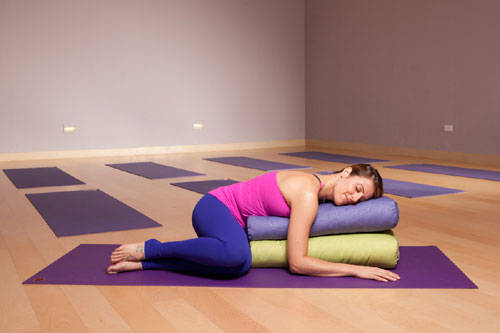 10. Restoratives
Dealing with daily stress can have our bodies continually counting on its stress response-that fight or flight reaction that works the adrenal glands overtime, raising heart rate and blood pressure. Being consistently revved up can wreak havoc on the body, and one way to counter this is by allowing it to turn to the rest-and-digest response instead. Restorative yoga allows the body and mind to quiet down through poses that invite the body to gently open, while being fully supported by bolsters, blankets, blocks and straps. The passive practice consists of a few supine poses held for a longer period of time, allowing the body to relax and release tension.
ADVERTISEMENT - CONTINUE READING BELOW
Restoratives, Pranayama, Kundalini, Hatha, and Vinyasa Flow yoga classes are available at Urban Ashram Manila, 3 Brixton Street, Kapitolyo, Pasig; 3/F Active Fun Building, 9th corner 28th Avenue, Bonifacio Global City; (632) 661-YOGA or (632) 869-YOGA; urbanashrammanila.com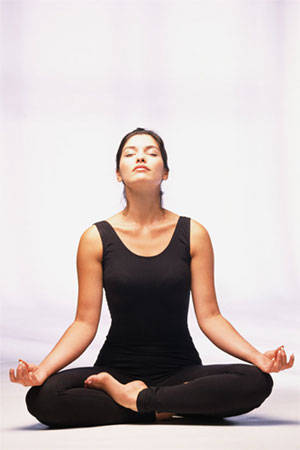 CONTINUE READING BELOW
Recommended Videos
Photo from www.pranayama-yoga.com
9. Pranayama and Meditation
Many people come to their mats to find a way to release stress. Pranayama or breath work helps students find relief through focused attention and increasing energy by meditation. Practicing pranayama and meditation regularly can help you draw from your life energy force and extend it, allowing your life to dramatically improve. The meditation that goes hand in hand with breath work enables you to seek out stillness-something everyone can work with to slowly find inner peace and concentration, regardless of how strong your physical yoga practice is.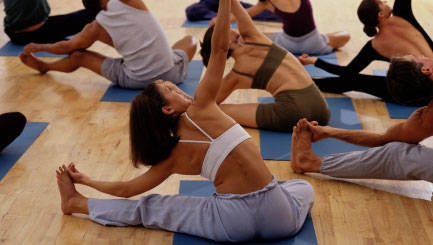 ADVERTISEMENT - CONTINUE READING BELOW
Photo from yourwellness.com
8. Kundalini
Kundalini Yoga offers something for everyone, regardless of flexibility or experience. Based on a science that includes pranayama (breath work), mantra (sound and chanting) and meditation, this type of yoga offers simple yogic techniques that work to elevate one's consciousness through "kundalini energy," or dormant energy at the base of the spine. Kundalini works with the glands, nervous system, and helps people develop a conscious relationship with the mind and emotions, helping you develop your intuition and sensitivity in everyday life.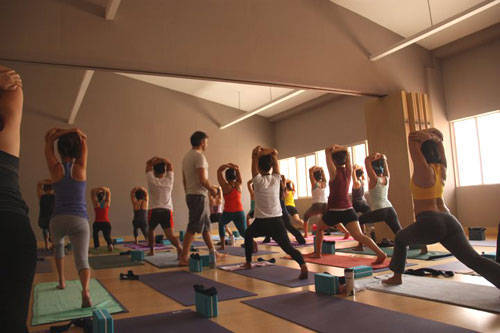 7. Hatha
Hatha (sun-moon) yoga works with our prana or life force. In these well-balanced classes, different postures enhance the flow of prana, while allowing the mind to come into a state of active meditation. These classes have a strong emphasis on both mind and body, with poses that increase strength and range of movement, and a focus on stillness and awareness. Hatha yoga typically starts with short relaxation and breathing exercises, and end with a deep relaxation or Savasana at the end.
ADVERTISEMENT - CONTINUE READING BELOW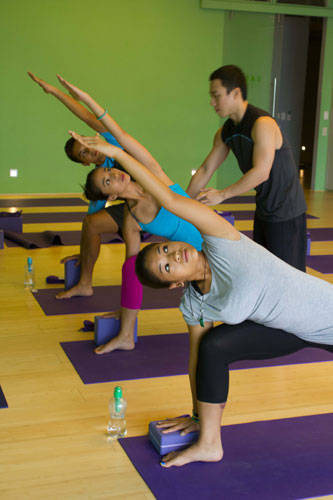 6. Vinyasa Flow
Vinyasa links the breath with postures in a deliberate way. Offering students a lot of variety from class to class, the sequences, which are built around Sun Salutations, can either be gentle or vigorous. Classes can include everything from inversions to forward bends, twists to back bends and core work, depending on the theme being worked on at one particular time. As students flow through the class, heat is generated internally, allowing for detoxification and a gradual opening up so that the body can move into deeper and more challenging poses.
Restoratives, Pranayama, Kundalini, Hatha, and Vinyasa Flow yoga classes are available at Urban Ashram Manila, 3 Brixton Street, Kapitolyo, Pasig; 3/F Active Fun Building, 9th corner 28th Avenue, Bonifacio Global City; (632) 661-YOGA or (632) 869-YOGA; urbanashrammanila.com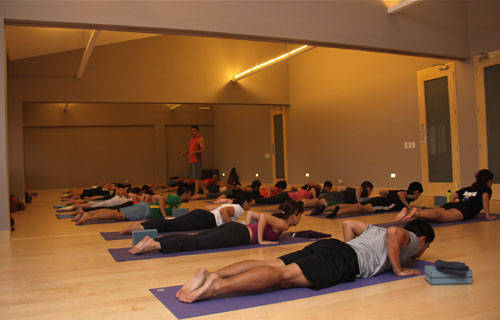 ADVERTISEMENT - CONTINUE READING BELOW
5. FNR
Many students come into yoga worried about not being flexible enough or strong enough to carry a continued practice. FNR (Flexibility Not Required) classes introduce yoga to starting practitioners, helping them strip away any factors that may be intimidating for first timers. FNR emphasizes proper alignment and lays on the foundations for a safe and sustained yoga practice by teaching action points and employing props to manage specific issues like tightness, injuries, and other medical conditions. Not just for yoga newbies, FNR is also geared towards more experienced yogis who want to refine their practice and gain a deeper understanding of their foundations.
FNR is available at Urban Ashram Manila, 3 Brixton Street, Kapitolyo, Pasig; 3/F Active Fun Building, 9th corner 28th Avenue, Bonifacio Global City; (632) 661-YOGA or (632) 869-YOGA; urbanashrammanila.com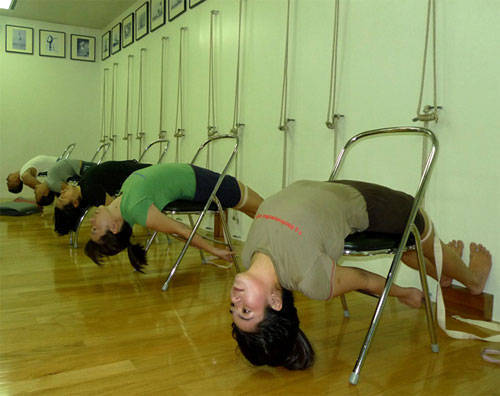 Photo from iyengaryogamanila.com
4. Iyengar
Founder BKS Iyengar taught poses to help the body come into proper alignment and correct form. While these classes can help students with injury or balance issues, Iyengar classes are not restricted to those with ailments. The physical classes offer a complete form of yoga for everyone, employing vinyasa (movement with breath), asana (physical postures), holds, and sequences. Iyengar classes are founded on the study of the body and its tendencies-poses are done in repetition to enable students to understand every movement. Yoga props also are utilized to help students understand what it feels like to get into certain poses. Iyengar also provides real contact between teacher and student, allowing for progressive development and individualized instruction.
ADVERTISEMENT - CONTINUE READING BELOW
Iyenagar yoga classes are available at Iyengar Yoga Center Manila, 4/F Joya South Tower, Rockwell Center, Makati; (632) 798-0070; iyengaryogamanila.com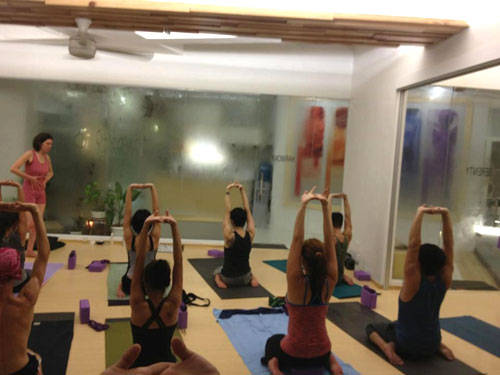 3. Jivamukti
Taken from the words Jivan Muktih, which means "enlightened soul," Jivamuti practitioners are known to be unapologetic about the spiritual aspect yoga brings. Jivamukti classes may be physical, incorporating different movements such as inversions, side, forward, and back bends in dynamic sequences, but every practice is founded on tenets and philosophies that provide a backdrop to the physical practice. Everything from sexuality to dealing with negative emotions to snippets from old vedic texts are covered-nothing religion-based, for those wondering; universal spiritual teachings fuel the practice instead. Chanting and meditation are also incorporated into Jivamukti's well-rounded classes.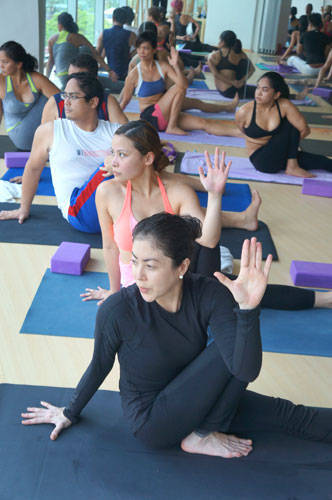 ADVERTISEMENT - CONTINUE READING BELOW
2. Ashtanga
Flow through a fixed sequence hinged on rigorous poses demanding both flexibility and strength. Mysore classes have teachers giving students one pose at a time, adjusting to an individual's readiness, while LED classes have teachers leading an entire class through the series together. Practitioners may find that a set sequence can be monotonous, but Ashtanga's series do appeal to yogis looking for a way to benchmark their growth by seeing how their bodies develop over time, checking in on how they progress through the fixed poses on every visit. LED classes mix both first timers and more intermediate practitioners, providing a wealth of body types and stories of achievement for students to draw inspiration from.
Jivamukti and Ashtanga yoga classes are available at White Space Mind and Body Wellness Studio, 6/F Regis Center, 327 Katipunan Avenue, Loyola Heights, Quezon City; (632) 577-0345; whitespacewellness.com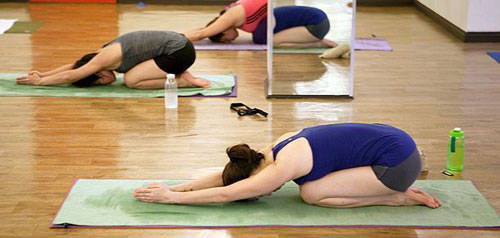 1. Bikram
Bikram Yoga, named after Bikram Choudhury, uses a systematic series of 26 postures and two breathing exercises done over 90 minutes in a heated room. Every posture stretches and strengthens targeted muscles, ligaments, tendons and joints, plus helps move fresh, oxygenated blood throughout the whole body, allowing it to restore. Repeating the same postures every time you show up for class can be a drawback for practitioners seeking variety, but the "feel good" high students get after a Bikram class, plus the opportunity to open up their bodies more and more with each session, keeps them coming back.
ADVERTISEMENT - CONTINUE READING BELOW
Bikram yoga classes are available at Bikram Yoga Manila Greenhills, 3/F Fox Square Building, 53 Connecticut Street, East Greenhills, San Juan; (632) 721-8350; bikramyogagreenhills.com; Bikram Yoga Manila Quezon City, 5/F CKB Centre, 203 Tomas Morato Avenue corner Scout Rallos Street, Quezon City; (632) 376-4632; bikramyogamanila.com
Special thanks to Saree Kaluag and Rina Ortiz, Nancy Siy (visit www.manilajiva.com for a listing of all of Nancy's classes), Eileen Tupaz, and Gino Scarella
Share this story with your friends!
---
Help us make Spot.ph better!
Take the short survey
Load More Stories